Who are these people????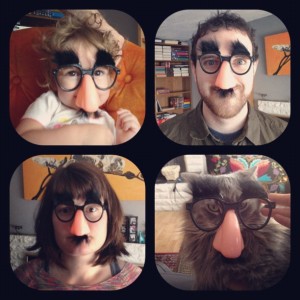 It has been almost three months since I've blogged. Three. Whole Months. I know, I know…that's like a BIG blogger faux pas. But I have no regrets.
I spent one month with a sick family: Phoebe was sick, then Matt, then me. Then my cold turned into a sinus infection and I was sick for AWHILE. Then I was recuperating and still weak…you get the idea.
I've also been pursuing other things.
I started drawing and painting to build my skill level back up and eventually stock an etsy shop with my art prints and related artsy things (like stationary or whatnot). I started a tumblr feed ( ekwetzel.tumblr.com ) tracking my progress on a day-to-day basis. I know most artists don't want to share their work until it's complete, but I think that there is a lot to be gained from inviting others into my creative process.
I'm also babysitting my friend's kid, Scout. She's mega-super-cute. The proof is in the pictures:
Aaaand Matt and I have been working hard to get out of debt, Dave Ramsey style. We are selling tons of things we bought on credit cards that we couldn't afford at the time, but now we know better. And we're growing up. Maturing. Gaining perspective and discipline. And selling the artifacts of our impulsive youth to help dig us out of the debt trenches. It. Feels. Liberating. I'd rather have freedom than stuff anyday.
Also? I've just been enjoying the sunshine with my spirited little girl! She is so much fun, you guys. She is growing into such a dynamic and vivacious little lady. I could spend an hour blogging just about her. But, instead, I'll throw up some pictures, then go prep lunch so that we can eat once she wakes up in a few minutes.
<3 Erin
2012-07-27