Mr. Wetzel and I want to have a joyful pregnancy, and we are making choices along the way to promote an atmosphere of joy and celebration, as opposed to one of worry and fear.  It's so easy when you're pregnant to fear the worst, to feel out of control and to grasp onto any little thing that will help you feel like you are back in control.  Matt and I decided to forgo needless testing, because we concluded it would fuel an attitude of worry and fear more than one of faith and joy. To have faith, you have to be okay with being out of control. To have joy, you have to be able to let yourself go.
Each time we would make a decision about the pregnancy and birth, we would give it serious thought. We'd ask ourselves: "What is best for the baby?" "What is best for our overall well-being?" "What does this specific situation call for or require of us?" I think many couples get into trouble when they have an idea of what kind of experience they want to have and then impose those expectations upon the reality that they are presented with. We aren't crusaders for a birth style.  We wanted to do a lot of listening and we wanted to remain open to the changing circumstances at hand.
And that's why we're going to have an ultrasound, after all.
I wrote recently about our desire to forgo the ultrasound because it was unnecessary for our situation. We'd had no complications in the pregnancy to date, so there was no need to have an ultrasound. Until now. At our 33 week visit, my belly measured 2 centimeters too big, and the midwife has a hunch it's because I'm making too much amniotic fluid. We'll need to do an ultrasound to confirm what's going on. Either: it's a false alarm; I have too much amniotic fluid because I'm producing it; or there might be something wrong with our little baby that is creating a fluid build-up, and we're catching it super-early.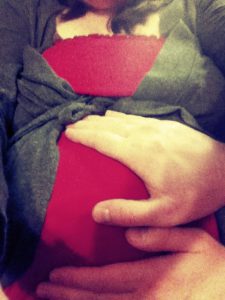 I'd be lying to you if I didn't admit the situation concerns me.  I care about the health of my baby, and so I am aware that this is a sign that something might be amiss. I believe it's important what I do with that worry, though. We are not giving into being stressed out. We are not using it as an excuse to fight or indulge or sulk around. Just because we have a bump in the road, that doesn't change anything for Mr. Wetzel and me. We are still rejoicing and praying over our little one. We still live by faith and we know, no matter the outcome, that God's hand is at work and will see us through the good times and the hard times.
And – this is the important part, people – there is no reason to freak out just because the plan changes. We create plans and we make decisions, and that makes us feel like we're in control. That makes us feel like we have some say in the matter. Even though it is the parent's choice how to proceed at each stage of the pregnancy, and even though there are many choices and options involved in pregnancy, something that is always constant is the unpredictable nature of birth and pregnancy. The best we can do is make the best decisions from moment to moment with whatever comes our way. There is an inner beauty to be found when you face seemingly chaotic circumstances and skip through them as though crossing a river on stepping stones. At one step in the journey, it's the right choice to forgo ultrasounds; at another step, it's the right choice to have one.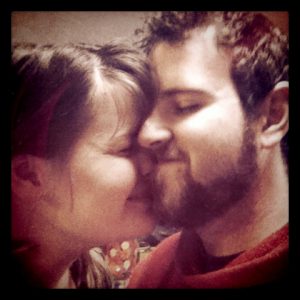 Joy is a choice. Faith is a choice. If you want to hope for the best, you have to be strong and you have to dig deep. These virtues are not the frosting on life; they are life's marrow. Virtue is rooted in your bones. It is not easily swayed.
I'm thankful for an astute midwife that has a keen sense about what tests are necessary at which times. I'm thankful that we are catching this complication now, instead of letting it go unchecked. I'm thankful for a supportive husband who has been solid through this bump in the road (even though I know it is a concern to him, as well). I'm thankful that we have supportive friends and family.
And – most of all – I'm thankful for this pregnancy, for this opportunity to grow new life in my belly, and for the call to Mr. Wetzel and me to steward this little life as best as we know how.
SIDE-NOTE: I want to take a moment to speak to those of you who don't know how to respond when someone gives you touchy news about their pregnancy. Pregnant couples get told what to do all the time. Don't be that person in your friend/family's life. If a pregnant couple shares their experiences and feelings with you (especially in regards to complications), listen to them. If they ask you for advice, then give it to them. But do not argue with a pregnant couple about their feelings. Their pregnancy is not about you, and if they are sharing it with you, consider it a privilege.
By ekwetzel
2011-02-23