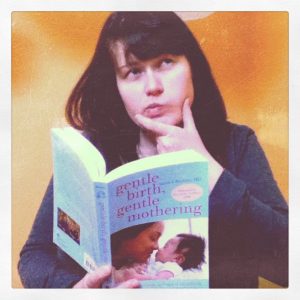 The BRAN model is a great decision making tool that I gleaned from reading Gentle Birth, Gentle Mothering by Sarah J. Buckley, MD. While I discussed it with a pregnant friend of mine, she was very interested in learning more about it. Thus, this blog post is born.
Women and couples are asked to make many decisions about their pregnancy and birth, and this responsibility can become very overwhelming. It doesn't help that "everyone is an expert" and has an opinion about how you should birth and raise your child.  The BRAN model is a simple formula for parents-to-be to use when faced with any decision (and it is specifically helpful with medical ones). As explained by Buckley, "When you are offered a test or intervention, BRAN reminds you to ask about and consider the Benefits, Risks, and Alternatives and to also consider the effects of doing Nothing in this situation." I will try to summarize Buckley's key points (and I am copying the key ideas directly from her book).
This BRAN model (i.e. Benefits/Risks/Alternatives/Nothing) is designed to help you make informed choices. Your care providers will have opinions about what is best given your situation, and they often will try to sway you to make the decision they support. Midwives will have one set of biases, and OBGYNs will have another.  Sometimes alternatives may be hard to find, because most practitioners will have one path in mind given their biases. For example, obstetrics rely so much on technology that they might not be aware of any alternatives to a high-technology approach. But, if you keep digging, alternatives are generally available. And, there is always the alternative of doing nothing (which is often overlooked).
It's important to remember that it is your baby, your body and your choice. You are the one who will live with the decisions you make, so you are the one who has to feel comfortable with them. You have the right to make informed choices and to make informed refusals, even when the path you're on could be considered life-threatening for your baby. It is still your right, not the doctor's.
"The obstetric concept of risk is based almost exclusively on measures of perinatal mortality: the chance of a baby dying around the time of birth," (Buckley, 41). In this environment, it is easy for the emotional needs of attachment, breastfeeding and early bonding to get side-lined. When we begin to interfere with the hormones and processes of labor and birth, we risk more than the life of the baby; we risk the emotional well-being of the family. BRAN helps families to gather information, and Buckley specifically recommends that families:
–    Prioritize their feelings and instincts
–    Take account of the effects on emotional well-being, including that of their baby
–    Think long-term
–    Consider the possible impact on breastfeeding and attachment
Another key concept that Buckley discusses is the "Nocebo Effect," the unintended negative effect of a medical diagnosis or treatment. Conventional prenatal care can slip into a pattern of being a continual reminder of all the possible things that could go wrong with a pregnancy. This reinforces feelings of worry and fear, and causes mothers to stress out about their babies. These emotional responses negatively affect pregnancy and birth in very real, physical ways.
Buckley walks through practical applications of the BRAN model for three situations: testing for gestational diabetes; screening for Group B strep; and induction when pregnancy is "overdue." If you are interested in reading about these sections, or in reading more about the BRAN model, I highly recommend you pick up the book.
If you have specific questions about the BRAN model that I have not clearly explained, feel free to ask in the comments section below.
By ekwetzel