Some people can get by without a budget.  I am not one of those people.  This is part of a three-blog arc on how Mr. Wetzel and I have been able to successfully budget for the last year: Know Thyself, Set Your Course and Be Faithful.
You must be aware of where you start from.  Assess your current spending habits, as well as the attitudes you have about spending.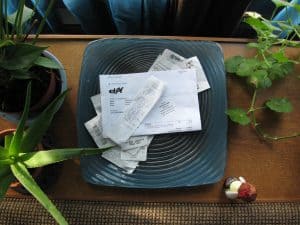 Keep track of all spending and earnings for 1 month. The easiest way to do this is to save all your receipts and all your pay stubs.  If you buy something that doesn't have a receipt, or if you tip beyond what's noted in the receipt, just write it down on a slip of paper, date it, and put it with the rest of your receipts.
Mr. Wetzel and I put all our receipts on a big glass plate by the front door until they are checked into our budget book (see Budgeting 102).  We have also been known to keep them in shoe boxes, tucked in our wallets or purses, or jammed into the pockets of a three ring binder.  Once we are through recording the receipts, we toss the ones for gas receipts and grocery trips, and save the important ones in a box.  We also hold onto all our monthly statements from credit cards or other accounts, as well as our pay stubs.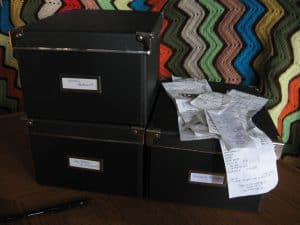 Don't be materialistic. You are more than your possessions.  You do not need to be defined by what you have or what you buy.
One reason I like to watch the TV show Survivor is that it's interesting to see Westerners come to realize the difference between needs and wants.  We need food, for example; but, we do not need a take-out pizza.  A baked potato (or plantain) will do.  Sometimes we use the things we buy or the act of shopping as a distraction to keep us from confronting things about ourselves or our lives.
Mr. Wetzel and I pray over our finances and try to grow in spirit, instead of growing in debt.  We have learned a lot about ourselves as we have given up things that we think we need.  By trusting God more and believing more in ourselves and our relationship, we spend less money yet find ourselves even richer than before.
By ekwetzel
2010-02-01