Some people can get by without a budget.  I am not one of those people.  This is part of a three-blog arc on how Mr. Wetzel and I have been able to successfully budget for the last year: Know Thyself, Set Your Course and Be Faithful.
What spending categories do you have?  How much do you need to budget in each area? Think of these categories separately instead of lumping them together with all of your earnings and spendings.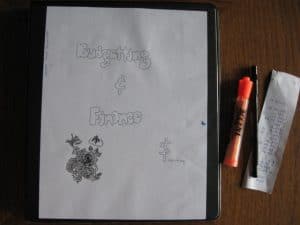 The Budget Binder & Individual Account Pages. Once you know how much you are bringing in and how much you are spending, you can sit down and face your spending habits.  Find a way to balance your budget by continually re-examining your needs and your wants.  Decide on a goal to spend for each category: groceries, car payment, rent, etc.  Finally, create a Budget Binder to help you keep track of your spending on a day-to –day basis.
The Budget Binder works in the same way that a checkbook does, except the Budget Binder has a page for each spending category.  We call these "individual account pages."  Before learning this trick, Mr. Wetzel and I would have spending goals for different areas of our life; however, it was impossible to keep track of our actual spending and to hold ourselves accountable to our goals until we used the individual account pages.
Sample Individual Account Pages: download from Google Documents. These are some sample pages that we have found useful.  Adapt the pages to your own needs, adding or subtracting categories as needed: View on Google Documents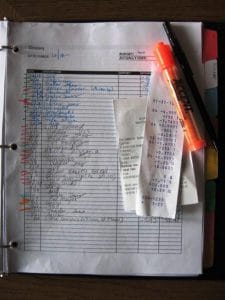 How It Works. When you get paid, disperse the funds available for each of your accounts onto each of the individual account pages.  When you spend money, subtract the funds from each of those pages.  Let's use Amy as an example:
Amy earns $100. First she notes +100 on her "Earnings and Disbursements" page.  She disperses $50 to grocery, $25 to household and $25 to fun, noting +50, +25 and +25 on each page.  She then goes back to the "Earnings and Disbursements" page and notes -100 for a final balance of zero.
As Amy spends money, she subtracts the amount she spends from each of the individual account pages.  She tries to keep aware of how much money is left in each area of her budget.  It is easy for her to quickly check the funds for her budget because each category has an individual balance, instead of being lumped together into a total sum in her checkbook or online account balance.  If she doesn't spend all the money in a given fund, she sets it aside and lets it accrue. You never know when you're going to need a little extra dough, after all.
For example, Amy knew that a blockbuster hit was coming out on February 10th and that she'd want to go see it on opening night with her friends. So, she made sure to keep enough in her "Fun" fund so that she could go out to the theatre and catch a bite to eat from concessions.  In order to have enough money available, she skipped a few lattes during the week, but she reminded herself, "I don't need a latte.  I don't need to go to the movies, either…but I'd get much more pleasure out of going to the movies than drinking a few lattes."
Remember: this is a Tool, not Torture! The whole point of budgeting is to be a good steward of your finances.  Create your first budget plan, and if you find that your spending habits continually break the budget, re-examine the budget.  Sometimes you'll need to crack down on your spending habits, but sometimes you'll need to change your budget to suit your needs.  Everyone has different desires, habits and goals, so everyone has a different budget as well.  The important thing is to find a budget that works for you, and then stick to it.
By ekwetzel
2010-02-03