Some people can get by without a budget.  I am not one of those people.  This is part of a three-blog arc on how Mr. Wetzel and I have been able to successfully budget for the last year: Know Thyself, Set Your Course and Be Faithful.
Some additional guidelines to help you stick with your budget…
Find Balance. Once or Twice a month, balance your accounts with bank records.  Go through your bank record and credit card statement and mark off the entries in your Budget Binder.  I like to make a note of the date each time I do this task and use a different color highlighter to make the section stand out.  Doing this check will help you make sure you don't forget payments for auto-withdrawals or lost receipts.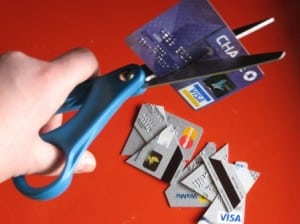 Pay Off the Cards. If you have a revolving balance on a credit card, don't use your card to pay for things until you have paid off your revolving balance.  This will force you to use the money in your checking account and remove the temptation of accessing the entire available balance on your card.  This habit is key to getting and staying out of debt.  Don't spend what you don't have.  You only will end up paying for it more in the long run.
If you find yourself tempted to spend on credit, step back and ask yourself why you want to purchase the thing in question.  Will you be fine without it?  If you need to, call a friend or partner before making the purchase so that they will hold you accountable.
Cut the Cards. As you pay off your cards, simplify your financial life and get rid of extra credit cards.  Mr. Wetzel and I only have 2 credit cards (one in each of our names, so that we're both gaining a positive credit history), 1 store credit card and a debit card.
Cash counts! Never treat cash like its money already spent.  Cash always counts.  If you buy something with cash, make sure to save the receipt or note the purchase in your Budget Binder as soon as possible.  Save your change, as well.  If you put all your spare change in a jar, you'd be surprised how handy it can be on a rainy day.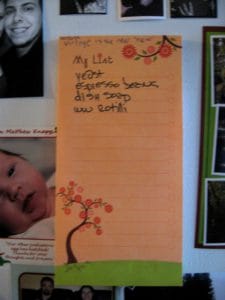 Wish Lists & Shopping Lists. The best way to thwart impulse spending is to set goals for the things you want to purchase and then save up for them.  If you have an attractive goal ahead of you, you are less likely to blow your money on something you don't really care about.  Currently, I have an ice cream maker on my wish list.
Shopping lists are handy on a day-to-day basis because they keep you from small impulse buys at the store.  If you see something at the store that isn't on your list, consider writing it down for the next shopping trip.
Accountability. Tell someone what your budget goals are and ask them to check on your progress.  If you are budgeting with a partner, your companion doesn't count!  As a couple, you need another couple or another individual to hold you accountable.  Telling others what your goals are also helps clear the air of needless spending; if you and your friends are both trying to get out of debt, you can think of cheaper ways to spend time together and it will help all of you out in the long run, whereas lack of communication too often serves only Mr. Visa, Madam AmEx and Master Card.
By ekwetzel
2010-02-04