Since I have a big sweet tooth, giving up most desserts is one of the hardest parts of our allergen-free diet. No wheat; no dairy; no eggs…so store bought goodies are pretty much out of the question. Thank goodness we have an ice cream maker! I've been experimenting with different coconut milk ice cream recipes. This is what I think of them:
STRAWBERRY COCONUT MILK ICE CREAM
This is the first one I made. Right after the ice cream maker stopped churning, I taste tested it and the ice cream tasted of both strawberry & coconut. After letting it percolate in the freezer for two hours, all hint of coconut was gone, and this ice cream had a smooth, strawberry creaminess. Fantastic!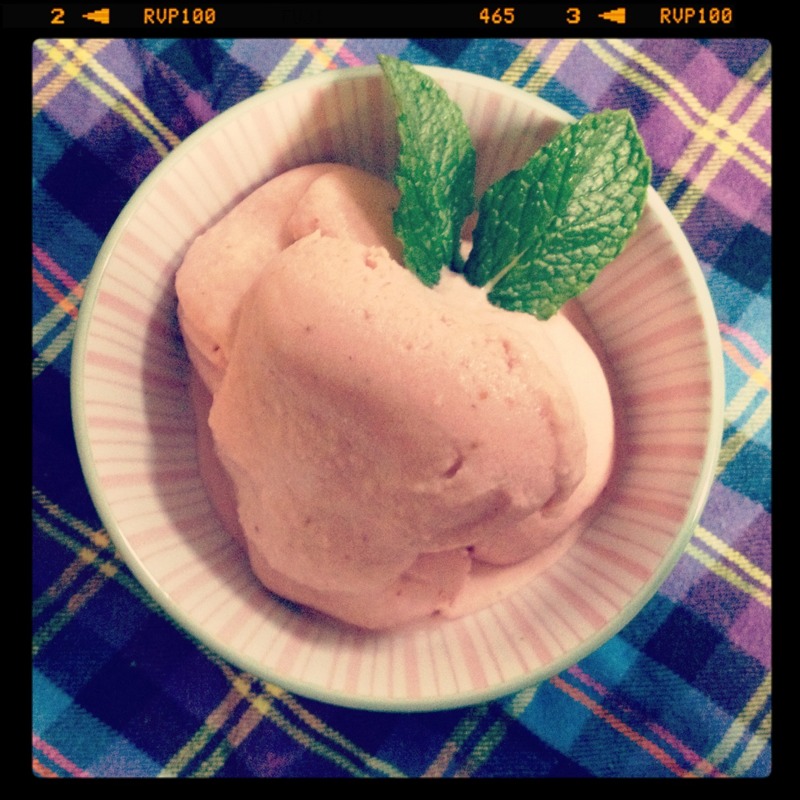 RECIPE:
Combine the following in your blender till smooth, then pour into ice cream maker, according to manufacturers instructions:
1 lb bag Frozen Strawberries
2 cans coconut milk
1/3 cup agave syrup
1 teaspoon vanilla
HONEY PEANUT BUTTER ICE CREAM
Honestly, this one didn't turn out too well. I used an entire jar of peanut butter and the ice cream was just too rich. And I guess I must've not been impressed, since I didn't take a picture!
THE BAD RECIPE:
Blend then pour the following:
1 jar peanut butter
2 cans coconut milk
1 teaspoon vanilla
1/3 cup honey
I WANT TO TRY THIS NEXT TIME:
1/2 jar peanut butter
2 cups almond milk
1 teaspoon vanilla
1/3 cup honey
MOCHA ICE CREAM
From the moment the ice cream maker finished churning, I could not stop sneaking spoonfuls of this tasty treat. I'd open the freezer & spoon some right out of the center of the bowl, while Matt chuckled at me. Oh my gosh. It was sooooo good.
THE RECIPE
Blend then pour:
2 cans coconut milk
1 cup coffee*
1 teaspoon vanilla
1/3 cup agave syrup
3 tablespoons unsweetened cocoa powder
*If your coffee is hot, you'll want to chill this mixture in the fridge for two hours before churning it in your ice cream maker. Also: I used coffee made from espresso beans, leftover in our French press. 🙂 I think the stronger coffee flavor added an excellent POW to the ice cream.
INGREDIENTS
I bought all of my ingredients from Trader Joe's, except for the honey, which I bought at my local CSA, Terry's Berries. Unfortunately, Trader Joe's doesn't carry full fat coconut milk; if I used that I think my ice creams would be even creamier. I'll have to check out other local grocery stores to find some.
I used the Bourbon vanilla from Trader Joes, instead of regular vanilla (which has a little sugar in it).
And, for peanut butter, I chose the creamy kind that had "just peanuts" in it.
– Posted by ekwetzel using BlogPress from my iPhone, 5/1/2012