I am not a zucchini lover.
There are some people that love zucchini. They love putting zucchini in everything: muffins, sauce, bread, cookies, stir fry, roasted veggie mixes…you name it, they'll find a way to wedge zucchini into it. I am not one of these people. I like my cookies to taste like cookies, my bread to taste like bread (or maybe bananas), and I like my zucchini to taste like zucchini: a green and squash-like vegetable.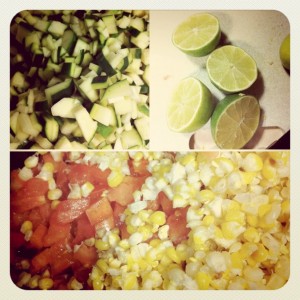 This salsa recipe? It's a perfect zucchini recipe for people like me who are not crazy about zucchini. You expect to eat chucky vegetables: you get chunky vegetables. Simple as that. And the zucchini adds a great blend of sweetness along with the corn.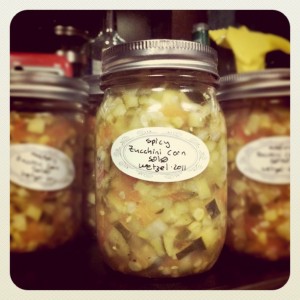 RECIPE: CORN & ZUCCHINI SALSA
You will need…
Boiling-water-bath canner & two pint jars
3 medium zucchini, cleaned, trimmed & diced
1 1/2 teaspoon salt
2 ears yellow corn, husked, silks removed
4 Tablespoons olive oil
2 large tomatoes, seeded and chopped
1 cup fresh lime juice (8 medium limes)
1/2 cup apple cider vinegar
2 jalapeno chiles, seeded and minced (wear rubber gloves)
1/4 cup finely chopped scallions with tops
3 cloves garlic, minced
1/4 teaspoon freshly ground back pepper
Directions…
Toss the zucchini with the salt & "sweat" for 3 minutes in a nonreactive colander. Rinse and dry on paper towels. (Although I just let it drip dry in the colander, in the sink)
Coat the corn with 2 teaspoons of the oil and roast on a cookie sheet in a 400°F oven for 30-40 minutes. Cool. Cut off the kernels and scrape the cobs.
Combine the zucchini, corn, remaining oil, tomatoes, lime juice, vinegar, jalapenos, scallions, garlic, and pepper in a heavy saucepan. Bring to a boil and cook for 2-3 minutes.
Ladle into hot, clean jars. Cap and seal. Process in boiling-water-bath canner for 15 minutes. (Adjust for altitude, if necessary).
I made 4 times the recipe, and it actually filled 13 jars (instead of the predicted 8). I suppose the term "medium zucchini" is probably relative, although my zucchinis were only 6-8 inches long.
A note about spiciness: I was concerned about the salsa being too spicy, so made sure to not include any seeds from the jalapeno. The salsa turned out more mild than expected, so I wouldn't be as concerned about going overboard on spice next time I make it.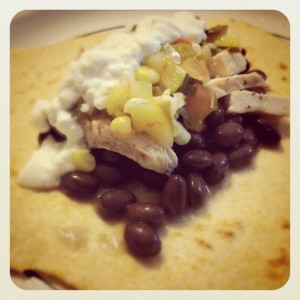 We opened up a jar this morning to taste-test it on chicken breakfast sausages from Trader Joes. Yum! What a terrific way to add veggies to our breakfast! We ate some more of the salsa at dinner, wrapped up with grilled chicken, black beans, homemade raw milk sour cream and warm whole wheat tortillas, fresh of the skillet. The salsa has a very strong flavor, so I'm glad we split the yield with a friend and only have 6 jars, but it is a delicious and unique treat that I look forward to subsiding on come wintertime!
(This recipe was lifted from The Big Book of Preserving the Harvest by Carol W. Costenbader, from my friend, Corrie's, library. Corrie and I canned the salsa together.)
By ekwetzel
2011-08-02