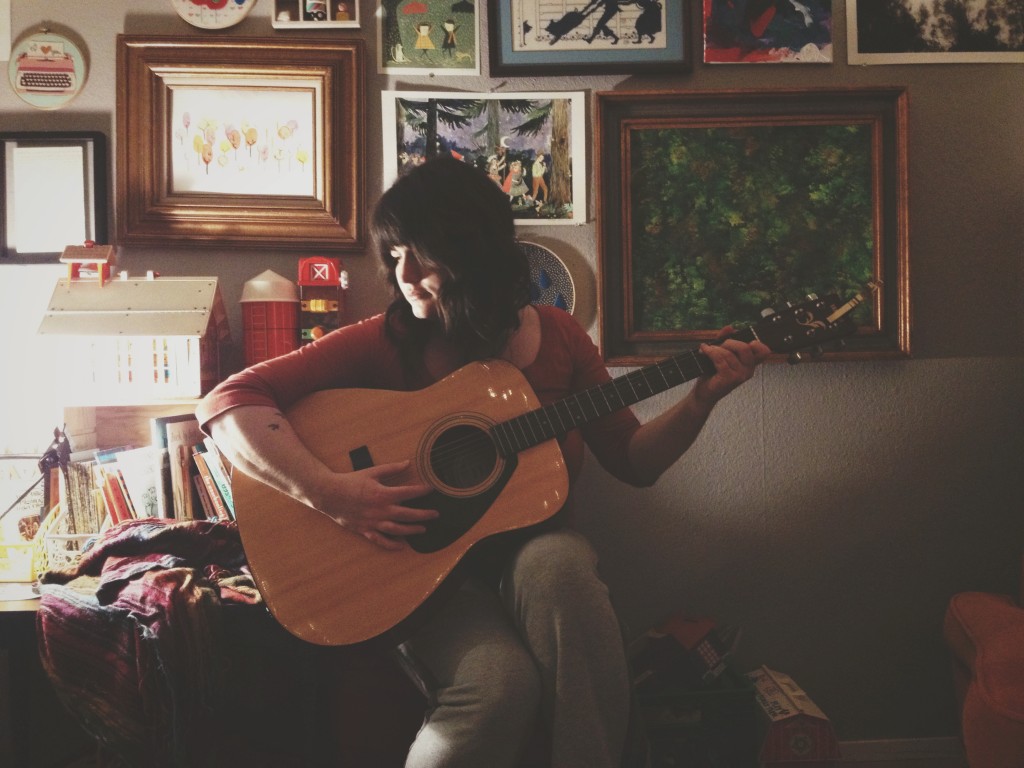 When I was eight years old, my brother, Ed, taught me my first song on guitar. I used a cheap little instrument that was missing the high E string. I sat in front of him, stretching my fingers, mimicking his every move. The song was Wish You Were Here by Pink Floyd. I'd play the background melody, and he would play the bridge, and then our guitars would come together on the chords for each verse.
That year, I learned other songs, too. There were bits and pieces of Metallica and I may have even learned some Cranberries. Mostly, though, I just played Wish You Were Here, over and over. Then, when my brother left for college, I kept playing it, and the song took on new meaning. I missed him fiercely. This song became a bridge in my heart that connected me back to him.
When Ed was packing up to come home for summer break, one of the guys in his dorm threw away a guitar poster outlining chord tabs. He snatched the poster and gave to me. I brought it with me when my parents and I moved to Bulgaria as missionaries, and, with that poster, I learned dozens of new chords and wrote dozens of my own songs.
Music taps into a deep and undefinable connectivity that ties people together across time and space and memory. I don't know why it is so powerful. I only know that it is. In a way, every song I carry with me through the years is a way of calling out, "I wish you were here!" to people or places from my past.
Today I am sharing with you one of my favorite songs, a simple little cover of the Fred Neil song The Dolphins…(but I always call it Dolphins in the Sea). I learned this song in college, from a friend. While many dark memories cloud my college days, the memories tied to this song are full of joy and friendship. We'd sprawl out in the grass, ignoring our homework to take photos and play music. All of the sudden, the rain would pour down, and we'd gather our up things to run, splashing through the puddles. Hiding from the storm in a car, we got lost in conversations about authenticity and the search for True Meaning.
I do not feel like a performer. In many ways, I've always been that same eight year old girl, fumbling with a toy guitar, missing a string. I play in empty rooms, closing my eyes, feeling the music permeate my soul. I play with my preschooler, who interrupts me and sings over me and places her hand on the strings so that I'll stop singing and read her a book, instead. I play in front of people and forget the words and lose my breath and realize my hands are shaking.
You will not find perfect songs here.
But you will find a broken heart that is made whole again, through music, through prayer, through art.
So here I am. Here is all of me. Here are my sacred songs.
I'll play beside you and hope you sing along.
– Erin
 Dolphins In The Sea (lyrics, my version)
This old world may never change
The way it's always been.
I know all the ways of war.
Can we change it back again?
I've been searchin'
For the dolphins in the sea.
Sometimes I wonder
Do you ever think of me?
I'm not the one to tell this world
How to get along.
I only know that peace will come
When all the hurt is gone.
I've been searchin'
For the dolphins in the sea.
Sometimes I wonder
Do you ever think of me?