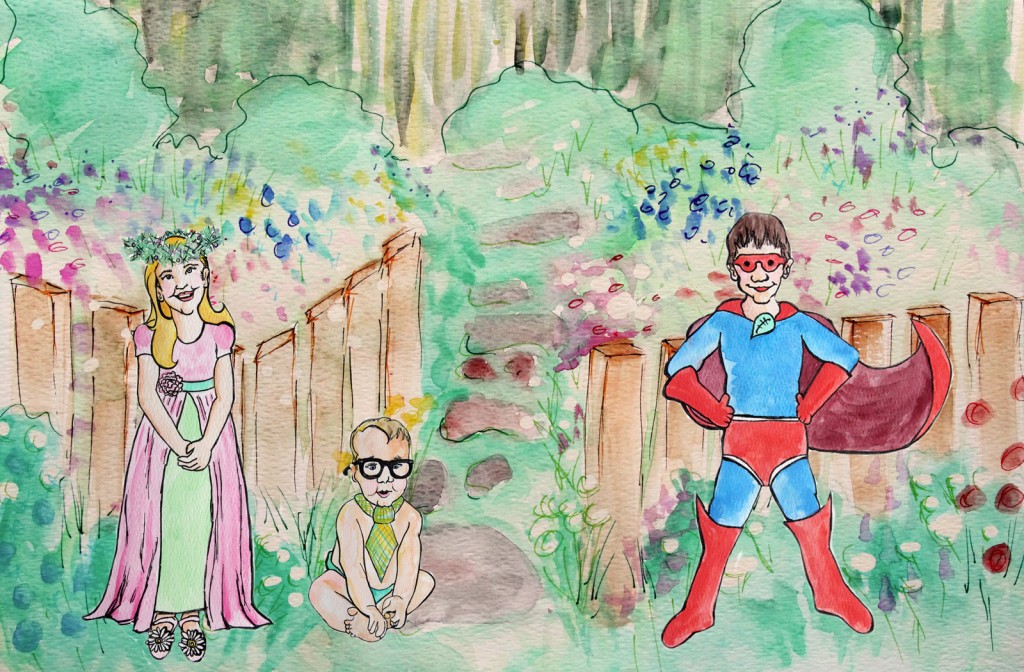 Through her online writing, Donielle Baker shares about her journey in natural health and fertility. I found her 5 years ago, when I was pregnant with Phoebe. She has been a great resource for me over the years on keeping a holistic home and eating real foods.
When she contacted me to create the art for her new website, I was thrilled!
Her new business, Apothecary Kids, embodies a new phase in Donielle's life now that she is striving to sustain her family in a healthy way. She shares a lot of her mission and purpose on her blog as well as on Facebook and Instagram.
We received a package in the mail from Donielle with samples of her skincare products.  What struck me about her products was the QUALITY of them. They felt and worked exactly like homemade products a friend gave me, and which I have used for years. To be able to find a place to buy these online (so that I don't have to go through the hassle of figuring out how to make them myself) is a godsend!
Excited about Donielle's new launch of Apothecary Kids, I decided to do an interview with her to help spread the word. (pst: Don't miss out on the FREE OFFER at the end of Donielle's interview!)
How did you get started developing your own line of herbal products?
Funny as it may sound… we started selling our first natural product last year because of my husband and his beard! I'd been making my own skin care products for years, and he came home one day asking about beard oil. (which may or may not have come up due to me asking him to shave yet again!) It went over so well and we began to have such a great time working together that we decided to branch out and sell some of my other products as well. For the first time in our relationship we're able to bring together our interests and strengths and really make something great!
What makes them special?
While our products are definitely made with love and intention, they also contain some of my favorite herbs. Some of the plants I've known for many years and enjoy their familiarity as I infuse our blends of oil with them. Others have recently excited my senses as I've branched out and learned more about their use.
These products are made for, and tested on, my family. So each product is reminiscent of a time in our lives. The tinted lip balm will always remind me of my little girl, wanting so much to have something pretty to use, the beard oil for the "baby beard" my husband grew while I was pregnant (and then never cut off…!), the salves for my adventurous son and his constantly nicked up knees, and the diaper balm for the baby I held on my hip while we worked to birth this company. This is why so many of our products are special to me. <3
What's your favorite product and why?
My favorite product so far is probably the tinted lip balm. I spent quite a bit of time figuring out the blend of oils and butters – because I'm super picky about the lip balms I use! It's such a simply product, and yet it is the one I've probably spent the most time on. I also love that it provides just a bit of red sheer (from a herb!) and has herbs meant for skin health.
Tell us a little about the making process, and what you love about the ingredients you use.
Since we use mostly herbs in our products (we currently use essential oils only in our beard care line), I get to craft a blend of herbs and infuse them into specially selected oils. I think this is my favorite part! I get to watch gallon jars of herbs change over the course of many days and it always seems magical to me. The idea that plants can help soothe what ails us never ceases to amaze me, and getting to be the one that facilitates and allows the space for this "magic" to happen is just the coolest thing ever.
After the liquid oils are infused, I'm able to work with different butters and waxes to get just the right consistency. I've spent a lot of time over the last year working with different oils, butters, and waxes, not just so we can make our ingredient list long, but to offer what I feel is a premium product!
Some days I get interrupted about 6 million times during production as I tend to toddler falls and elementary math homework, but most days I choose to do the actual product creation when my little ones are either asleep or being cared for by someone else. Being alone as I work allows me not only the quiet space I desire (introvert time!) but also the time to place extra care into each one.
What kind of things should people look for when choosing natural products to get the safest products that they can?
Using products that have ingredients closest to their natural form is a great first step in making sure the products you put on your skin won't be harmful to it.
But we all have to remember that just because something is natural, doesn't mean it's always safe! I double check the herbs that I use to make sure they are safe for topical applications, especially on products meant for kids. It's also important that if someone buys a product that contains essential oils, that the maker is using proper dilution rates for the age of person the product will be used on. No ones wants to deal with EO sensitization!
What role have your kids had in the creation of this business and herbal care line?
Not only are they the reason for many of the products, like I mentioned above, but since we are a family business, they also get a first hand look at how a business works. They watch as we test new products, add their thoughts on product names, help up put away supplies, and more often than not – they run the packages to the mailbox or into the post office! We also get to talk about the herbs we use in the products, so they are beginning to dream up their own products based on what they need. Someday, those dreams may just make it into our store!
What are the challenges of having a small business?
My biggest challenge is never having enough time! Since I'm my own boss AND the one responsible for the promotion and success, I find that that there are never enough hours in the day to do all I want to do. In the stage of having littles at home and homeschooling, we're all learning together how to best fit in both work and play.
If you were to give only one piece of advice to someone starting her own natural products business, what would that be?
Don't look at what everyone else is doing! I really have to make sure I keep my eyes focused only on what we are doing, otherwise I begin to play the comparison game and that is both a passion and productivity killer.
Check out the new line of Apothecary Kids skincare products!
Browse the Apothecary Kids shop today!
You can get a free herbal salve stick with any purchase when you use the discount code FREESTICK at checkout (just add it to the cart along with something else and enter the code on the checkout screen).
^_^ Erin