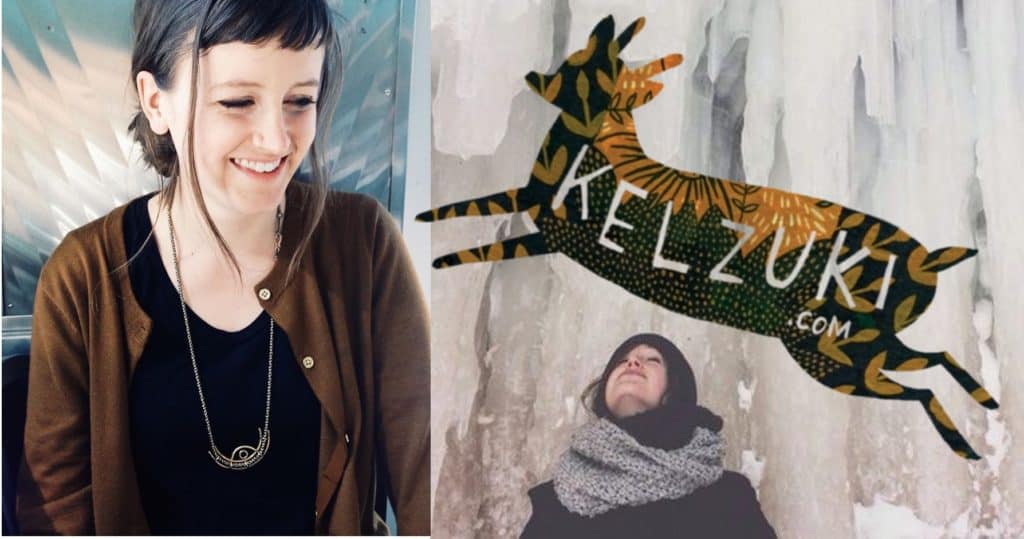 Kelsey Oseid, aka kelzuki, is a freelance illustrator and artist living and working in Minneapolis, Minnesota. She is well-known for her animal-a-day project which she started in January 2016. Kelzuki's Animal Kingdom now encompasses over 500 creatures from 18 different taxonomic groups.
Growing up, her family was supportive of her craft, and she credits her dad's hobby art as a huge influence. She started youth studio classes at the Minneapolis Institute of Art when she was in Elementary school, as well as watercolor classes at the Minnesota Center for Botanical Arts. She went on get her degree in visual communications from Loyola University Chicago. Even with all this training, support and exposure, she credits her social media networking as having the biggest impact on advancing her career as an artist.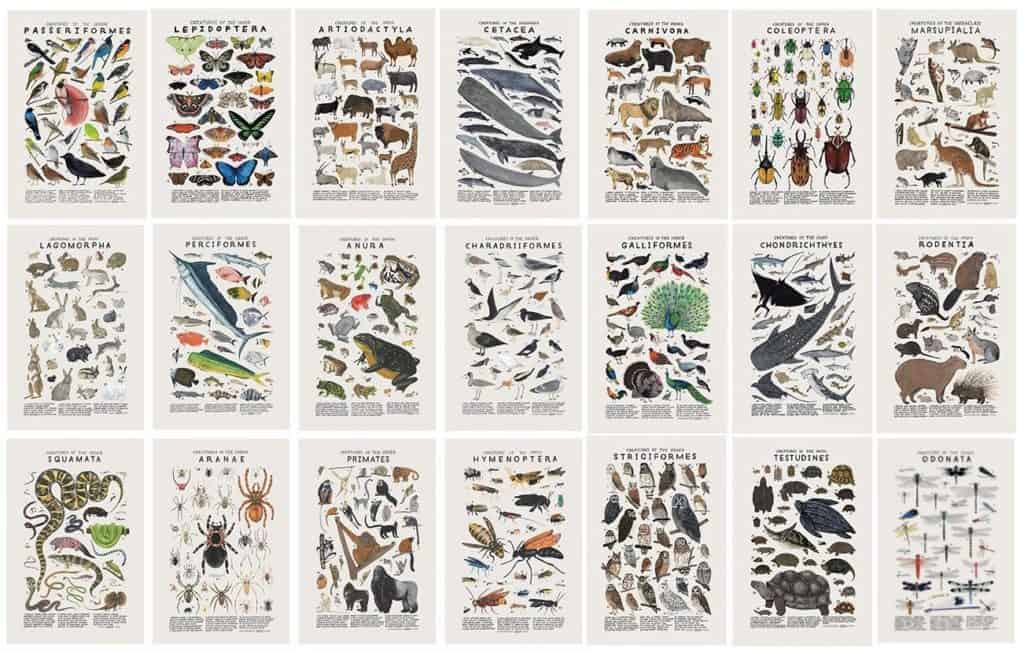 Erin: What have you sacrificed in order to become a professional artist?
Kelsey: Work-life balance. I hear this from a lot of other independent creators too. I don't have kids, though, so I'm still kind of living that out of whack life of an artist in her 20s and I feel okay about it for now. I think I'm slowly learning to prioritize time with friends, taking care of myself physically, etc.
People often assume that I have sacrificed a steady paycheck, benefits, stability, that kind of thing. But I've been lucky to have been able to establish a fairly stable income for myself, and I'm able to get health insurance on my own. It requires a little additional planning and work, and it didn't come immediately, but I definitely have been able to find a stable place for myself as far as finances go.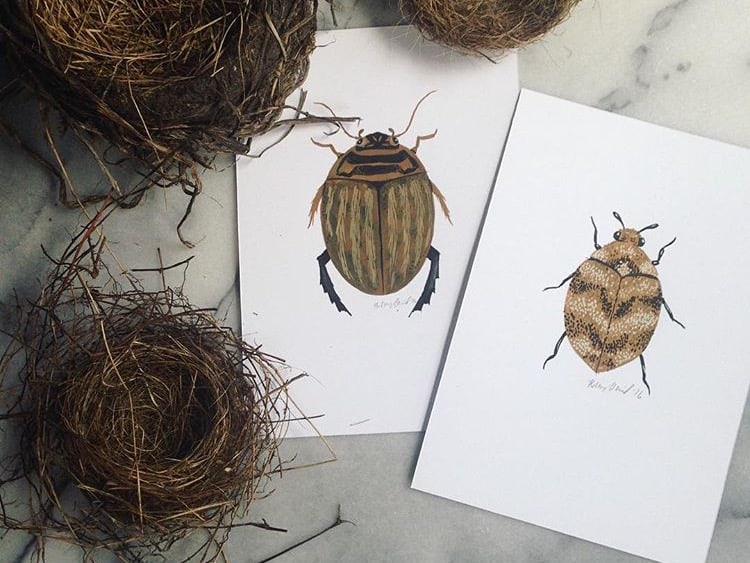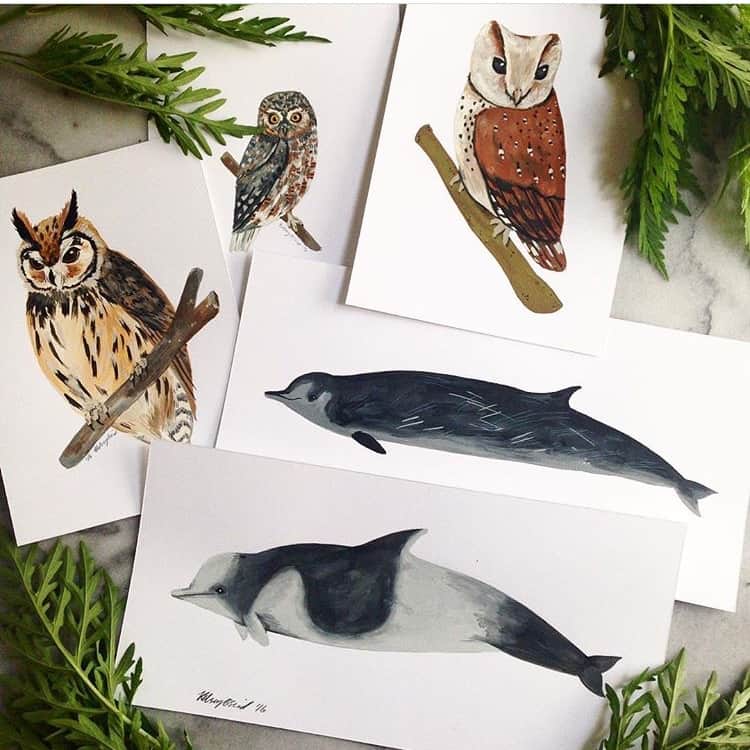 Erin: Your art is focused on natural history and you have even described yourself as a "hobbyist naturalist." Why do you care so much about the natural world, and how do you use your art as an extension of that passion?
Kelsey: How can you NOT love the natural world! I really enjoy painting things to understand them. I think this started for me when I took botanical illustration classes as a teenager. Botanical illustration is all about perfectly replicating every tiny detail of your subject. My work is a little more stylized these days, but it's still really important to me to be accurate to my original subject. Digging deeper into the diversity of specific taxonomic groups in Kelzuki's Animal Kingdom let me explore the more subtle differences in more closely related animals, which has been a really interesting way to learn about those species.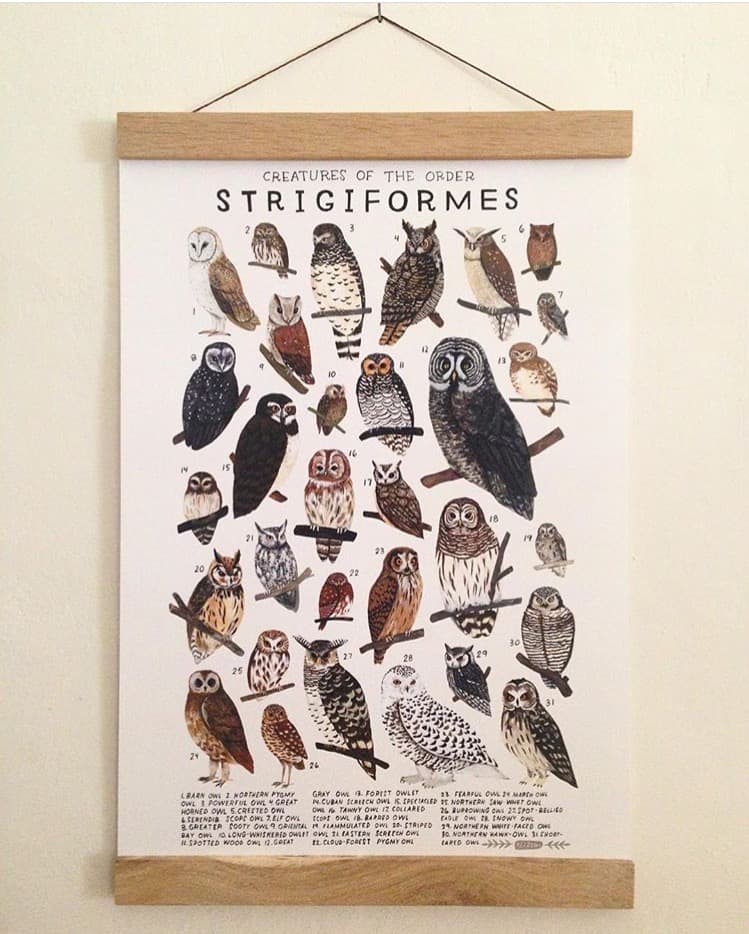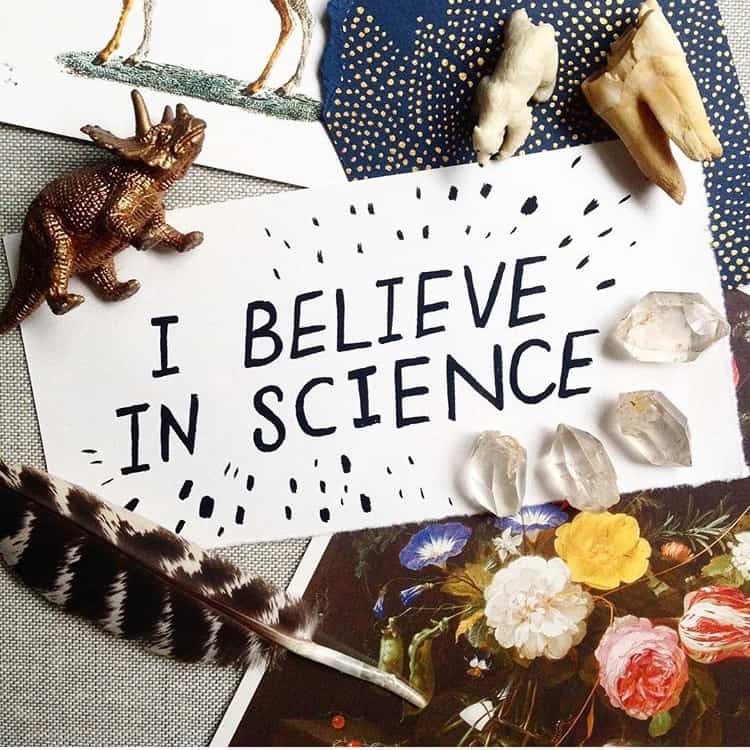 Erin: In a broader sense, what do you think is the importance of scientific knowledge in modern culture? What role does art play in the ongoing discourse between science and culture?
Kelsey : Science seems to be taking a major hit these days, especially in the US where I live. There's this growing sentiment that really scares me, that we can't trust facts and we can't trust experts. But science at its core is about finding the truth beyond all possibility of bias. Scientific literacy is so important! If my work and the work of other nature illustrators can inspire people to learn a little bit more about zoology and biology, that's awesome.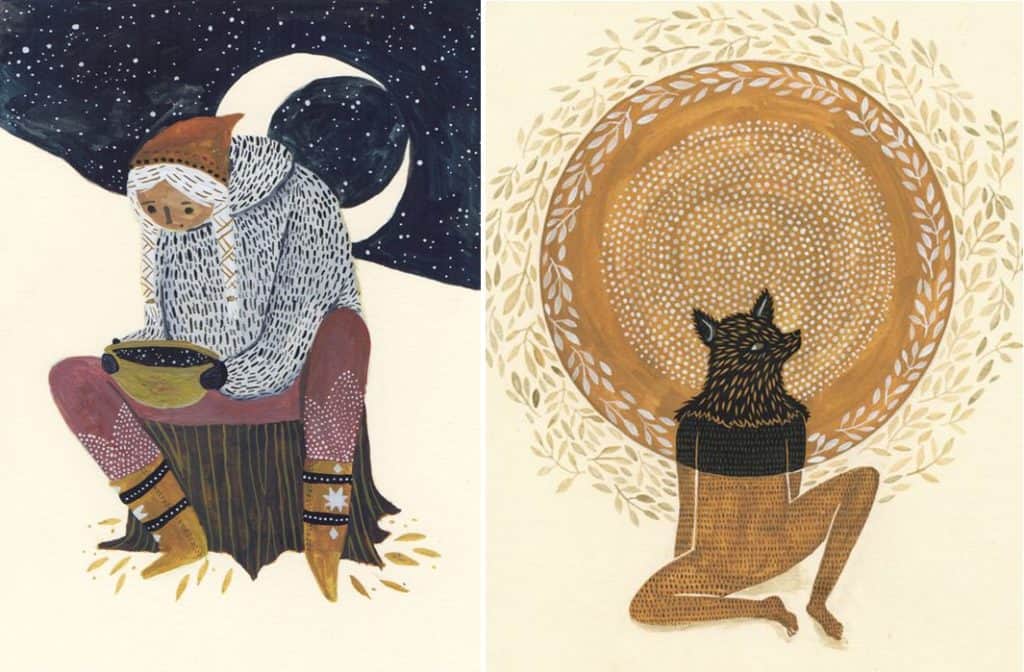 Erin: Your new book, What We See in the Stars, will be released in September 2017. It reminds me of the kind of mythical paintings you created before your animal-a-day project. What drew you back to discussing cultural lore? What is significant to you about the narrative of this new project?
Kelsey: There's a lot of overlap between science and mythology in my mind. They're both about the ways in which humans understand and relate to the world they live in. Stylistically, the art in What We See in the Stars is a bit more folksy and whimsical than my usual stuff, but content-wise, I think it fits in pretty well!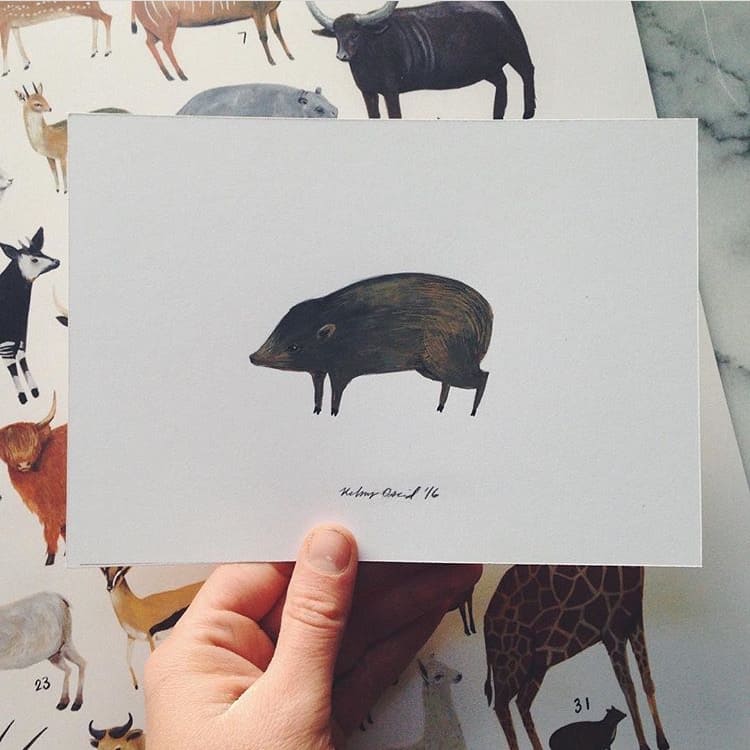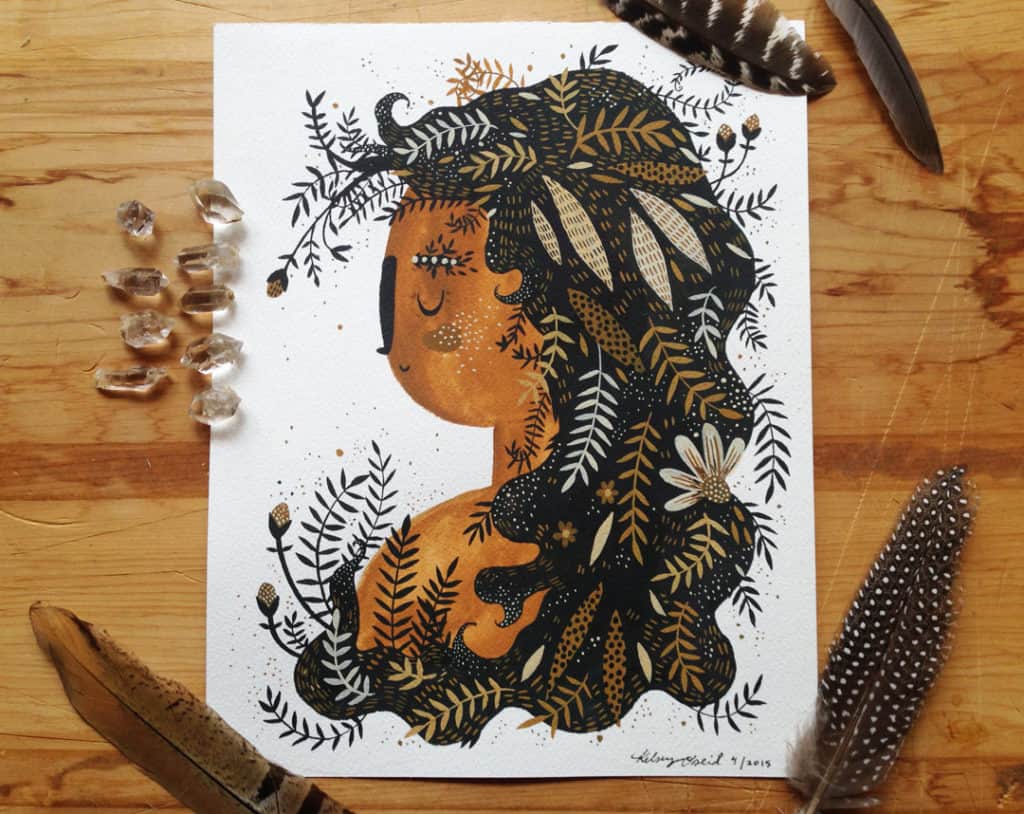 Erin: I have been dreaming of illustrating children's books for awhile, so I find your latest release inspiring both as a lover of your work and as an artist dreaming about following in your footsteps. Do you have tips on finding an agent to work with who understands your vision for your work? How has working with an agent opened up opportunities for your work to grow?
Kelsey: I worked with a children's illustration agent on a fairly casual basis for a few years, and while she was able to send some work my way, I just craved more control. Meanwhile, I was lucky enough to have amassed a decent amount of social media followers so art directors and editors could contact me directly and I found myself with the very cool problem of being overwhelmed with opportunity. I wound up ending my agent relationship (very much amicably) so that I could pursue work outside the sphere of specifically children's illustration, and also so I would be more in charge of the decisions I made about my work. I don't regret it!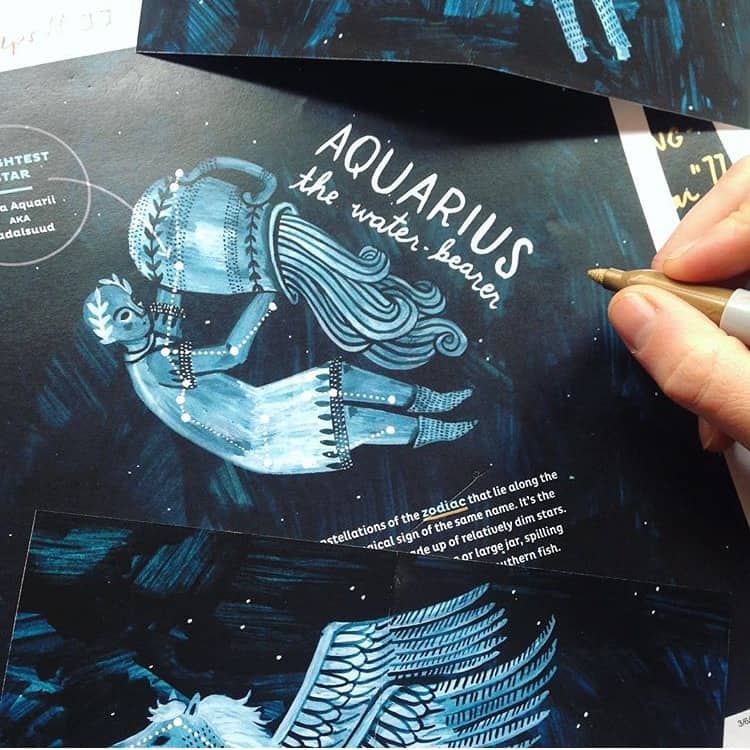 Erin: Even though What We See in the Stars is about the lore and history of the night sky, it does not seem particularly fanciful. In what ways has this book grown out of the naturalistic mindset of your animal project? In what ways is it different?
Kelsey: What We See in the Stars covers some of the mythology we use to talk about the night sky, but it also covers some basic astronomy. My hope is that readers will gain some concrete knowledge about what's going on in the cosmos around us while also getting a chance to nostalgically relive some of the classical mythology that goes along with astronomy that most of us haven't seen since childhood planetarium visits. It's a combination of whimsy and reality!
Connect with Kelsey on her website kelzuki.com, or on instagram and twitter as "kelzuki." Preorders for What We See In The Stars are available here.