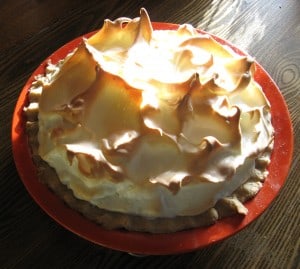 One of the reasons I started this blog was to occupy my time in a productive way while my hours were reduced at work. Well, my job has been pretty busy as of late, and this blog has suffered, as had my time in the kitchen; however, I have had many ideas stewing that I've wanted to share with you.
For today, I will share with you my love of lemon meringue pie. Lemon meringue pie is such a light and sweet desert, I've always thought of it as a summer dish.  In honor of the first day of summer, here is my lemon meringue recipe, from the pages of Better Homes and Garden's Cookbook, 1962 Edition.
My favorite part of lemon meringue pie has always been the peaks on the meringue.  It's such a naughty love; while you can get away with sneaking a bit of the frosting off a cake, as soon as you break off a peak for a little pre-pie glee, the evidence is undeniable on the leftover landscape.
In addition to the recipes, here are a few tips, from my experience:
Make sure the pie has cooled thoroughly before serving. Nothing ruins a great lemon meringue pie like getting overanxious and cutting into it before it has had a chance to cool and thicken. If you cut too soon, the lemon filling will be too runny and will not hold its shape.
With the extra bits of pastry, make tarts. Just fold the pastry over a bit of jelly, and seal it the edges with a fork. Bake on a cookie sheet at 450° until golden brown.
Goes great with sweet ice tea!
9-INCH PLAIN PASTRY SHELL
Ingredients:
1 ½ cups sifted all-purpose flour
½ teaspoon salt
½ cup shortening
4 to 5 tablespoons cold water
Directions:
Sift together flour & salt. Cut in shortening with pastry-blender or blending fork till pieces are the size of small peas.
To make pastry extra tender and flaky, divide shortening in half.  Cut in first half ill mixture looks like corn meal. Then cut in remaining half till like small peas.
Sprinkle 1 tablespoon of the water over part of the flour-shortening mixture. Gently toss with fork; push to one side of bowl.
Sprinkle next tablespoon water over dry part; mix lightly; push to moistened part at side. Repeat till all is moistened. Gather up with fingers; form into a ball.
On lightly floured surface, flatten ball slightly and roll 1/8 inch thick. If edges split, pinch together. Always roll spoke-fashion, going from center to edge of dough. Use light strokes.
To transfer pastry, roll it over rolling pin; unroll pastry over pie plate, fitting loosely onto bottom and sides. Trim ½ to 1 inch beyond edge; fold under and flute.
Prick bottom and sides well with a fork-n-no puffing as shell bakes. Bake in a very hot oven (450°) till pastry is golden, 10 to 12 minutes.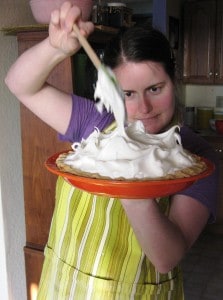 LEMON MERINGUE PIE
Ingredients:
1 ½ cups sugar
3 tablespoons cornstarch
3 tablespoons all-purpose flour
Dash salt
1 ½ cups hot water
3 slightly beaten egg yolks
½ teaspoon grated lemon peel
2 tablespoons butter
½ cup lemon juice
1 9-inch pastry shell
3 egg whites
1 teaspoon lemon juice
6 tablespoons sugar
Directions:
In saucepan, mix 1 ½ cups sugar, cornstarch, all-purpose flour and salt. Gradually blend in water. Bring to a boiling over high heat, stirring constantly. Reduce heat to medium; cook and stir 8 minutes more. Remove from heat.
Stir small amount of mixture into egg yolks; return to hot mixture. Bring to a boil over high heat, stirring constantly. Reduce heat to low; cook and stir; cook and stir 4 minutes longer. Remove from heat.
Add lemon peel and butter. Gradually stir in 1/3 cup lemon juice. Cover entire surface with clear plastic wrap; cool 10 minutes. Now pour into cooled pastry shell. Cool to room temperature (about 1 hour).
For meringue, beat egg whites with 1 teaspoon lemon juice, till soft peaks form. Gradually add 6 tablespoons sugar, beating till stiff peaks form and sugar is dissolved.
Spread meringue over filling, sealing to edges of pastry. Bake in moderate oven (350°) 12 to 15 minutes or till meringue is golden. Cool thoroughly before serving.
By ekwetzel
2010-06-21