WHAT WE SPENT
Meadowwood Farm. Sunday, 11/13/11
• 1 Gallon Raw Milk, $9 (I made yogurt with half, and the other half is for drinking/baking)
Terry's Berries. Tuesday, 11/15/11
• 4 Huge apples, 3.63
• Grapefruit, 1.17
• A dozen free range eggs, 4.75 (we need to find cheaper farm-fresh eggs)
Total: $9.55
Trader Joe's. Tuesday, 11/15/11
• Frozen Peas, organic, 1.99
• Frozen Mango chunks, 2.69 (The frozen foods are for my teething baby)
• Beef chunks, 1.5ish lbs (for stew), 8.75
• Raw milk cheddar, 4.17
• TJ's brand Ritz crackers, 1.99
• Can of sliced black olives, 1.19
• Vanilla (for baking), 3.99
• 7 Bananas, organic, 2.03
• Lemon, 0.39
• Unsalted Butter, organic (for baking), 4.79
Total: $31.98
GRAND TOTAL: $50.53
Only 53 cents over budget. Not bad. (So far).
WHAT WE'VE BEEN EATING
It's potato season for me. I. Love. Potatoes. We're getting them regularly from the CSA, and we're mostly getting golden or red ones. I like chopping them up, tossing them with oil and salt and roasting them. Then, for breakfast the next day, I'll fry up any leftover potatoes in bacon grease. Mmm. I'm not the only one who like the potatoes, either; Phoebe loves them. This morning she had 5 or 6 potato chucks, and probably ate about half of what I gave her. With a fork. I preloaded the fork for her, but still. Cute.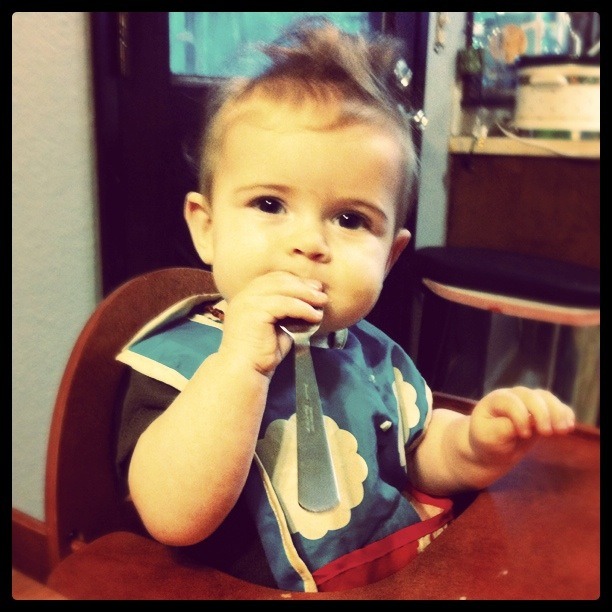 Other than that, we've mostly been eating leftovers, beans & rice, and clearing out the last of our whole wheat pasta. For protein, we're slowly chipping away on the huge summer sausage I bought at Costco a week or two ago. Yum!

What have you been eating?

By elwetzel
2011-11-16

– Posted using BlogPress from my iPhone