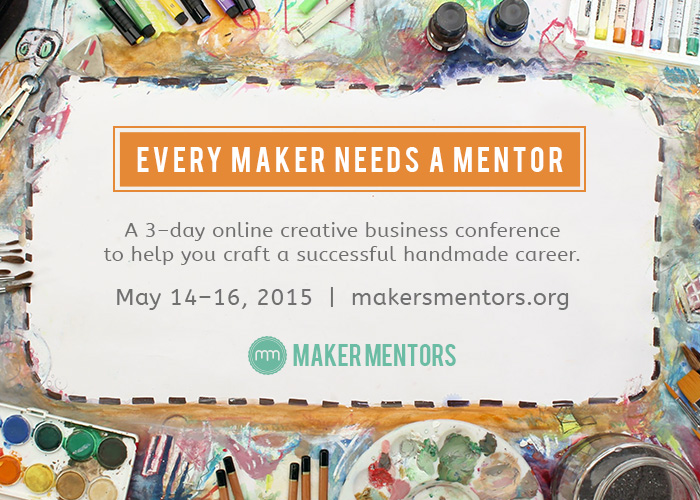 I'm excited to tell you a bit about the Maker Mentors conference that is launching this week! Maker Mentors is hosting the first live online conference for creative business owners. We have brought together some of the smartest business experts & best creative business owners to create a totally unique experience.
The conference is happening May 14th-May 16th. Everyone who signs up gets access to 20+ live sessions with creative business experts, a one-on-one business counselling session with one of our 50+ mentors, interactive forums and tons of resources to help you grow your business.
Don't worry if you can't make it live. All of the content is recorded so you can access it anytime. Register now with discount code IAMAMAKER and get $50 off of your conference fee.
Here is what attendees are saying about Maker Mentors:
"It's totally accessible if you can't travel to a big conference, if you have responsibilities at home, you can still get the help you need to get your business going, or going to the next level." Callie Beller Diesel, from Diesel Clay in Calgary, Alberta, Canada.
"[I'm excited about] the chance to talk to such a variety of business owners that have made a mark in their industry! Two heads are better than one, and this conference takes that thought and multiplies it exponentially!" Kristen Smith from Quirky Bits-n-Pieces in Garner, NC.
"I am the most excited to be able to attend a conference like this on a budget. The amount of speakers available for the cost of admission is stellar!" Megan Russell from Austin, TX.
But wait…there's more!
We are holding a giveaway for a small business makeover, and there's less than a day left to enter! There are over $2000 in prizes available, including a new laptop and free pass to our conference. Go Enter. Now. And good luck!
In addition to the paid conference, Maker Mentors is hosting free webinars every Monday night with creative business owners eager to share their knowledge and answer questions about their chosen field. Check out past webinars on our site & sign up for our newsletter to get updates about upcoming speakers.
I've been thrilled to see this new community explode and I can't wait to see what awaits us in the coming year!
^_^ Erin Wetzel
Creative Director over at Maker Mentors