While browsing for baby mobiles and other learning tools online, I found pictures of the Gobbi Montessori mobiles on etsy.com. I liked how their designs integrated color progression with varying distances above the baby. The Gobbi mobiles are made from different materials than I used and run pretty expensive (about $50 a mobile). Using my pom poms and other objects found around the house, I made mine for $1 (all I bought was a mirror from the dollar store). This mobile is not an "official" Montessori mobile, but it is definitely inspired by the Gobbi mobile and ones like it.
All in all, I am more than impressed with how the mobile turned out. It has actually inspired me to try and make more things at home, and to experiment more with the random "junk" that I just can't seem to ever throw away. Here is a video of the finished project:
And here is a little play-by-play on how the project developed. If you want to try making your own mobile and have any questions, just let me know!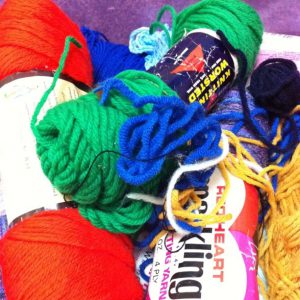 To be honest, when I started this project, I had no idea where it would take me. I just thought it would be fun to make some pom poms out of the tote of yarn I had stashed in the garage. The yarn was nothing special: just a random assortment that had been given to me or that  I'd picked up at thrift stores.
I started my first pom pom…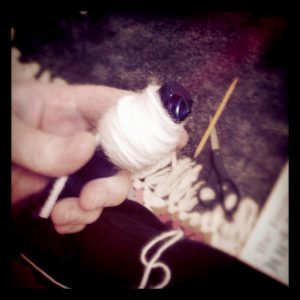 It had been years since I'd made pom poms at summer camp, and I wasn't sure if it was going to work out or not.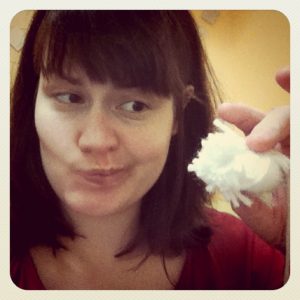 I produced a gangly white pom pom, which I trimmed down to make it more round and ball-like.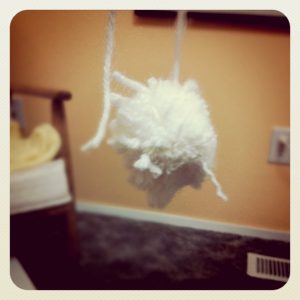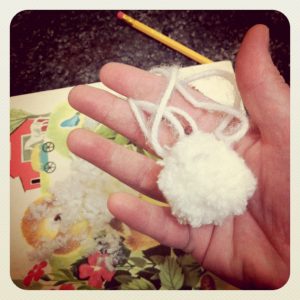 "Hmm. That didn't turn out so bad," I thought to myself. So, I started to make pom poms of different colors. I had quite the audience…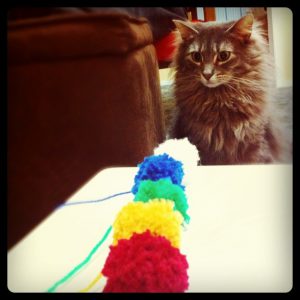 Sometimes, I messed up the pom pom, and it fell apart in my hands
But eventually I'd completed a nice little collection of pom poms, all in different colors.
Laying the pom poms in a circle like this gave me the idea to make a mobile out of them. I rummaged through my random supplies and found an old ribbon spool. I cut notches in it and strung the pom poms through at varying lengths.
(I removed the pom poms to work on the appearance of the ribbon spool).
Next, I tore apart the mirror I bought from the dollar store and hot-glue-gunned it to the ribbon spool.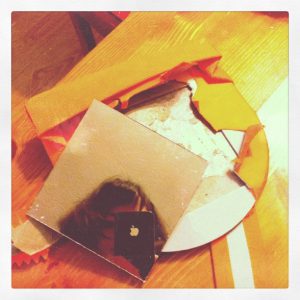 I then created a border to frame the mirror using thick black and white paper. This frame helps to secure the mirror onto the mobile, and it also provides high contrast visual interest for the baby.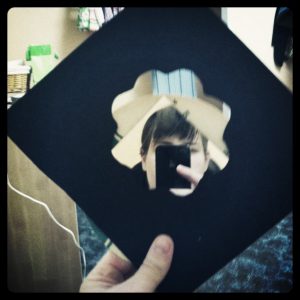 After re-stringing the pom poms through the notches in the spool, I knotted them to secure them in place, then used the hot glue gun to keep them secure (one bead of glue on each knot). After tying the yarn together, I macramed a strand, and ended it in a braided loop, for hanging.
^_^ I couldn't have completed the project without my support group: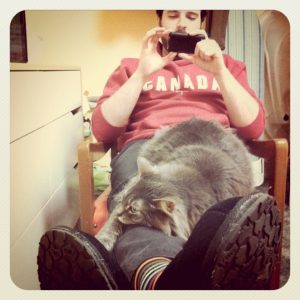 By ekwetzel
2011-04-12