The Umbra Banana Split Banana Holder is designed by Umbra Ltd.
[rating:5/5]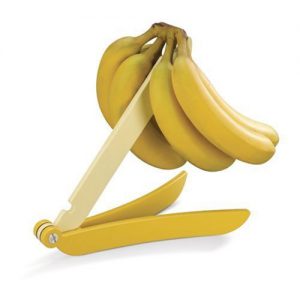 Form follows function follows form with this design!  I first saw this banana holder in the pages of Dwell magazine.  It is easy to use and easy to store.  I love the witty design, with the banana holder being reminiscent of the banana itself.   The design is unique and playful, without being kitschy.  It is made out of wood, which makes it feel more authentically crafted.
When I logged onto Umbra's site (Nov 2009) to purchase this snazzy find, I was surprised to find an estimated $17.95 shipping on a $16.00 item.  So, I shopped around.  Amazon was selling it for 12.99, and the product qualified for super-saver shipping.  With such a witty design, I prefer to buy direct from the designer, but not at these prices!  Recommendation: shop around!
By ekwetzel
2010-01-28