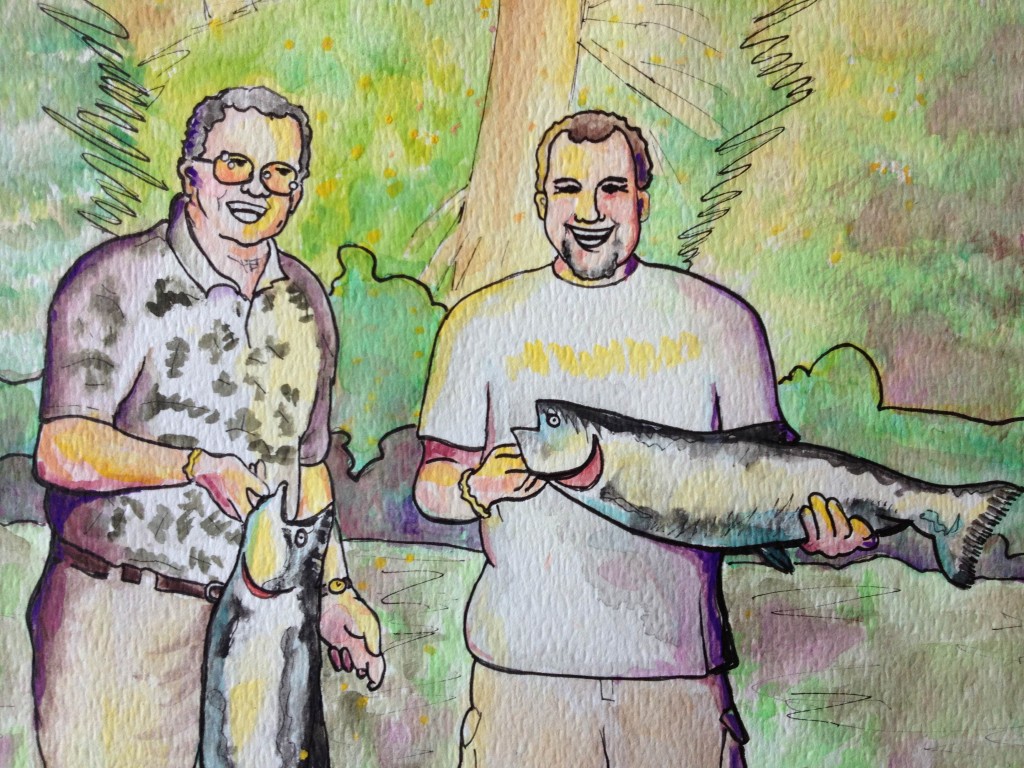 When our family friend, Audrey, contacted us about painting a special portrait for "Grandpa Joe," I was honored. The gift would be presented to Grandpa Joe by Audrey and Joe Turco as a Father's Day surprise. The plan was this: first they would give him an old fishing photo they found of Grandpa Joe and Joe, then they would give him the painting that the photo was based on.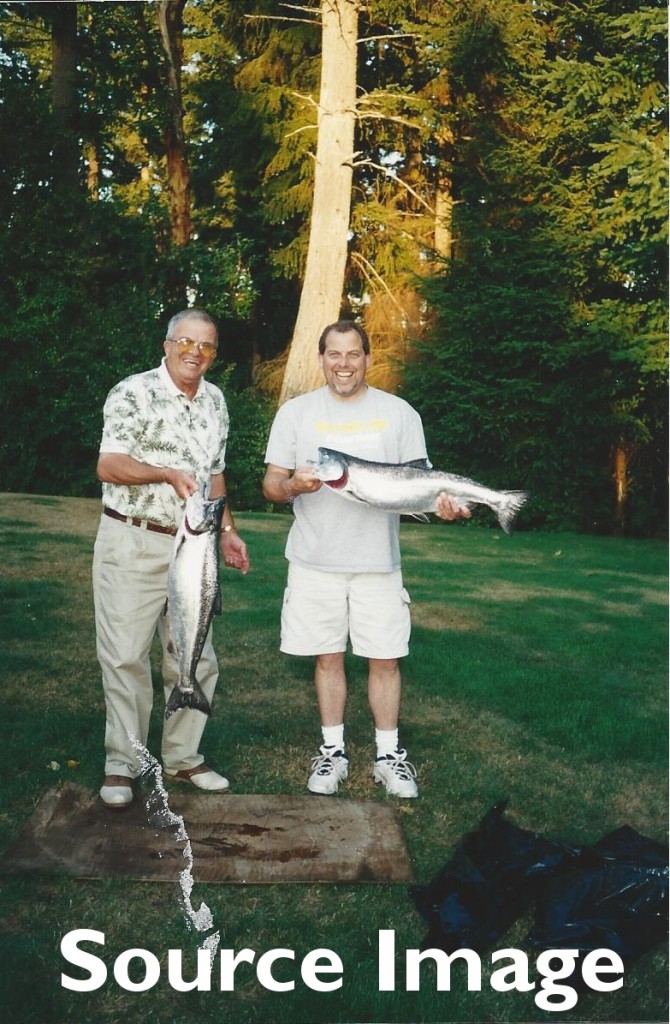 I completed the painting early. Whenever I finish a painting, I typically stand it up in my living room so that I can ruminate on it for a day or so before mailing it to its owner. The more time that passed, the more I realized I was NOT satisfied with the finished work.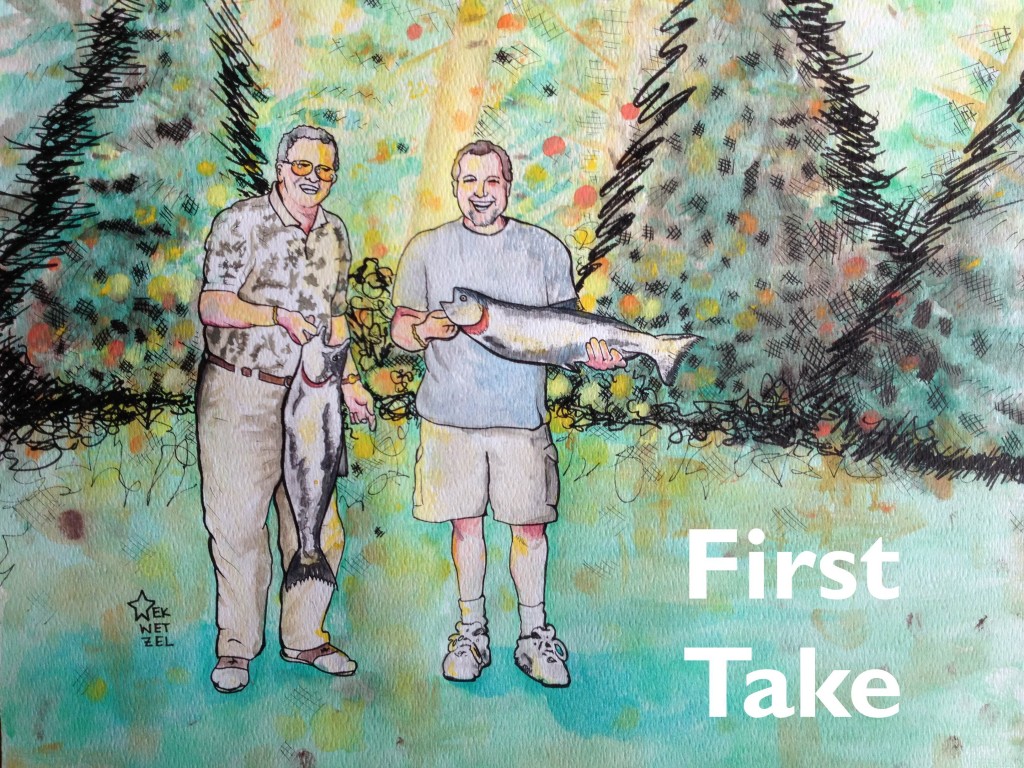 So, I redid it! Here is the final painting: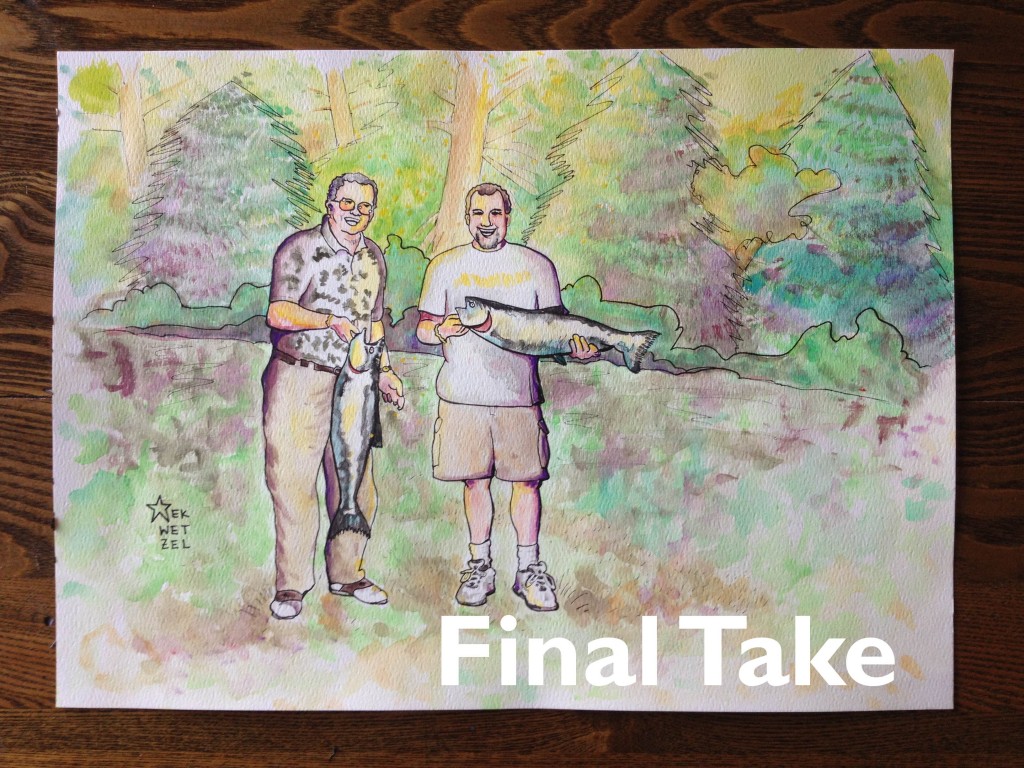 I took a lot of risks with the first attempt at painting this scene, and they did not pay off. But, they were worth it. I know it's cliché, but I learned a lot from the experience of painting a bad painting. My biggest lesson had nothing to do with technique or artistry, but with myself. I learned that redoing a painting is always an option I can reserve for myself. It might not be pleasant, but it's not that painful either.
I do not offer do-overs for my commissions. In fact, there are no refunds when someone commissions a painting with me, because I put time into each piece. But this was different. In this case, I was not satisfied with my work. I want to always be able to stand beside my paintings and say, "I put everything into this, I love it, and I am proud to present it to you." I do not believe in shoddy work. I believe in pulling out all the stops and being the best I can be, on every single painting.
When Audrey, Joe and their family presented the portrait to Grandpa Joe, his joy and excitement alone were reward enough for the extra work. Thank you Stacy for sending me these photos of Grandpa Joe opening his gift.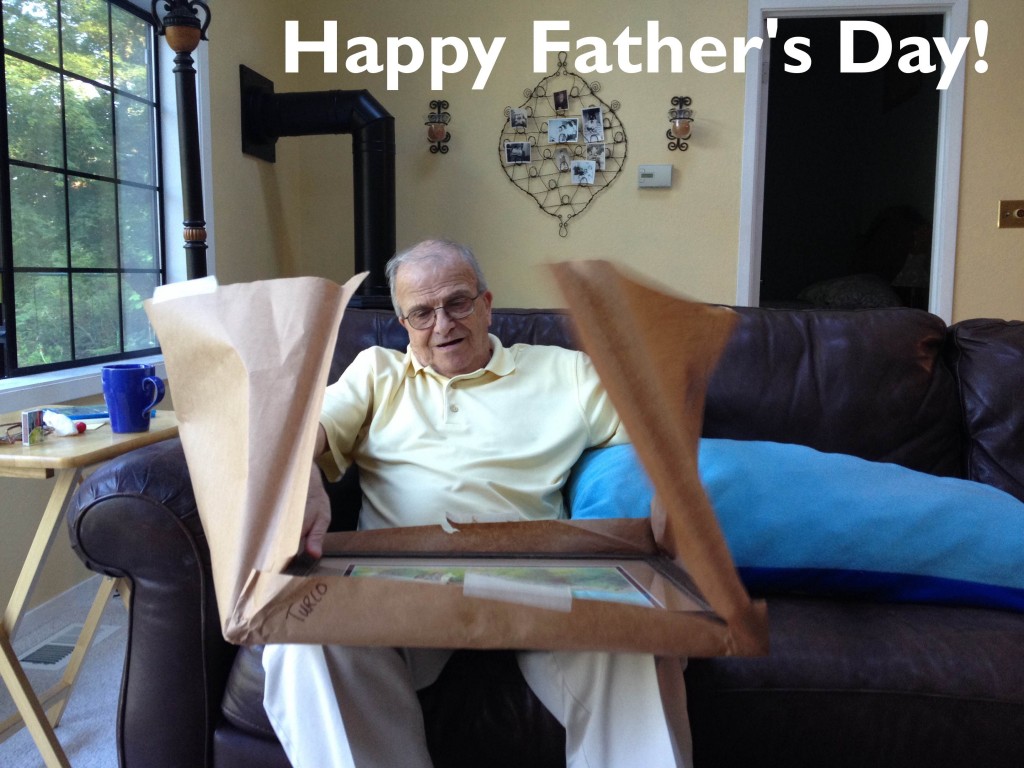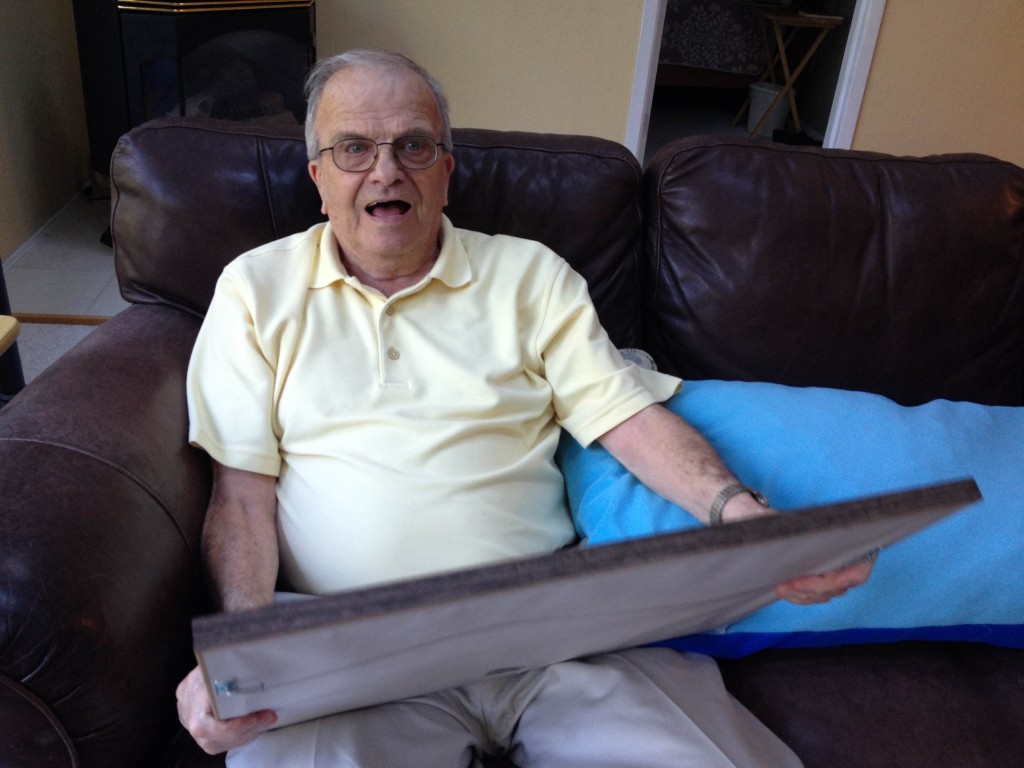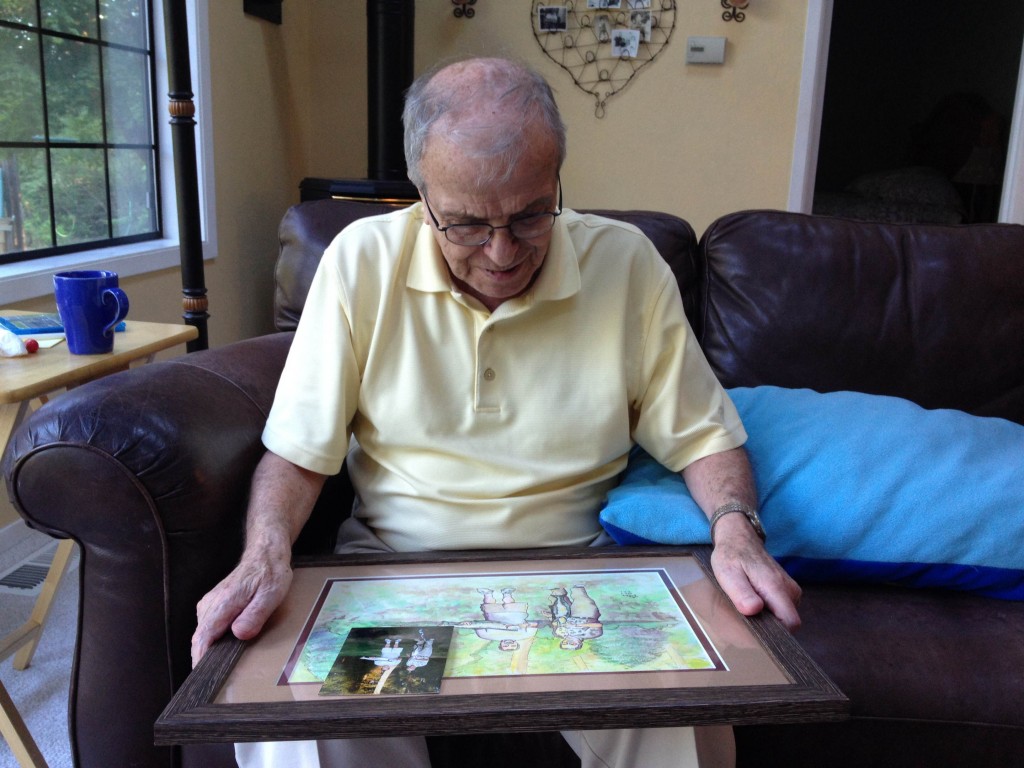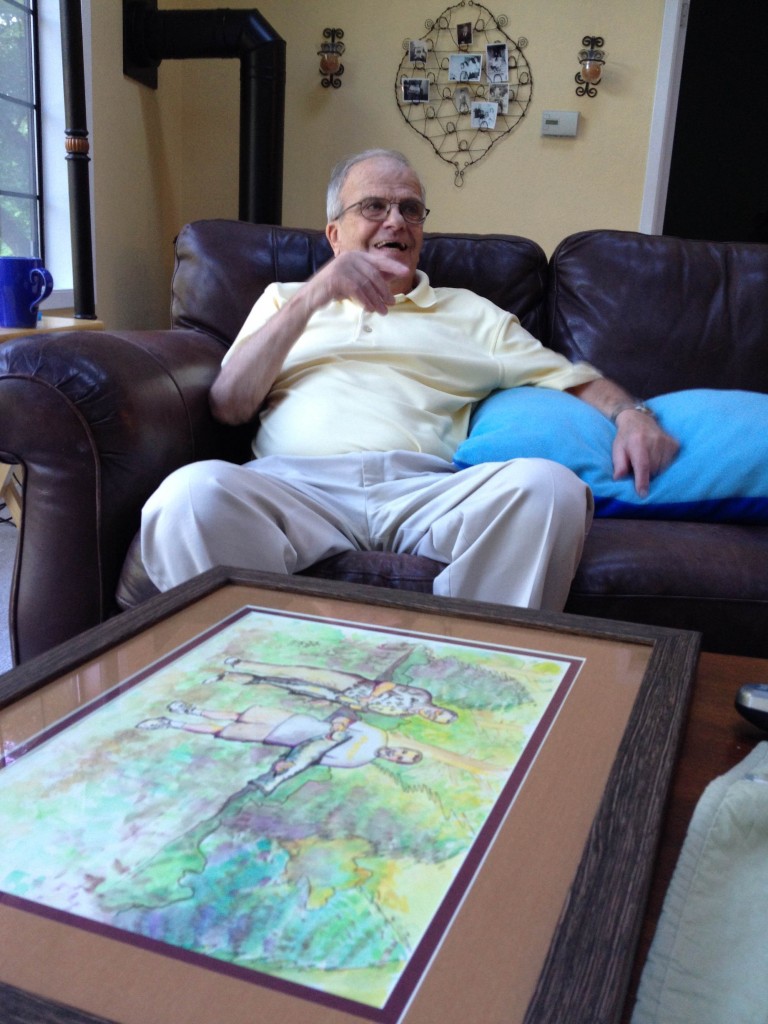 Audrey sent me this testimonial to use about their experience:
"My husband and I have long admired Erin's work and had been watching her grow as an artist over the past few years.  God has truly given her a special gift! When we decided on a special Father's Day painting Erin was our obvious choice. She was awesome to work with. She began with a sketch we quickly approved and we worked together on the background. Several emails later we had a finished project. I can not express the joy we felt when we finally layed eyes on her finished work. We were speechless. Totally awesome. We can't wait to present it to Joe's dad – he'll be speechless to. Thank you Erin! Oh, and would we do this again? Absolutely!"
Thank you SO MUCH for letting me share such an exhilarating and heartwarming memory with you guys. I truly appreciate it.
^_^ Erin
(Here are more photos of the final work.)