We recently found out that Matt is allergic to corn, tomato, egg, dairy, potatoes, wheat, baker's yeast, rice and soy. In order to address these food allergies, we are removing them entirely from our diet for three week, then we will reintroduce each allergen one at a time to see what kind of symptoms it is associated with, and to see if he can handle each potential allergen if eaten in moderation or in isolation from the other eight. In addition, I know that I am addicted to sugar, so we decided to add cane sugar to the list of things we wouldn't eat during this period. I blog more about it here.
The first week, I kept track of everything I/we ate and blogged an update to let you guys know how it was going. But I don't want to do that long-term. With a busy toddler and a busy life, getting into the nitty gritty like that just isn't a priority. I do, however, want to let you know how our journey is progressing.
First of all, Matt and I talked about our decision to have the whole family give up his allergy food. I have been craving all of the things we can't have: cheese, chips, bread, eggs and part of my way of coping with the cravings is to complain about them, and complain with Matt about all the things we are longing for. This is my way of joining him in the journey. Well…after one such complaint, Matt turned to me and said, "I really appreciate it that you're doing this with me, but you don't have to be strict about it. I don't care if you eat something that you're craving." I really appreciated his attitude and sincerity. So…when I went to hang out with my friend, Amberly, and she made nachos, I let myself enjoy her delicious hospitality. It was fun and it helped appease the cravings I had been salivating over. And that was 1 "cheat" after a week of going strong. I'm gonna call it a win. I still won't buy any of the foods we can't have and bring them into the house, but 1 cheat a week, with healthy versions of the allergen foods, that doesn't seem so bad to me.
Another thing I have to mention: I have been feeling downright awful since we started the diet. I almost fainted one day, and have been lightheaded or with wacky blood sugar levels the other days. I assumed it was because of coming off the foods that Matt is allergic to, but I failed to recognize that another big dietary change happened recently, as well. A few days before our diet hiatus, I ran out of Glumetza (a medication I take to keep my insulin resistance in check). I have been on it for 3 years, so I decided to give it a little break and see if I still needed it. And. Oh. My. Gosh. I do. The awful symptoms I have been dealing with are most likely all related to my blood sugar levels. So, I picked up a new prescription yesterday and started taking it again. I'm not fond of the idea of needing a medication so persistently, but I sure am glad that it is available.
HOW IS MATT FEELING?
Mostly, Matt has just felt tired and hungry. The headaches have abated, or disappear once he eats some food. He doesn't feel better yet, but there are a lot of other changes going on, so it's hard to pinpoint what he should attribute to diet, and what is due to all of the other things.
WHAT WE ARE EATING?
Aside from eating lots and lots of ice cream, we are having fun exploring meals that free of our host of allergen-no-nos. Here are a few of the highlights:
Braising Mix Breakfast with mushrooms, onions and bacon, sprinkled with pine nuts:
Homemade granola (honey & cinnamon toasted oats). With optional toppings: almond milk, nut/dried fruit mixture & freeze-dried strawberries: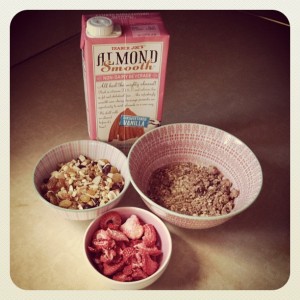 Stir Fry: beef stew meat, cauliflower, mushrooms, onions, and braising mix greens: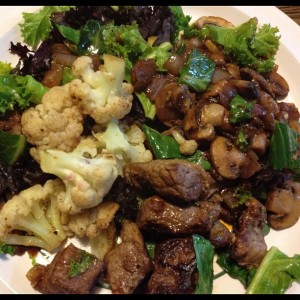 Spring rolls made with tapioca paper, filled with cucumbers, roasted red peppers, chicken leftovers & spring greens…and dipped in a homemade balsamic vinaigrette dressing: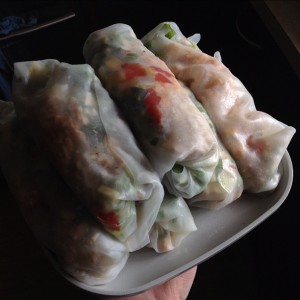 By ekwetzel
2012-05-03