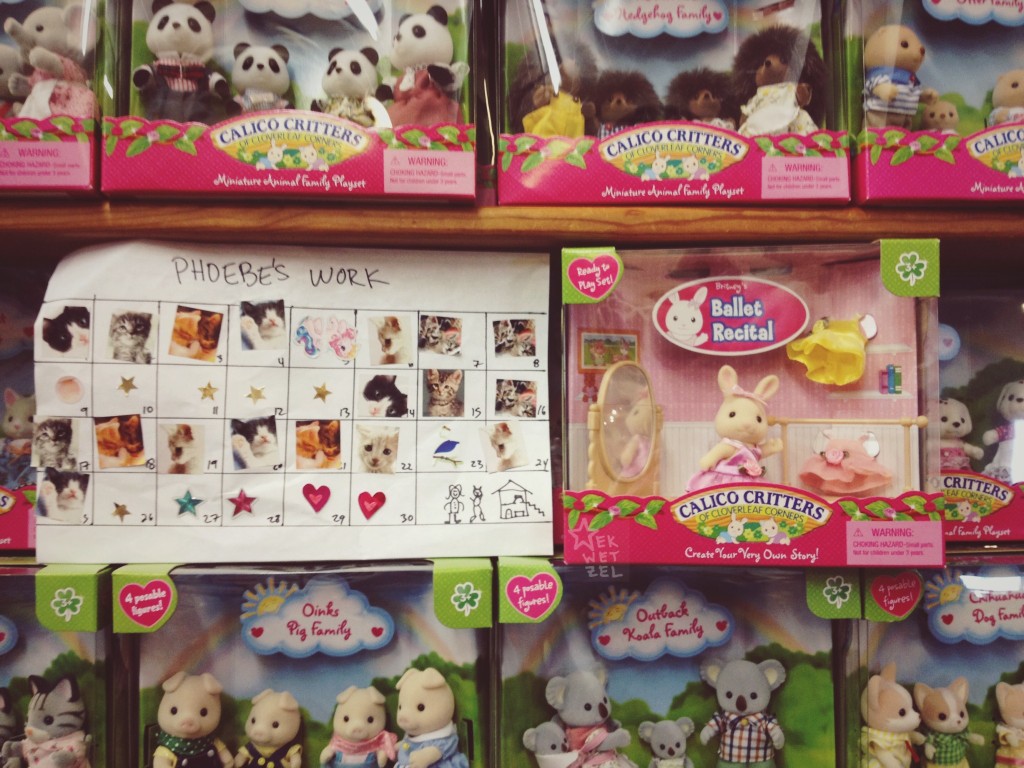 Phoebe is a hard worker.
There are some things Phoebe is expected to do for the joy of helping, or because she is a member of our family. Things like…
brushing teeth
cleaning up her room before bed
feeding Scooter
putting a toy away
Phoebe also has the opportunity to work. We used to try paying her with change, but money is a concept she is still learning to grasp, so a coin was never a big enough incentive for her.
Do you know what is an incentive?? STICKERS.
This is what we do: Phoebe tells us what she wants to work towards, and we create a worksheet with an appropriate number of tasks. Each time she completes a work job, she gets to pick out a sticker and put it on her worksheet. This gives her the immediate satisfaction of earning a sticker to display, and it helps keep her end goal in mind.
What kinds of jobs does Phoebe do?
Loading the washing machine
Emptying the washer and loading clothes into the drier (a two-sticker job)
Emptying the drier & putting the drier balls aside
Putting away her clothes (her least favorite job)
Cleaning up Scooter's poop
Assisting with yard-work
Special assignments (once I had her collect all the shoes around the house and line them up neatly in the shoe closet)
Sometimes we go several days without her doing any jobs. Some days she earns 5 or 6 stickers in one day. It depends on her mood…and on what I have to accomplish that day.
We never force her to do a job. I give her the opportunity. I remind her if she gets sidetracked. If she doesn't do something, I simply do it. If she complains or whines that SHE WANTED TO DO IT, I gently remind her, "You had your opportunity, and you decided to play instead. I could use your help with this new task, though."
(A few side-notes about the stickers: stickers are something she always has access to, but she is only permitted to put them on her worksheet when she earns them. For instance, she always has inexpensive gold stars, but every once in awhile we'll buy special stickers, like cat stickers. She can use these when playing, but she often saves them for her worksheet OR for when she writes letters. We don't make her do this. We let her figure out how she wants to use them, and this is how she self-regulates. Also…when she earns a sticker, we are very hands-off. I simply tell her she earned a sticker, and she goes and gets it on her own and places it on her worksheet, which is displayed on the fridge at her height).
And when she finally does earn a full sheet? The reward is oh so sweet.
We went to a local toy store so she could pick out a calico critter that she'd been working towards for over a month. An older girl was looking at the calico critters, sighed, and boasted "I've got ALL of these." I smiled. In my heart, I was so proud of my little girl. She might not have as many toys as this older girl, but my Phoebe is EARNING hers. And she will treasure them so much more.
^_^ Erin