A decade ago, I was addicted to creating collages.
Perhaps it was something about the deconstruction and reconstruction of language that appealed to me. My obsession with deconstruction should have come as no surprise. Ever since I met Jacques Derrida, I became obsessed with this quixotic Frenchman, with his fedora and pipe, and his rambling evasive discourses. The day I met him, I was a young bird with stars in my eyes and I had no idea how to spread my wings to fly.
But I did fall in love with the principles of cutting and pasting. So I would collage. Mind you, these collages were not "scrapbook my BFF memories" types of collages. No. They were inspired by the likes of e e cummings, poet extraordinaire, and Jean Kilbourne, who floored me with her revelations about images of women in advertising.
My collages were poems. They were my version of  "found poems."
Would you like to see one?
Click on the image below and it will link you to a full size of the poetry collage. After the image, I typed out the text of the poem; it is edited to remove confusing grammar and  improve general readability, but the gist of the poem remains.
If you want to read more of the found poems, tell me so in the comments below!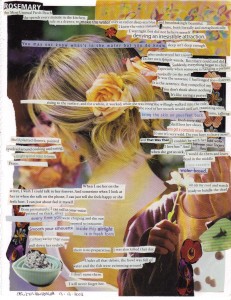 ROSEMARY
The most unusual fresh peach,
she spends every minute in the kitchen,
safe in a drawer,
to make water over in red or deep-sea blue
and breathtakingly beautiful.
I knew her voice instantly: home,
both literally and metaphorically.
(I was right but did not believe myself,
denying an irresistible attraction.)
You may not know what's in the water but you do know:
sleep isn't enough.
Who understood her vision?
In her own simple words, Rosemary could and did.
Suddenly, everything began to click,
especially when someone would hang a picture
crookedly on the wall.
It was the sentence I had longed for—forever.
It is the sentence that compelled me.
You don't think about nothing.
It's like saying a prayer,
rising to the surface, and for a while, it worked,
while she was living. She willingly walked into the role,
the roof of her mouth would peel off, examining ideas,
time, talking.
Bring the skin on your feet back.
Blush everyday.
She'd lost her shoes.
You get a complete essay.
(To me it's very wild. Do you have to leave now?)
And That Was Then.
I couldn't be with her,
cold water between our fingers flow;
I love her. And
when she got so sick,
I would leave,
dead in the middle,
glass ceramic,
water-based.
She planted flowers, painted,
revolved around cooking and eating,
a bright spot of color to keep
Peace.
I sit on my roof and watch,
ready to handle the dead.
(Sometimes I see her on the street,
I wish I could talk to her forever.
And sometimes when I look at her
or when she talks on the phone, I can just tell:
she feels happy or she feels hurt.
I can just about feel it myself.)
Smooth your silhouette.
Inside this air is a fresh form.
Born prematurely, (I could tell, in her voice,
printed on thick silver).
At the time, she was chirping
and the sun seemed so innocent.
Curfews earlier than noon
pulled down her eyelids.
There is no preparation.
I was also killed that day.
Under all that debris, the bowl was full of
water and little fish were swimming around.
I don't name them.
I will never forget her.
By Erin Wetzel
© 2014 ekwetzel. All Rights Reserved.