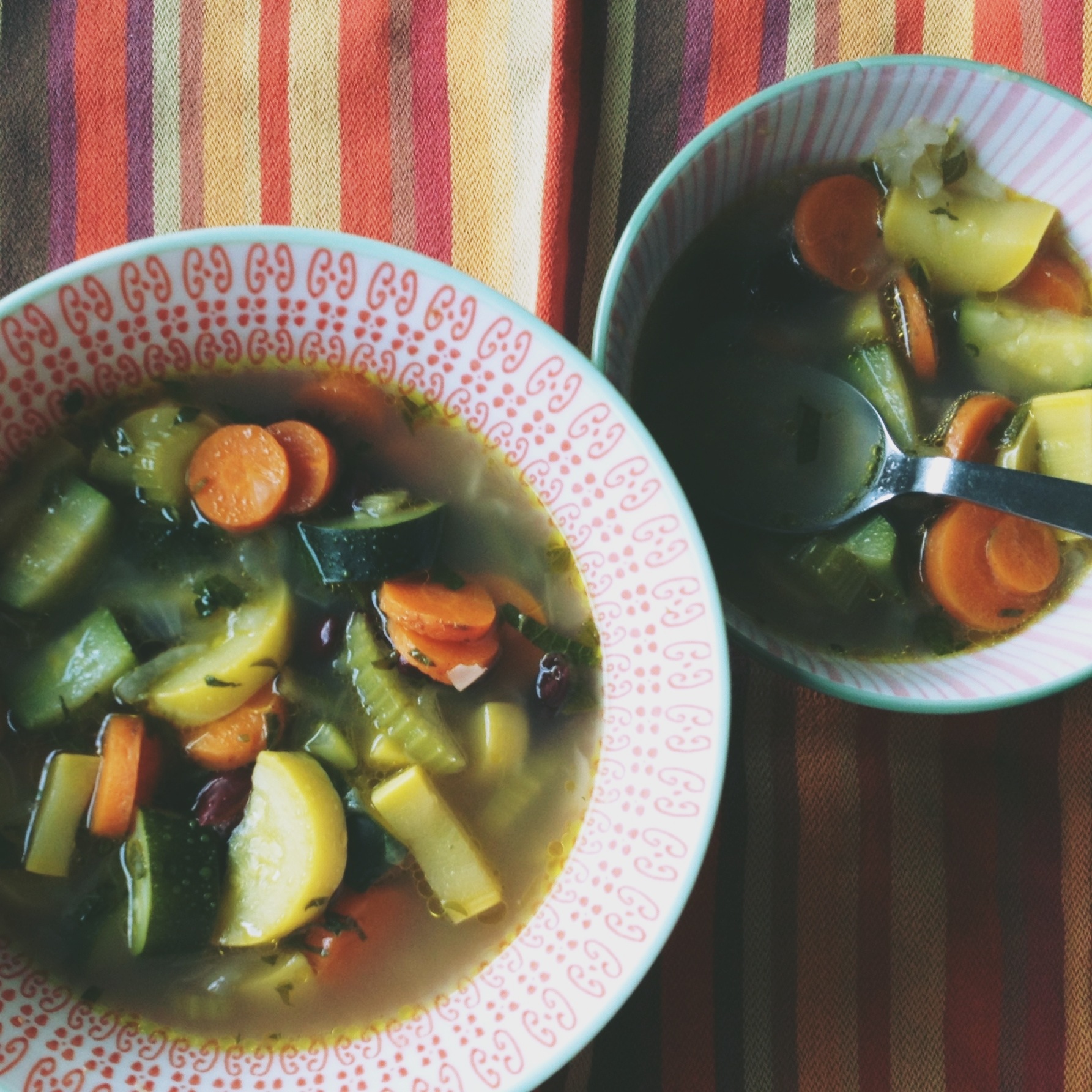 Tonight we had soup for dinner. I threw it together based around the zuchini that we received in our CSA this week. It was a simple soup to whip up, and was a particularly tasty meal at the end of the day. I will share the recipe thet I used tonight, as well as some basic principles for cooking soups that I've picked up in my (albeit limited) experience:
SUMMER SQUASH SOUP
Quart chicken stock
Bowl of salt (to use for adding frequent pinches)
Olive oil
1 small onion
2 carrots
2 celery stalks
3 small zuchini squash (I used 2 yellow & one green)
1 can kidney beans, drained & rinsed
2 bay leaves
Fresh herbs: I used oregano, thyme & mint
CUTTING THE VEGGIES:
Onion: mince (I like my onion pieces tiny)
Carrots: chop into disks
Celery stalks: chop, reserve the leafy tops
Zuchini squash: chop a little bigger than the carrot pieces, mine were in the shape of semicircles…it's good for them to be thick because they soften significantly
Spices: for my soup, I minced the oregano & mint, but kept the thyme as little twigs
DIRECTIONS:
(1) You will use two pots. In the smaller pot, warm your chicken broth with the leafy tops of the celery. I typically try to get the pot to boil before it's time to add the broth to the veggies. This reserves much of your flavor. Adding cold broth to a soup is ok, but not optimal.
(2) Heat olive oil in bottom of soup pot or saucepan. I put a pinch of onions in with the oil. When the onion pieces start to sizzle, add all of the onion with a generous pinch of salt. Stir/coat with olive oil. Turn heat down to low (a 1-3 setting on most stoves). Cook onions until translucent, 3-5 minutes.
(3) Add carrots & celery with a pinch of salt. Stir. Let cook about 5 minutes.
(4) Add squash, kidney beans & bay leaves with a generous pinch of salt. Stir to coat with oils. Let cook about 1-2 minutes.
(5) Add warm broth to main soup pot. Add pepper to taste. Raise burner temperature to boil. Once pot boils, lower temperature again so that pot will simmer, with the lid on or cracked. Soup will be finished cooking in about 20 minutes, but you can cook it for up to 30 minutes without the squash getting too soft.
(6) Add fresh spices 10 minutes before you plan on taking the pot off the burner. Adding spices at the end like this helps bring their flavors out more.
(7) Remove celery tops, bay leaves & any other unchopped spices (such as twigs of rosemary or thyme) before serving.
The soup goes great with a simple bread. I love it with a rustic loaf or sourdough bread. Fresh fruit also makes a dessert-like accompaniment. Tonight we had a galia melon (I bought it thinking it was a cantaloupe…it was a delicious surprise!).
You can use the basic formula for this soup to make any rustic veggie soup. Substitute squash with green beans or peas or corn. Add quinoa or rice to the stock. Switch up the spices. The best elements to keep steady are the onion, carrots, celerey & stock. And the salt. Adding a pinch when you add each new item helps seal in the flavor!
Enjoy!
^_^ Erin
7/31/2013