There are so many yummy things to eat and buy at this time of year. The holiday spirit brings out fantastic edible treasures: cranberry sauce, turkey, ham, cookies, chocolates, and once-a-year casseroles. It's really hard to go to the grocery store and stick to the staples.
For the holidays, we do potluck meals with family in the area. For Thanksgiving this year, we'll be bringing homemade sweet iced tea and corn bread. This year we'll spend Thanksgiving at Matt's aunt's house; we're hosting Christmas Eve dinner here; and we'll visit my brother's family on Christmas day. So we don't need to buy every delicious holiday treat under the sun. So, I will exercise self control! (As much as I can!)
WHAT WE SPENT
Meadowwood Farms, 11/20/11
• 1/2 gallon raw milk, $4.50
Trader Joes, 11/20/11
• 11 organic bananas, 2.69
• Oatmeal (McCann's Irish), 3.29
• Three Berry Granola, 3.29
Total: $9.27
Costco, 11/20/11
• Dry Cured Bacon, $14.65
TOTAL: $28.42
We have $21.58 left to spend for this week.
WHAT WE'VE BEEN EATING
We had leftover crock pot stew that lasted for several meals. We're also been eating some rice & beans and lots of roasted root veggies. Especially potatoes with cheese on top. Apples are a staple snack food. I also baked blueberry muffins and a loaf of bread this week.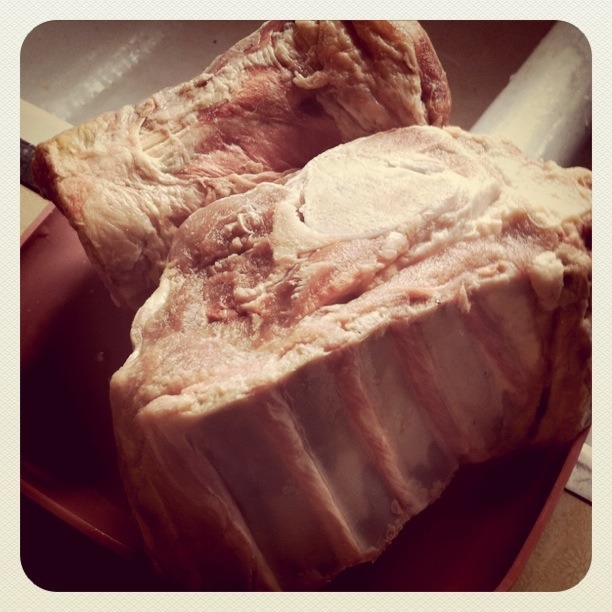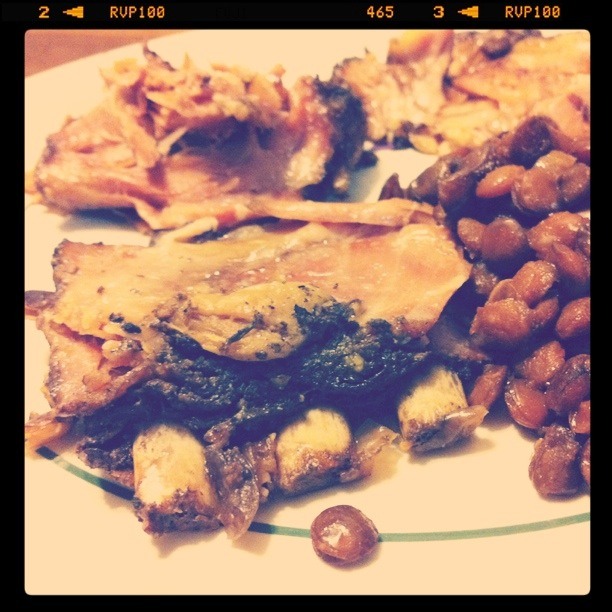 I found a shoulder and neck of lamb in the freezer that we bought awhile back from Sea Breeze farm. Tonight I slow cooked the shoulder with lentils. Delicious. I'll make a soup from the neck & stock from the bones.

Phoebe enjoyed teething on one of the lamb bones.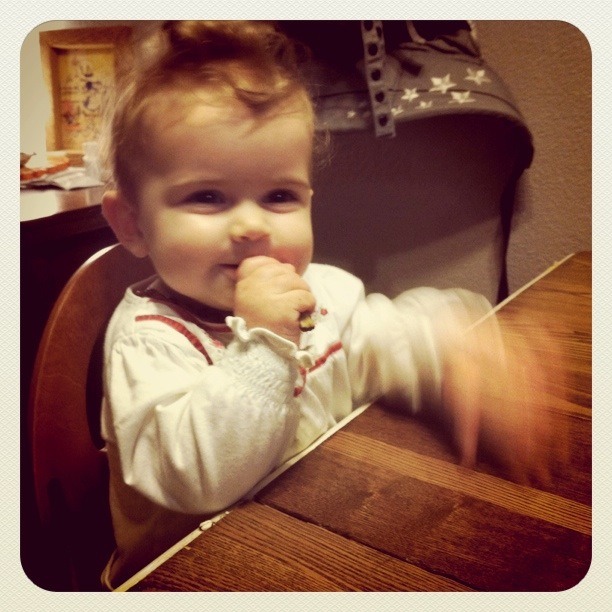 This week we are also looking forward to some good ole Thanksgiving leftovers!

What have you been eating this week?

By ekwetzel
2011-11-21

– Posted using BlogPress from my iPhone