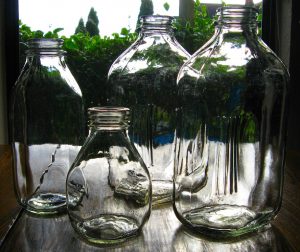 There are many dairy products out there that line the walls of supermarket refrigerators, but all the different milky makes and models come from one place: milk!
It's easy to make your own skim milk, whole milk, half and half, cream and heavy whipping cream from raw milk right from your local farm.  Once you get your fresh dairy home, just leave it in the fridge overnight, or for 8 hours, and let the cream rise to the top.  Then, skim the cream off the top of the milk.  We drink milk from Jersey cows, and any given week we can get 2-4 cups of cream from a gallon of milk; cream-tastic!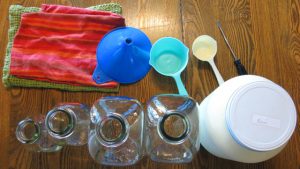 In order to manage this farm-centric milk method, we do not search through an aisle of different colored containers and differently stamped expiration dates.  The tools that I use are:
–    Containers for the milk (I use glass jars re-purposed from old bottles of Golden Glen Creamery milk)
–     A screwdriver, to loosen the lid of the jar
–    Measuring cups or a ladle
–    A funnel
All the dairy products we glean from this gallon of raw local milk are farm fresh and fantastic.
Here is a little video I put together that shows how easy it is to skim the cream off your own milk. At the end, I even threw in a quick little dessert perfect for the summertime…especially summer in the Pacific Northwest where cherries are abundant.  This dessert calls for no sugar: just make some whipped cream and dollop it on top of your fresh, cut cherries (strawberries, peaches and other fresh fruit make delicious substitutes, as well). The richness of the whipped cream and the sweetness of the fresh fruit leave you wondering how anyone could choose an artificial sugar overdose when presented with such a sweet and balanced alternative.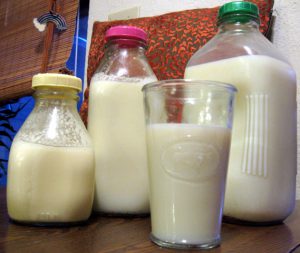 A note on raw milk and freshness: you can get raw milk from local health food stores (locally, Marlene's carries a couple brands), but I have found that the milk loses a special quality by traveling those first few days.  After raw milk has been allowed to sit in the fridge for a week and a half to two weeks, it's still drinkable (i.e. doesn't smell or taste sour), but the creamy parts of the milk tend to separate and ball up a little.  I find this texture quite unappealing. I prefer the farm-fresh milk; and, if I ever think we won't use up the rest of our gallon by week's end, I'll flip through my cookbooks for a recipe that calls for a lot of dairy, or transform the milk into yogurt.
We pick our milk up each week from Meadowwood Farm, where they milk their Jersey cows daily!
By ekwetzel
2010-07-05