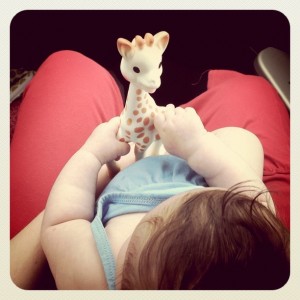 I'm not the kind of person that likes to buy things because they are trendy or popular. On the contrary, I'm the type of person that avoids trends. If something is popular, I tend to think everyone likes it just because everyone else likes it and not because of any inherent merit in the object in question. This is why I avoided Sophie the Giraffe, a teething toy by Vulli.
Sophie. Is. Everywhere.
I see her in Baby's R Us in the checkout aisle, in all baby stores I enter (except for the consignment shops). Amazon keeps pushing her on me in my recommendations. And it doesn't stop there! I see her in pictures on mom blogs and photos that friends post to share online. Sophie is a craze. Everybody has a Sophie. It's like Tickle Me Elmo all over again!
Then Phoebe started to teeth early, at 3 months, and we had no teething toys. My friend, Amber, recommended buying Sophie (even though I would have to pull for her new because NO baby consignment shops have carried her). Amber said she was worth the investment. We had some baby shower money left over, so we decided this expensive toy was worth pulling for. And Amber was right.
My daughter is only three months old. She is just starting to learn how to grasp things. She can grasp rings pretty well, but – lets face it – rings are easy.
When we got Sophie out of her box, Phoebe immediately reached out for her and grabbed her. Successfully. I was astonished. This little toy is so well designed, perfectly ergonomic for little baby hands. The long giraffe legs are excellent for little grasping fists. The long giraffe neck with a curve and grooves allows my daughter to easily hold Sophie with one hand and even flail her around.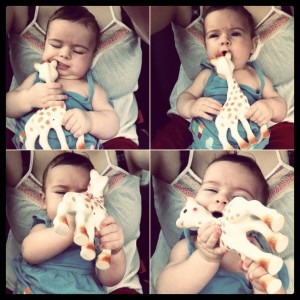 Plus there are tons of grooves on Sophie for my daughter to run her gums along. She gums on the legs, gums on the head, gums on Sophie's pointy nose. Sophie squeaks, too, which is cool, but Phoebe isn't really old enough yet to figure out how to make that happen. I use the squeaks typically to draw Phoebe's attention to Sophie as I hold her up in front of my baby's face.
And, oh my goodness, when I take Sophie out and present her to Phoebe, Phoebe flips out. Her pupils dilate (seriously…they dilate…every time). She smiles, and she reaches for the little giraffe toy. She drops her, picks her up, holds her with one hand, then the other, then both. She sucks and gums and gums and gums the giraffe. It's awesome.
Once when I had Phoebe on the changing table, I took Sophie from her so that I could change her shirt, and Phoebe through a little tantrum in protest. Her first tantrum. That's how much she likes this toy.
Was I paid to write this review? Absolutely not. Does Sophie solve all your teething problems? Hahahaha…NO. Is Sophie an EXCELLENT teething toy that I think every baby should have? Yes. A thousand times yes. She's worth it. Buy 1 Sophie instead of 3 other cheap toys that aren't even half as great. Seriously, she's totally worth it.
(Amber's on twitter. Hi, Amber! Thanks for being awesome!)
By ekwetzel
2011-07-19