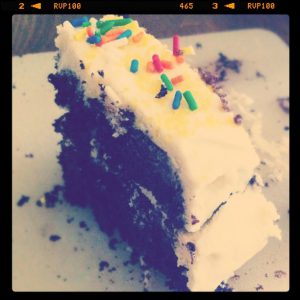 I love cake. I looooove cake. I love cake with frosting and cake without frosting (and frosting without cake). When I was growing up, one of my grandma's would always have a yellow cake with chocolate frosting whenever we came to visit. The other grandma lived with us, and would often make a sheet cake and just leave it out. I was in high school. I'd grab a slice for breakfast. Often. It's was totally delicious.
My grandmas are both gone and buried, and now I must bake my own cakes. Because, let's be honest here, once you become a mom, NOONE bakes cake for you. (Having said that, if someone were to surprise me with a birthday cake like this one, I would be in love with you forever.) I have tried a dozen different cake recipes, and they all end abysmally.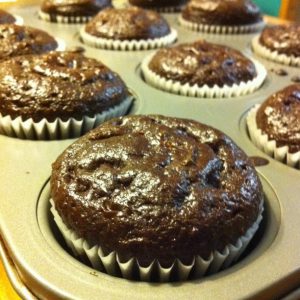 At long last, I have reached the end of the rainbow, folks. I have found the recipe of gold. My cake-guru, funky friend Joni (Joni's blog) sent me her amazing chocolate cake recipe. The cake is so awesome you should make it to celebrate occasions like "Hey! We're in the kitchen!" or "We have a kitchen!" or "We rent a kitchen!" or "We know someone with a kitchen!" Jonie is awesome enough that she baked this cake while in labor for her daughter, Ella (birth story here). Here's the recipe:
BEST. CAKE. EVER.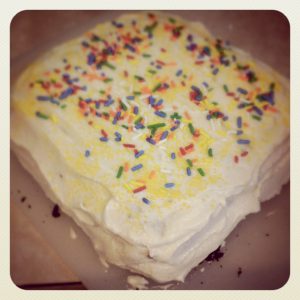 Ingredients:
1 cup Sugar
1 3/4 cup Flour
3/4 cup Cocoa Powder
1 1/2 teaspoons Baking Powder
1 1/2 teaspoons Baking Soda
1 teaspoon Salt
2 Eggs
1 cup Milk
1/2 cup Vegetable Oil
2 teaspoons Vanilla Extract
1 cup Boiling Water
Directions:
– Heat Oven to 350 F.
– Stir together dry ingredients.
– Add egg, milk, vanilla & oil.
– Beat 2 minutes on medium.
– Stir in boiling water (batter will be thin).
– Pour into two 8 or 9 inch pans (prepared with grease and flour).
– Bake 30-35 minutes, or until toothpick is clean.
To make CUPCAKES: Bake about 19 minutes. Makes 24.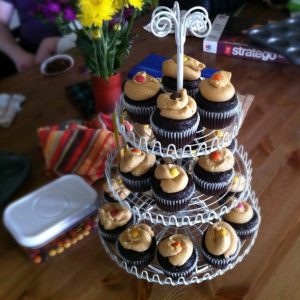 CHOCOLATE FROSTING
Ingredients:
1/2 cup Butter
2/3 cup Cocoa Powder
3 cups Powdered Sugar
1/3 cup Milk
1 teaspoon Vanilla
Directions:
Beat ingredients together. For whipped frosting, beat longer. Use a whisk attachment, if you have it.
For VANILLA FROSTING, omit cocoa powder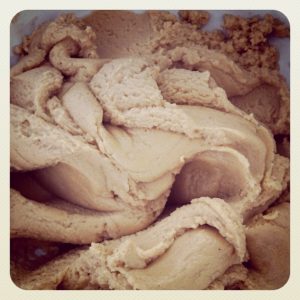 For PEANUT BUTTER FROSTING, beat together these ingredients:
1/2 cup Butter
1 cup Peanut Butter
About 3 cups Powdered Sugar
Milk to consistency
Enjoy the richness!
By ekwetzel
2011-07-12