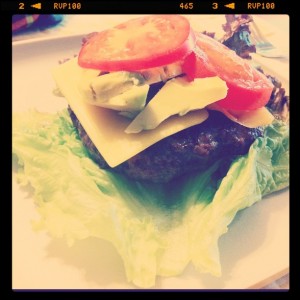 How much money do you spend a week on food?  When I discuss this question with people, I inevitably get frustrated, because people always tell me a figure that seems unreasonably low. In our house, we budget; we keep track of every dollar; and we know exactly how much we truly spend on food each month. And, let me tell you, it is hard to spend only $50/week on food for two adults.
Well…it's hard if:
– You eat meat. Daily.
– You eat organic/free range/pastured products.
– You eat fresh fruits and veggies.
– You drink raw milk and eat raw milk dairy.
– You don't have a garden.
Plus, if you count ALL your food, even your Starbucks coffees and lunches out, it's IMPOSSIBLE to spend only $50/week. Seriously. Unless you eat off the McDonalds value meal, which I refuse to do, because it most definitely does not meet any of the aforementioned criteria. And because it tastes gross.
For me, keeping our food spending in budget is a continual challenge. Can it be done? Can we spend only $50/week on groceries?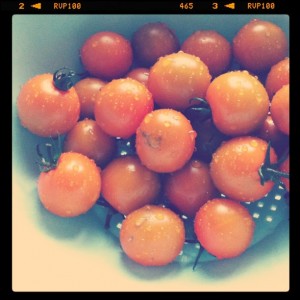 I am inspired by the blog "30 Bucks a Week" which chronicles the grocery spending of a Brooklyn couple who eat vegetarian & sustainable meals. Tina & Phil post their receipts each week and chronicle their spending habits. If they can eat cheaply and still eat well, shouldn't I be able to, too. Meat is more expensive than "no meat," so and extra $20/week should be more than enough wiggle room, right?
I've been in a frenzy tonight over this idea. I fear if I sleep on it, I may lose my fervor and back down. So. Off the cuff. In a flurry of spontenaity and emotion, I am posting my "big idea" to the blog:
I want to try.
I want to try to eat for $50/week.
I want to try to eat ORGANIC, SUSTAINABLE, RAW, LOCAL and FRESH for $50/week.
I want to try the "50 Bucks a Week" challenge!
I will:
– Post my receipts for each week. Even when I fail. (Especially when I fail).
– Start the "counter" tomorrow. (And, yes, I am grocery shopping tomorrow).
– Include ALL food spending. Including dining out? Hmm…I haven't decided yet. Tina & Phil don't on their "30 Bucks a Week" blog, and I bet Matt and I eat out less than they do. (They say they eat out "on the weekends"). So, lets revise that to:
– Include all NON-RESTAURANT spending.
One last thing: Matt and I love being hospitable, and part of hospitality is serving food. We actually set aside money in our budget for hospitality, and it is separate from our regular "grocery" fund. For the sake of this blog, I will include any food spending, regardless of whether or not it's for us or for our guests.
I'm nervous. I know I'm going to fail to stick within budget a lot. But I hope my honesty and openness inspire you to examine your own eating and spending habits. And, if you have any tips on how you cut down on food costs without compromising on quality, I beg of you: please share!
Here goes nothing!!!!!
By ekwetzel
2011-08-08