I am a novice gardener.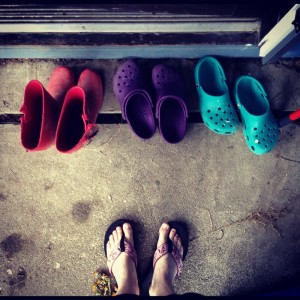 Technically, I know how to garden well, but only in the Northeast. I was raised in upstate New York and even worked as a farm hand near Mechanichville, NY for one summer, a summer glorious with organic soil and heirloom tomatoes. But then I moved to Washington state, and everything I planted died.
Now I have a house with a rhubarb patch, an apple tree, a Rainier cherry tree, and some grape vines, as well as a big ole garden plot. It has been calling to me ever since we moved in two summers ago. Now the siren song has pulled me under and I have dirt under my nails once more.
I want to plant perfectly. I want to plant All Of The Things. I want up has good soil and weed appropriately. But I have been paralyzed too long by perfectionism. I have been leaving through gardening books and skimming blogs during Phoebe's nap time. And today I finally wrote out a list of plants, went to my local greenhouse and took the plunge.
I am going to make So Many Mistakes this year. And next year. And the year after that. But I'll learn from my mistakes. And I'll get to eat SOMETHING that I grew in the process. And I'll have the constant pride of dirt under my fingernails.
I love the idea of planting the Iroquois Three Sisters: corn, beans and squash.
I love the "Food Not Lawns" movement. I want to remove ALL the grads from my front lawn and plant a huge herb garden and flower garden.
I planted blueberry bushes and currant bushes.
I have so many dreams and plans. This big garden adventure both overwhelms me and fills me with pride and joy. Gardening excites me. It makes me grow outside myself. It forces me to be ok with gritty imperfection; to see that life is boundless and forgiving, surprising and unpredictable; to throw some seeds into some soil and steward them until they explode. Or so I hope.
A FEW DETAILS
My main plot is 13 x 13, with an adjoining 8 x 13 area that I could till and use.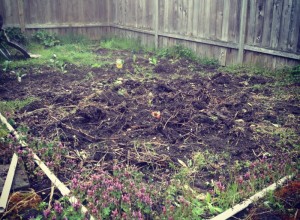 Today I spent $105 on the following: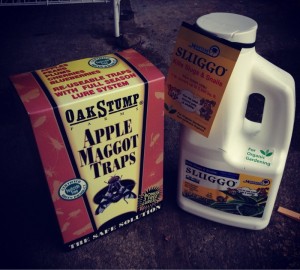 We have terrible slugs. And last year bugs ate ALL our apples. Yuck.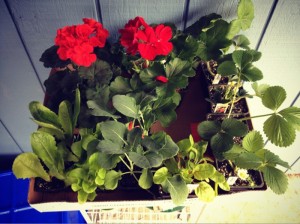 4 strawberry plants, 4-pack broccoli, 4-pack romaine, 4-pack lettuce, rainbow chard & 2 gorgeous geraniums (for the patio pots).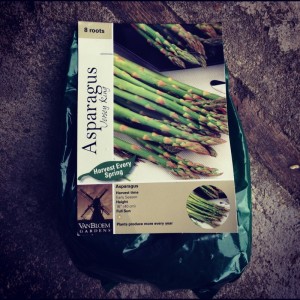 One of the last asparagus packs! I was almost too late!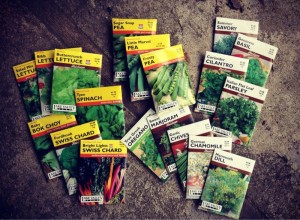 Lots of seeds. Lots of herb seeds.
SCENES FROM THE DAY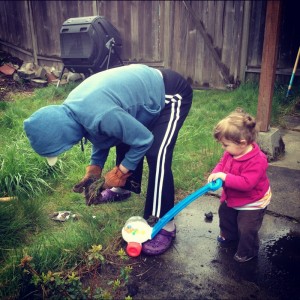 Phoebe "helps" my mom weed.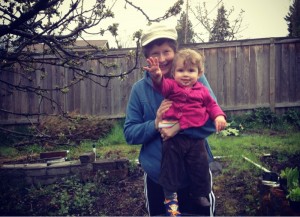 Cherry tree. Dead Christmas tree. Family. Rhubarb patch. Lots of grass & weeds. And my garden plot. (Left to Right)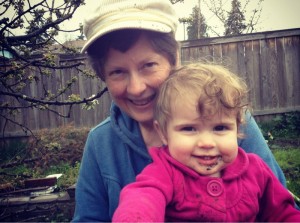 Mmm. Dirt.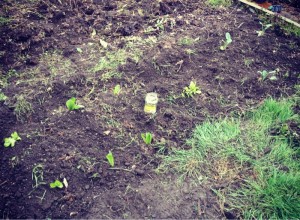 A riveting picture of the row I planted today (my starter plants).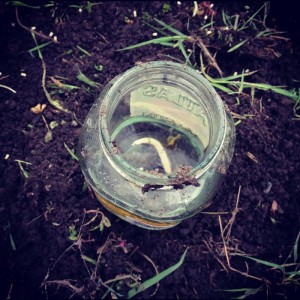 An equally riveting picture: slugs dead in a jar of salty water. I plopped them in there as I planted.
What are you planting?
What are you planning?
What are you dreaming?
Any tips for gardening in the Pacific Northwest?
– Posted by ekwetzel using BlogPress from my iPhone, 4/11/2012