I haven't blogged in awhile, then last night I had a flash of inspiration to write a blog post about gifts you can give people when you run out of money, don't want to leave the house, or just plain forgot about someone. These are a dozen gifts ANYONE can make. You should have the supplies for these items already laying around your house. Yes. Even YOU, my non-crafty, non-hoarding friend!
And these are gifts that are GOOD GIFTS. They are things people actually WANT to receive.
So, without further ado…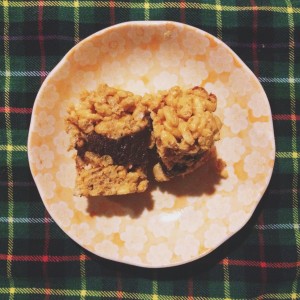 (1)    BAKED GOODS
Cookies, brownies, cupcakes, fudge, candies, pound cake, scones, lemon bars, cinnamon rolls…there are so many different foods that fall into this category and people LOVE them. Most people have "a specialty" that they make which others love. For my grandmother, it was monkey bread. For my aunt, it was fudge. You know what "your thing" is; you always have the supplies for it.
(2)    FAVORITE RECIPES
A collection of favorite recipes is a personal and cherished treasure. What do you make well? Are you "king of the barbecue"? Write our your tips and tricks for grilling hamburgers, along with some of your favorite seasoning combinations. Or do you make excellent soups? Are you the Casserole Queen? Do you have a knack for stir frying greens into magical deliciousness?
I recommend using 3 x 5 cards or trimming normal paper down to that dimension because it's the size of most recipe boxes. Alternately, you could fold regular paper in half, staple it together & call it a cookbook!
(3)    LETTER OF LOVE
None of us can ever be told enough that we are loved. Stop and think about the person you want to give a gift to. Why do you love them? What is special about them? Write it out. OR you can write out some of your favorite memories together.  Be personal and open hearted. Overshare.
(4)    CREATIVE WRITING
Poetry. Short stories. Jokes. Think of a topic you share, or something that you think the friend would find amusing, and use your imagination! Darth Vadar as Santa. A dialogue between Kant and Kafka. A limerick about puppies rolling around in paint.
(5)    DRAW A PORTRAIT
I know. I know. "You're not an artist." I don't care. Draw a portrait of your friend. Or their family. Or a picture of you & him. Use crayons, or a sharpie, or both. And here's some huge advice: be bold! Don't try to draw a "perfect picture"…that's what photography is for. Use your imagination. Have fun!
(6)    MIXED CD
A tried and true favorite has  always been the Mixed CD,  but we often forget about it! Throw some of your favorite tunes on a playlist & burn a copy whenever you have someone new in mind!
(7)    ORIGAMI
You can make origami out of any paper and there are tutorials all over the internet. Because origami is so delicate and handmade, it is incredibly special. You can even string up the origami so it's ready to hang.
(8)    T-SHIRT PILLOW
We all have one of those old favorite T-shirts that we just can't get rid of, but that we never wear. So turn it into a craft! Turn the shirt inside out, sew it into a pillow, leaving a hole for filling, turn it right side out & stuff it before you sew it closed. Don't have stuffing? Stuff it with other old T-shirts. Yes. Seriously.
If you are a sewer and have a ton of T-shirts, you can also use them to make a quilt. Fronts on the top, and backs of the T-shirts make the backing. Cozy cozy cozy!
(9)    BUNTING
You can make bunting with anything. You don't need special fabric or paper. You can just make it with tape and magazine pages or wrapping paper or brown paper bags. Use what you have. Bunting is so full of whimsy!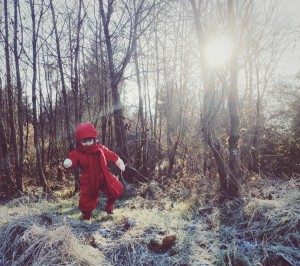 (10) NATURE FROM YOUR YARD OR NEIGHBORHOOD
I know it's winter, so this is a tricky one; but look outside. Are there pretty twigs? Is a holly bush nearby? Are herbs still growing? Maybe there is a collection of interesting stones? Make a "winter bouquet" from whatever you find.
(11) LIBRARY BOOKS
Yes, technically you have to leave the house to pick up library books, but chances are your library is close-by. Also, most libraries have online catalogues, so you can request holds on the books you want from your home computer, and they will be waiting & ready for you to pick up when you stop in. No hassle.
I love the idea of giving library books, because it's a way to share a favorite literary work without the burden of ownership.
(12) TIME
We too often forget that the best gift we can share is the gift of ourselves. Drink some coffee together. Do a puzzle. Go for a walk. You don't need any THING to substantiate your relationships. Just BE with the people you love. Sometimes the "gift giving" of Christmas season can become overwhelming and rob us of deeper joys and spiritual fruits. Follow your joy this season. If your gift giving in becoming too stressful, prune it from your schedule, try to relax, and soak in all the gifts we are already surrounded with.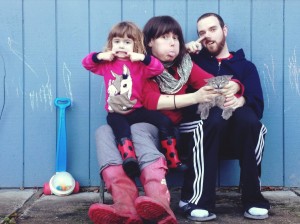 ^_^ Erin
12-16-2013