Sometimes it's important to let things lie fallow. To allow inactivity…stillness…to simply be. To be, and to be no more. It's a hard thing to let yourself do. "Just being" makes many of us insecure. Silence can bother us, weighing on us like an ocean of pressure. Stillness can bother us; it feels better to do something, to get up and wash the dishes, to turn on the TV.
There is a place for movement and speech and activity. There is also a place in our hearts that yearns for stillness. Rest. Peace.
When I was young, I used to go to church camp every summer. I stayed for several weeks each year at Camp Hunt, tucked away in the Appalachian mountains near Hubbardsville, NY. We did a lot of things you'd expect from church camp: skits, bible class, devotionals, prayers before meals. But there was one ritual at Camp Hunt that you don't find very often in the modern Christian tradition. For 15 minutes, we'd have meditation on the hill.
All of us would fan out. I'd make sure to skirt out to the edges of the group, grabbing a tall piece of grass on my way. Then I'd lay on the hill, hands behind my head, grass between my teeth, gazing at the sky. I guess some people would call my thoughts prayers or musings, but in that moment I was experiencing the fullness of being. Of just being. And I was opening my heart, my mind and my soul to God.
It's a sign that you truly feel comfortable with someone when you can walk a mile with them without feeling the need to utter a single word. The same is true of our walk with God. We don't need to *do* something to be loved by him or be in relationship with him. God loved us first; the rest just naturally rises out of our relationship with him. Think of your relationships with friends or family: do you have to do things in order to get people to love you or be with you? That's not a healthy way to live. To be in relationship, you simply exist with these people; you open yourself up to them; you let them see you for who you are & you bear your soul to them. Things like generosity and kindness and helpfulness simply rise up in response to that relationship that already exists. Acts and service are expressions of love.
But sometimes, you need to give action a break.
Sometimes, you need to sit on the hill and be.
Sometimes the field needs to lie fallow, unplanted, under the summer sun.
And, in these moments, your life is not empty or void of meaning. For many things fill up a fallow moment: the sunshine, the wild and crazy grass, the wind, the swaying of time. It is in stillness that we truly come to understand movement. It is in peace that we truly come to feel the depth and life of our being. And it is when we stop and open up our human, tangible, physical selves to the sacredness of a moment that we become a temple for the presence of God and allow ourselves to be filled, body and soul, with His presence.
Today I was very emptied, very tired. Energy was dragging the whole day. I felt like a bump on a log.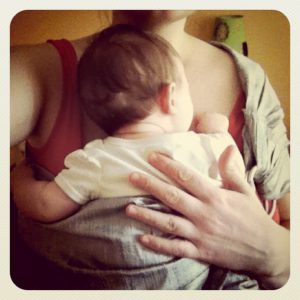 Today I am thankful for my daughter, for her existence, and for her presence in my life; I am thankful that, even though I was broken and incomplete today, I was enough for her, and we had a good day together, even if I felt out of sorts.
Today I am thankful for my friends (& family) that stand by me and let me open up my soul to them and share with them space in our minds and spirits. I am thankful for their ears and their encouragement.
Today I am thankful for my dear husband who always makes me feel beautiful, always makes me feel loved, and always hears me when I talk to him. He is always present and full in my life; he has never allowed a distance to be drawn between us. I can't imagine living or loving any other way.
By ekwetzel
2011-06-28