She's quiet as a mouse.
He gives the best bear hugs!
What a card shark!

We use animals to describe each other's personalities all the time, and many of us have a favorite animal that we identify with…or one that we just plain like a lot!
Now you can commission a unique family portrait, where each person is turned into their favorite animal!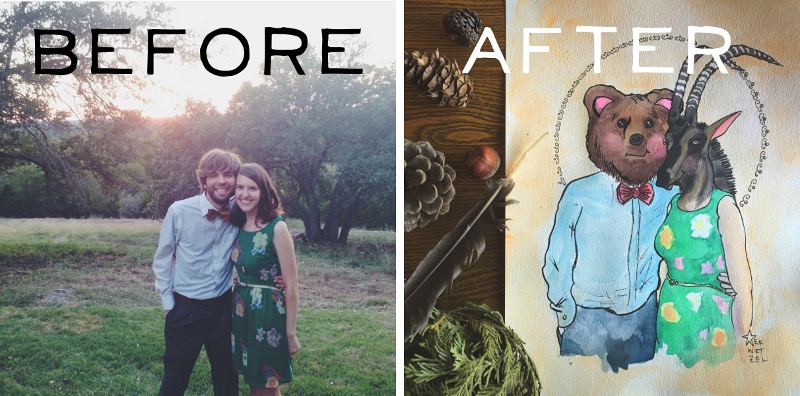 You can decide which animals to use for each person OR you can fill out the questionnaire at the bottom of the page, and I'll help you figure out your unique animal personality type!
---

Who will be in your painting?
Single Portrait (9 x 12 inches) $150
Couple Portrait (9 x 12 inches) $200
Family of Four (11 x 15 inches) $300
(Add $50 for each extra person)
Shipping charges are included for US addresses.
For international addresses, there will be an additional $10 fee.
NOTE: I do not purchase insurance on my packages.
If this is something you want to add to your package, please contact me directly.
---

You will email all of the following details to me at hello@darlingillustrations.com:
Submit your group photo(s).
Tell me which animals to use for each person OR fill out the questionnaire below so that I can help you determine someone's animal personality.
If you'd like me to tag you in updates on social media, list your accounts in the email. NOTE: I often post progress photos or share finished works on social media. If you do not want me to post updates for your portrait online, please tell me.
After I receive this information from you, I will add you to my waiting list. Once you're at the top of my waiting list, I'll send you an invoice and get started on your unique portrait!
TURN AROUND TIME
I currently do not have any openings for portrait commissions, but you can still get on my waiting list!
I take commissions on a first-come, first-serve basis.
If you'd like to be bumped to the top of my list, you can pay a Rush Fee of $100 per painting.
If you are on my waiting list, I will not invoice you until I am ready to start work on your portrait. Once your invoice is sent, payment is expected within 24 hours.
Paintings will typically be completed within 3 weeks, and will be mailed via USPS Priority Mail.
---

Mr. Fox: Who am I? Why a fox? Why not a horse, or a beetle, or a bald eagle? I'm saying this more as, like, existentialism, you know? Who am I? And how can a fox ever be happy without, you'll forgive the expression, a chicken in its teeth?
– from the movie The Fantastic Mr. Fox
---

If you have any questions, feel free to email me at hello@darlingillustrations.com!
OR
Check out blog posts I've written about the Animal Personality Portraits:
– Discover the Wild Animal Inside of Your Loved Ones (launch post)