Hello Shop Owner!
The Fall/Winter 2023 Darling Illustrations Wholesale catalogue is here!
Are you curious about carrying my series of Affectionate Animals in your store? Terrific! I have stickers, note cards and art prints of my watercolor illustrations, and I'd love to send my treasures out for you to share with your local community.
View the Wholesale Catalogue at this link.
ORDER BY EMAIL
I take wholesale orders exclusively through email.
Email your order to me at hello@darlingillustrations.com.
If this is our first time working together, please tell me a little about your shop when you place your order. It is important to me to get to know the businesses I am working with!
TERMS AND CONDITIONS
Please read the terms and conditions and let me know if you have any questions or concerns before placing your order.
Placement of your order acknowledges that you've read and understood the terms and conditions.
STOCKLIST
You can find my list of current and up-and-coming shops on my stocklist page.
LINK TO THE CATALOGUE
Take a look at my pdf wholesale catalogue (updated August 2023) and email your order to me at hello@darlingillustrations.com.
I look forward to hearing from you!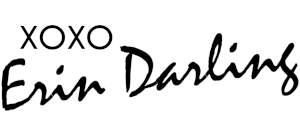 WHAT PEOPLE ARE SAYING ABOUT THE AFFECTIONATE ANIMAL SERIES
Erin has networked with us at PCAF, formerly known as Pierce County AIDS Foundation, on our gender identity and gender expression art shows and remains one of our more popular gallery artists. Erin continues to fundraise for us through her artwork and serves as a consistent donor. Her artwork and networking have increased our engagement with youth for HIV testing and PrEP navigation. No small tasks.
Jill A Frey
Mission and Arts Supervisor
PCAF, Tacoma, WA