I am not ashamed of getting divorced. Divorce has been a winnowing experience for me.
First, I cleared physical clutter from my life, giving up things that I did not need in order to stay close to my girls. I budgeted carefully, gave up my car and simplified my spending habits so that I could stay home.
Then I cleared out emotional clutter, letting go of relationships with people who did not believe in me. I was told to get a real job or to stop homeschooling or to parent differently. I was told that everything bad that was happening to me was my fault.
But there were other people, people who stood by me, and I couldn't have made it through this year without their support.
I am endlessly grateful for Beth White who watches my kids every week, even when I'm sick, and takes care of them like they are her own.
I am thankful for my friends Rex and Teresa Stevens who also run my website. They canceled my website fees and run it for free, in addition to babysitting my kids.
I am grateful for my sister-in-law Elitsa Healy. Until recently, she was the only person I could rely on to watch my kids overnight, and she did so often and without complaint.
I am thankful for Penelope Trunk who is continually supportive and who was the only person to message me during my first holiday to say she was thinking of me and understood how hard holidays are as a single parent.
I am grateful for Amy Carrigan, who has always has my back.
I'm grateful for Joni Edelman who always gives me quick medical advice when I'm worried about falls or fevers or unusual sickness in my kids.
I am thankful for Kelly Anderson who gave my girls Christmas.
I am grateful for Sarah Faulkner who, serendipitously, checked in with me the week (post-separation, pre-divorce) I discovered Matt defaulted on paying the mortgage two months in a row. Sarah paid the bill to bring me current so that I could avoid steps to foreclosure.
I'm thankful for Chris Simmons, who was the service man assigned to my house when my Heating/AC unit stopped working. Chris was going to pay out of pocket to replace an expensive part, until he checked with his boss and they covered the part for free as a service they run for families in need.
I am thankful for my friendships: for Heather Leacy who took photos of my new little family; for Cedar Taylor who consistently drives in from out of town with food and fellowship; for Dana Snyder who takes me and my girls to see theater and dance shows; and for Sarah Palmer, who brainstorms creatively with me when we're both late night insomniacs.
I'm thankful for Michelle Madrid-Branch who hired me to illustrate my first children's book, and to Harmony Smith for introducing us.
I'm thankful for the people who believe in my work and who support my desire to stay close to my girls. I'm thankful for every one of you who has purchased or shared about my art. I am proud that you're in my life. Thank you.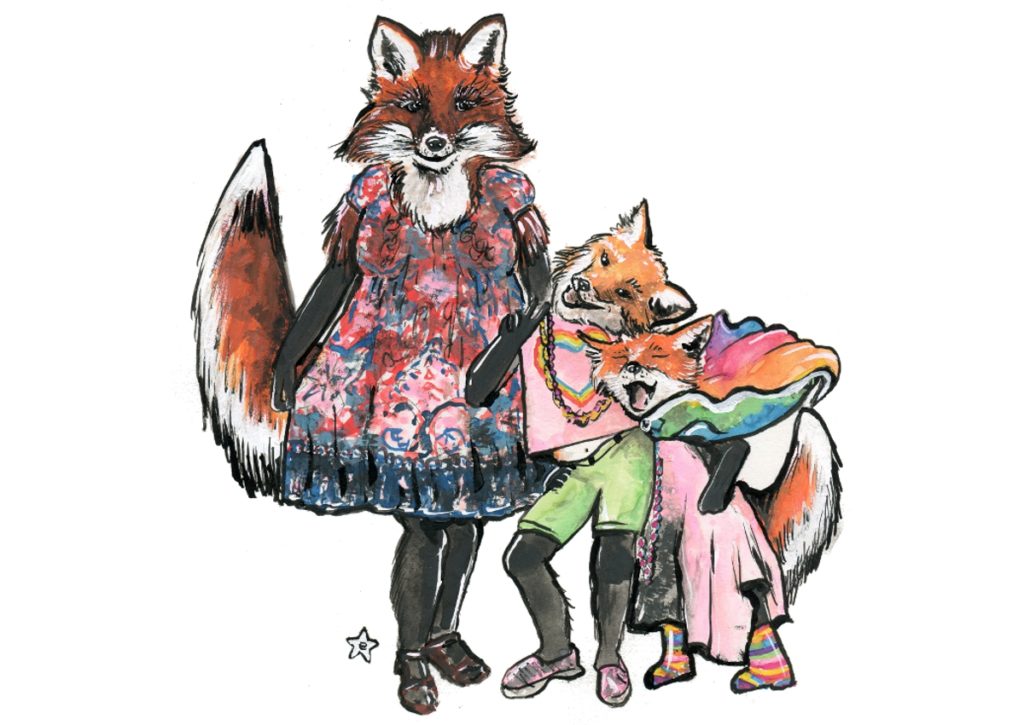 The hardest hurdle I am facing is a spiritual winnowing, letting go of my desire to be independent and being vulnerable enough to live by faith.
Making a living from making my art has been a lifeline. It is through my art that I have been able to keep my girls close during the hardest year in our lives, and it's also a way my little family has found to transform our hardship into something beautiful and meaningful.
Instead of focusing on all the things I lack, I want to be dazzled by all the riches I have: the conversation at a craft fair with That One Person who always yearned to find something that captured the inexpressible recesses of his soul; the Instagram messages from single moms who are looking for strength to get through one more month going it alone; the emails I get from people who tell me that my art is meaningful because it helps them survive grief or pain or loss. I don't want to shy away from hardships or difficult times. I want to sit still and allow life to unfold as it will. I want to keep making my art, and I want to keep opening up my heart and my life in moments of radical vulnerability.
That is why I am opening up a patreon.
Patreon is a platform that allows you to support my art on a monthly basis. You can sign up to give according to what you can afford, even as little as $1/month.
I want to invite you into this moment, to support me as I continue to make art and tell stories that are important to who we are and the kind of world in which we want to live.
I want to paint art about "broken" families that are anything but broken, so that kids of single parents and blended families can see their lifestyle in my storybooks. I want to represent under-represented groups, depicting adopted families, LGBT people, disabled people, various faiths and all walks of life.
Come stand on the blank page with me. Let's embrace whatever life throws at us and fold those experiences into new and meaningful creations. Let's embrace our fractured lives; instead of seeing them as broken, I want to see how the cracks and fissures in our imperfect vessels allow incandescent light to shine through us. I want to pour gold into those cracks to mark how there is courage in the tenderness of insistent connection.
I want to give myself to you over and over again.
Here's your chance for us to belong to each other.