I have a new project to share with you: Calico Jill and the Search For Cheese! It is a story that I am writing and illustrating, filled with original characters and inspired by the Puget Sound region. It tells the adventures of a little mouse pirate who explores an urban downtown in search of golden treasure, and that "treasure" is cheese! It is a storybook about coming together in community and building a life together, a folk tale in a contemporary setting. I invite you to follow along Calico Jill's travels with me!
Here are a few Facts About Calico Jill that you won't find anywhere else:
She was teased for her calico fur growing up, because of her orange splotches and freckles.
She stole her ship. It's just what pirates do.
The flag on her ship is of a bulldog with an eye patch. She thinks it will make cats afraid of her, because everyone knows cats are afraid of dogs.
She will swear left and right and up and down that she is not afraid of cats. Nosiree. Not her!
(It's a lie. She has a phobia of cats.)
Her favorite cheese is probably cheddar cheese curds, because they are like nuggets of gold.
She is also fond of the fresh chevre that she has tasted from time to time in the greater Pacific Northwest region.
If you ever want her to do a taste test of your cheese and tell you which is the best, she will be happy to oblige… but she can't promise that there will be anything left once she's done!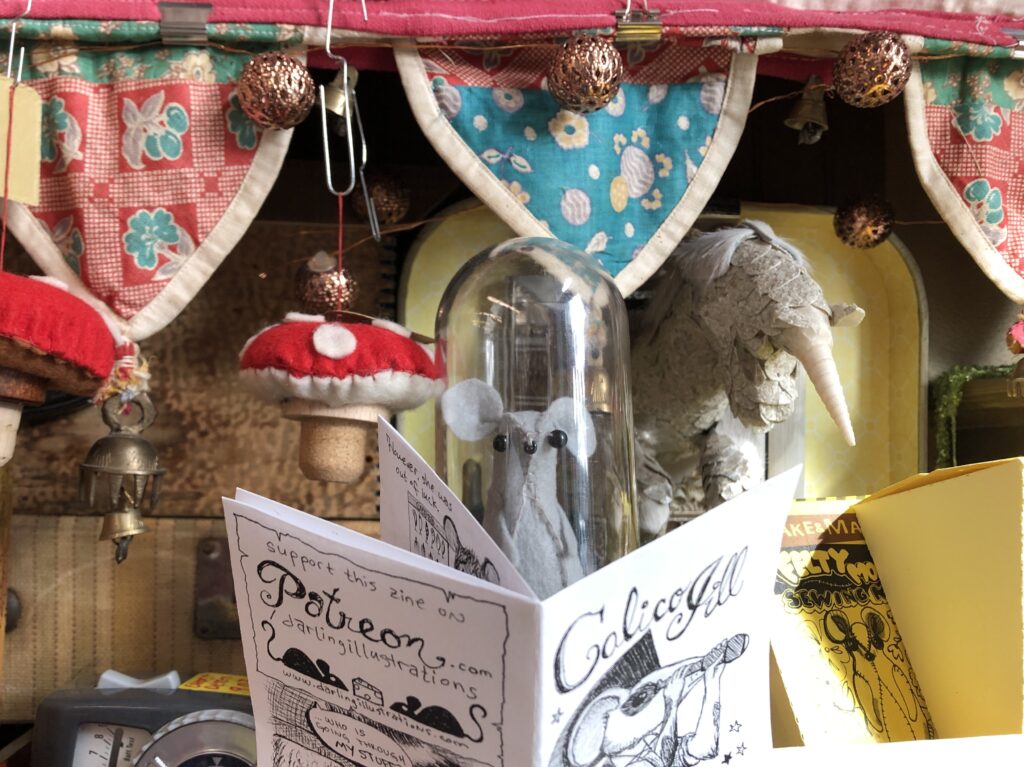 The story will be released serially, in zine format, with a new chapter coming out once a month. To get your FREE physical copy, you can go on your own adventure into the Tacoma downtown and pick it up from Tinkertopia, my first local business partner!
Be sure to sign up for my Patreon, because my supporters will get early access to the story with a first look at new chapters before anyone else. The pages from the story itself will show up eventually on my social media. It is designed to be shared and enjoyed. But if you can't wait to hear about this little critter, support the zine and get a behind the scenes look on its development. Sign up for my Patreon today!

As I partner with more businesses, I will make a list available of places where you can find this story. If you are a small business owner who would like to have copies of this zine available in your shop, email me.