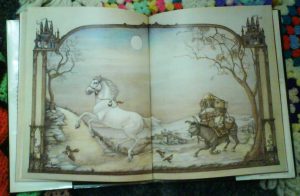 This had been a rough week in Wetzelville.  Mr. Wetzel was home last week recuperating from a long overdue surgery on his ingrown toenail.  I still am having trouble eating starchy or fibrous foods (i.e. CSA fruits and veggies). Plus, baby has been growing swiftly, pushing around my body and making the bones and joints ache.
It's been a rough week, but it has not been a sad week. We have had a community to support us, help us and encourage us along the way, and in our weakness, those bonds were shown to be strong. Friends brought us soup; others prayed and offered words of encouragement; others shouldered responsibilities in order to lighten our workload for the week. Community is a blessing, and we consider ourselves truly blessed by those around us.
I am reminded of Aesop's Fable, A Laden Ass and a Horse:
A Horse and an Ass were travelling together on a long journey with their master. The Horse's back was bare, while the Ass carried innumerable bundles. Stumbling under his heavy load, the poor Ass cried out to his proud companion, "Please, good Sir, I beg of you to help me carry my burdens, otherwise I fear I shall die." But the Horse was unmoved by this desperate plea, and refused to share his load.
Soon the little Ass was completely worn out and, stumbling pathetically, finally fell. No matter how valiantly he struggled, he could not get to his feet. Seeing this, their master lifted the many packages from the Ass and flung them across the back of the Horse, who immediately began to groan and wail in self-pity. "Woe is me!" he cried. "What suffering have I brought upon myself! I would not share a lighter load, and look  at what has become of me: I must now carry everything alone."
The strong should help the weak, so that the lives of both shall be made easier. (Excerpt & Illustration from Aesop's Fables, illustrated by Heidi Holder; The Viking Press, 1981.)
Likewise, it is vital for us to remain in community with our farmers and food providers, that we both might be stronger for it in the long run. We are meant to shoulder responsibility for each other. We are meant to be accountable to each other and in relationship. We are meant to care.
By ekwetzel
2011-02-02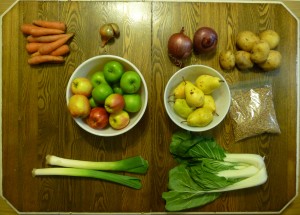 WEEK 30
(Top Row)
Carrots
Shallot
2 Onions
Potatoes
(Middle Row)
Apples
Pears
Wheat Berries
(Bottom Row)
Leeks
Bok Choi