AUTHOR'S NOTE (4/11/2023): I wrote this blog post over a decade ago. Since then, I've started illustrating a story about a little mouse who is searching for her own cheese. You can read the first chapter for FREE right here.
---
Mr. Wetzel and I love cheese, and we also love a good bargain. This post gives a price comparison for the different cheeses available at our local Costco, and I also have some research to share with you on some of the cheddars available there.
The more I researched the cheeses available at Costco, the more I asked myself if an obsession with raw milk and natural, high quality cheeses is a designation needed solely for American creameries. It seems European creameries don't care at all about marketing rBST free cheese. It is hard to find them boast of how much pasture their cows graze in. And forget about talk of organic or natural products.
American cheeses are a different story entirely. One look at a product page for Yancy's Fancy cheeses, and you're bombarded with stamps on each cheese package touting rBST free cheese. In America, we have to designate our cheeses as natural. Cheesemongers go to great lengths to let cheese lovers know they are local, small, artisan and care about the quality of their goods.
It leaves me wondering if the standard in America is over-industrialization, and if the standard in Europe is locally sourced, carefully crafted, artisan cheeses. In the USA, the bigger the brand, typically it is a sign of decreased cheese quality. Is this also the case in Europe? I will keep digging! For now, this is what I have uncovered: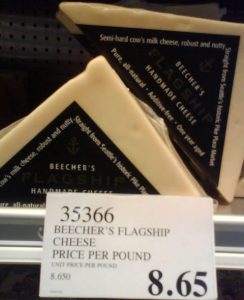 We Love Beecher's Cheddar Cheese!
Maybe it's because Beecher's is a Washington creamery, and we live 45 minutes away from their home base at Pike Place Market in Seattle. My favorite aspect of Beecher's cheese is going to their cheese shop and eating fresh cheese curds. In their cheese case, there are dozens of cheeses from Washington and Oregon state creameries. Not only do they make great cheese, they respect it, seem it out, and share it with others.
The three types of Beecher's available at Costco are:
– No woman cheese
– Marco Polo
– Flagship, 1 year aged
Facts from Beecher's website:
All Beecher's products have no rBST added – made exclusively from the milk from a single, local herd of untreated cows. (link)
No raw milk cheese. Beecher's butter and cheese are made from pasteurized milk.
Beecher's has a commitment to pure, fully-flavored food, and educating others about pure food (link). How could I expect any less from a Seattle cheesemonger than to be an educating activist? So fitting!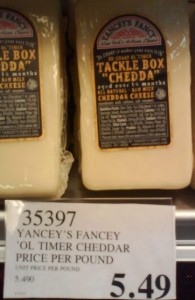 We Love Yancy's Fancy Cheddar!
The first time Mr. Wetzel and I tasted Yancy's cheese was at the cheese festival in Pike Place Market, held once a year. After tasting dozens of free cheese samples, Yancy's was one of our favorites, and one of the only cheeses we took home with us at the end of the day.
I was thrilled to find this cheddar at Costco. Yancy's is a small creamery in upstate New York. Their cheeses are rBST free. Their cows are grass-fed; according to the website, Yancy's is dedicated to "utilizing local milk supply, which offers some of the highest quality milk in the United States" (link).
In addition, Yancy's uses raw milk in their cheeses, where permitted by USA laws (in three of their sharp cheeses, link). That's right: you can actually buy a delicious, artisan, raw milk cheese from your local Costco superstore. Amazing!
The three Yancy's cheeses available at Costco are:
– XX-Sharp 'Ol Timer Tackle Box "Chedda" – all natural raw milk cheese
– Jalapeno & Peppadew
– Smoked Gouda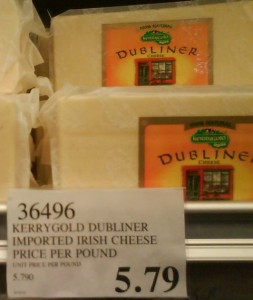 Who doesn't love Kerrygold?!

I see it in blogs and I hear it from my friends: Kerrygold is a real winner. So, I want to include it in my list; however, I haven't had it in a while. I keep buying other artisan brands. Kerrygold Dubliner cheddar is available at Costco.
Is the cheese made with raw milk? I don't know. Is it rBST free? I can't figure it out. Natural? Organic? No mention to be found. On their site, Kerrygold boasts, "We rely on a cooperative of small dairy farmers with centuries of cheese-making traditions to turn the rich, sweet milk that is produced into the finest cheese and butter in the world." (link)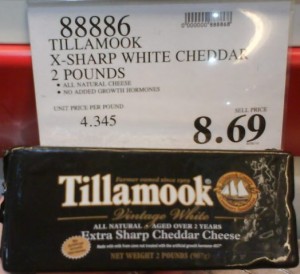 We Love Tillamook Cheddar!
Seriously. I know Tillamook is a big producer. They aren't considered an artisan cheese company. But compared to other big companies, they do a lot right. And, If the budget is tight, a block of Tillamook can stretch a lot father than a wedge of another, higher quality brand.
Plus, it tastes good.
A lot of good details about Tillamook cow care can be found on their site. Here are the basics:
– The cows are not given artificial growth hormones.
– Tillamook does not require that their cows be pastured, but it is typical for cows to be let out to pasture during warm weather months (March through November)
– Antibiotics are only used when a cow gets sick and needs medical care, which sounds like an uncommon occurrence.
Here's a chart of the cheeses currently available at our local Costco, along with their prices, followed by pictures of the cheeses. If you have questions or comments, or extra info on Costco cheeses, I invite you to please comment below!
By ekwetzel
2010-12-16
---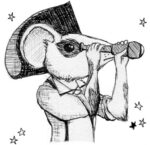 A Story For Cheese Lovers
Do you like cheese? Then you'll LOVE my children's story:
Calico Jill and the Search For Cheese!
---