AUTHOR'S NOTE (4/11/2023): I wrote this blog post over a decade ago. Since then, I've started illustrating a story about a little mouse who is searching for her own cheese. You can read the first chapter for FREE right here.
---
Trader Joe's has a large selection of cheeses, and their cheese is very affordable, compared to other supermarkets and specialty food stores.  My friend, Lydia, had a conversation with blogger Ann Marie (aka: Cheeseslave) on facebook discussing the cheese selection at Trader Joes. The conversation was so educational, I had to share it with you all. Today when I was at Trader Joe's, I took pictures of the cheeses that they discussed. Below is an edited version of their back-and-forth:
LYDIA asks CHEESESLAVE: At Trader Joe's I have the choice between raw milk cheese from cows not treated with rBST or cheese from grass-fed/pastured milk that has been pasteurized (Kerry Gold and New Zealand cheddar). Which is better?
CHEESESLAVE : With no other information, I would go for the Kerrygold. You can ask TJ's where there cheeses (and other products) come from — they always happily divulge the info to me when I ask. Ask them where the raw milk cheese comes from — which farm. I think it's good to pester them about this stuff so they will be better about labeling.
The New Zealand cheddar is good too. Grass-fed pasteurized cheese is better than raw milk cheese that is not necessarily from cows eating grass. They need the grass to produce the vitamin K2!
LYDIA:  That's good to know. They do carry a few great European cheeses that are raw (Morbier, Comte, an Abbaye cheese, a cave-aged Tomme, and the Italian grating cheeses) and I assume those are probably grass-fed because Europe hasn't caught up with the industrial farming. But the raw-milk cheddar is from New York. I'll ask them about it – but it's definitely pretty white in color.
CHEESESLAVE : I don't think it's safe to assume that the cheeses from Europe are all grass-fed.
LYDIA: I was inspired to do some research! Here it goes:
Parmigiano Reggiano (which TJ's sells at a comparatively reasonable price) may only be made from grass and forage-fed milk.
Grana Padano cows may be fed silage though-bummer, I guess the cheap price reflects the quality.
Pecorino Romano may only be made from milk of sheep who have grazed a particular combination of grasses and nothing else.
Comte "cows may only be fed fresh, natural feed, with no silage" according to Wikipedia. I'm not sure what that means exactly, but it could certainly include grain.
Morbier is only made in Jura mountain villages, so I think it's safe to assume that it's at least partially grass-fed.
Abbaye St. Mere is made at Trappist monasteries-so I make a similar assumption. I have a hard time picturing monks shoveling silage into feed pens, but maybe I'm wrong!
I would suggest though that Europe does not have access to all the cheap corn, which our industrial farmers use with abundance as cattle feed, and there is a much greater sense of the importance tradition there. Certain cheeses and meats have to be made the way they always have been – right down the animals' diets. *end conversation*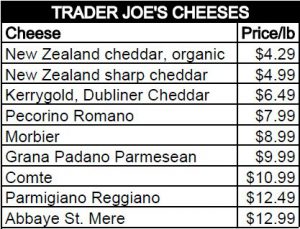 Thank you Lydia and Cheeseslave for your insights into this microcosm of the wild and wonderful work of cheese. I created a chart to summarize the cheese choices discussed in this blog post. I hope to find more resources to guide buying decisions. Do you have a resource that explains or delves into the quality of cheeses? Do you know of a local creamery that does things well? Please, share your experiences!
By ekwetzel
2010-11-19
---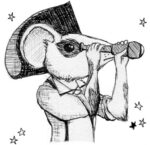 A Story For Cheese Lovers
Do you like cheese? Then you'll LOVE my children's story:
Calico Jill and the Search For Cheese!