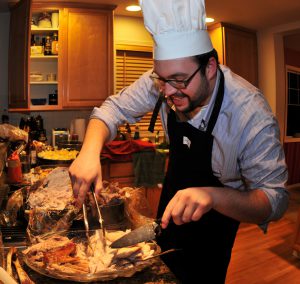 You can go through life greedy, discontent, and always looking for the next thing that holds promise to satisfy your wants and needs. You can grumble and complain about how terrible you have it, and how unfair your lot is. Or, you can appreciate the blessings in your life.
Gratitude is a spiritual discipline. It's in anyone's nature to want, crave and covet. But, learning gratitude opens up your heart and your soul to appreciate whatever you have, no matter how little it may be, and to let your life be filled with thanksgiving instead of wishful thinking.  Gratitude is an attitude; it starts in the heart, and permeates the rest of your life. It doesn't matter how much you have or what it is that you have. There is always something to be grateful for.
Thanksgiving is a holiday about appreciating our blessings: food, family and fellowship.  Food is always a key feature in holiday meals, but for Thanksgiving it takes on a unique role: the Pilgrims were thankful because they were not going to starve. It was the food that the Native Americans brought to them that created the bond of community between them.
We rarely worry about starvation these days in America, and as we allow our food systems to get more and more industrialized, we lose touch with the people that grow and pick the sustenance of our lives. When you combine agriculture with community, you create a relationship and an environment of gratitude; when you take the community out of the equation, the eater is merely a consumer, detached from the land and often critical of the fruits before him.
No matter where you get your food, I encourage you to pursue a spirit of gratitude and a community around your food.
I'm thankful for dinners at the table after a long day of work and chores, and the conversations my husband and I have there.
I'm thankful that the food I eat from the farm is going to grow a healthy little baby in my womb.
I'm thankful for the long apple season in Washington, and the delicious apples that we eat throughout the winter when summer fruit seems but a dream.
I'm thankful for websites like allrecipes.com that help me figure out how to cook the weird and wonderful foods I get from the farm.
I'm thankful for how easy, versatile and delicious potatoes can be.
I'm thankful for whoever invented pies, because they are delicious and one of the best parts of Thanksgiving dinner.
Finally, I'm thankful that farms exist, even in this super-industrialized world, and that people can remain real and grounded, even in an urban area.
My wish for all of you is that you find community around your food, and that you find your own gratitude.
* Thanksgiving photo courtesy of Stephen Proctor.
By ekwetzel
2010-11-19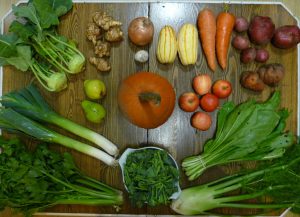 WEEK 20
(Starting from the bottom left and going clockwise)
Celery
2 Leeks
2 Kohlrabi
I forgot the name of this root vegetable! Oops!
Onion
Head of Garlic
2 Delicata Squash
2 Carrots
Purple potatoes
2 Beets
Greens, I believe this is a type of bok choi
Fennel
Bowl of Broccoli
(In the middle)
2 Pears
Sweet Pie Pumpkin
5 Apples