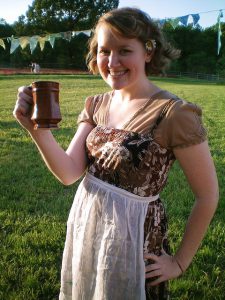 I guess you could have a lot of convictions. I guess you could walk through life with a lot of specific expectations. "The man I marry will be tall, interested in physics, and he will floss." "I will leave early for work and get there on time." "I will invest in certain portfolios and receive a certain kind of return on them."
The thing is, life is unpredictable.
What if the perfect man for you has rotten teeth? What if your car breaks down on the road, or you get an urgent call from your sister who needs help with something? What if the stock market crashes and you lose everything you have invested?
We like lists. We like certainty. We like predictability. Life likes to defy us.
For example, consider the farm. A farmer can prepare her fields well, tend to them properly, and harvest appropriately; however, if the summer is too wet, or there is a killer frost in the Spring, the nature of her harvest changes drastically. At Terry's Berries, we never know what food we will get when we sign up for a seasonal share of the yield. But we sign up anyways. We commit and pre-pay. Each week when we go to pick up our goodies, it is a new surprise. And we eat whatever bounty finds us.
You can't go through life making decisions about your future and setting them in stone. What you can do, is decide what kind of attitude you want to have about your life. This is not a conciliatory move. This does not mean you let life run you over, only to say, "'It's all good; I've got my Prozak." No. What I mean is this: you decide to live a life of joy, then as situations arise – you fall in love; your sister needs you; your life savings are wiped out – you respond to them in a way that defends the way you want to live. Live from the heart out. Live rooted in soul.
Mr. Wetzel and I respect local food, we appreciate fresh food, and we prefer organic and natural farming methods. It is because these values, as well as others, that we make the commitment to eat from our local farms, creameries and butcher shops whenever possible.
We choose to have joy about our food, our finances and our life in general. Joy doesn't happen by accident. You can't nuke up a microwavable dish of joy. It's something you have to cultivate, like a garden. It's something you have to be attentive to. And, if you defend the joy in your life, it will fill you up.
You are the cup. Be filled up with cheer.
By ekwetzel
2010-12-18
*Photo of girl holding mug, courtesy of Molly Morris.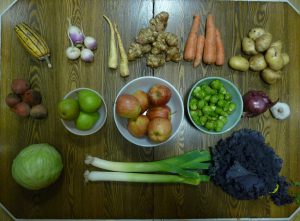 WEEK 24
(Top row)
Delicata Squash
Turnips
Parsnips
Sunchokes
Carrots
Potatoes
(Middle row)
Beets
Pears
Apples
Brussels Sprouts
Purple Onion
Garlic head
(Bottom row)
Cabbage
2 Leeks
Purple Kale