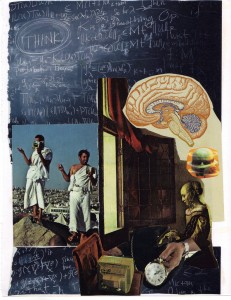 I believe the world is rich with value. You don't have to be a lay person to glorify God in your labor.  A farmer can do so by growing good food; an artist, by creating beautiful works; a writer, by delving deep and being unwilling to settle for trite tropes when there are deeper and more meaningful matters at hand.  Some are called to be teachers and preachers.  Some are called to be artists and farmers.  We are all called to glorify the Creator in our own ways.
What does it mean to glorify the Creator?  This is a simplified vision of how I see it:
(1) The world was created by a good God to be a good creation.  This "good" aspect of the creation is a reflection of the Creator.  The creation is meant for goodness.
(2) There is hardship in life.  These are the "not good" or "evil" forces at work.  They tend to make amuck of things or simply make it more difficult to find or preserve the good things in life.
(3) aWhen we choose to overcome the hardships and fight to preserve the good things, we are choosing the side of Creation and Creator.  If you work hard and the fruits of your labor are of great quality, this is a way to glorify God because it reveals that your vision for the world is one as a good world, a vision that is shared with the Creator God. Being constructive (as opposed to destructive or lame and neutral) in our labor can be an act of secular worship.
I choose good food because I want the best for my family and our health.  This does not mean that I think I'm better than anyone who doesn't choose local, organic foods.  In truth, I believe we all deserve good food.  My choice to eat locally grown, sustainably farmed foods is one way that I practice my expectation for good things for a good earth.
I choose to write these words because they are honest, earnest and come from the heart. Not writing them would to omit part of the mystery that I see in life.  .  Not writing them would lead to some trite, cute blog. There is no room for secret convictions in good writing.  You need to be willing to lay your soul on the table.
And, in an effort to have better pictures once again on my blog, I will try to find my lost digital camera.  It got packed last week as Mr. Wetzel and I moved into a new home, and I have missed having crisp photos on my blog ever since.  Fuzzy photos are just not a reflection of the glory that I hope to reveal in my work!
By ekwetzel
2010-08-27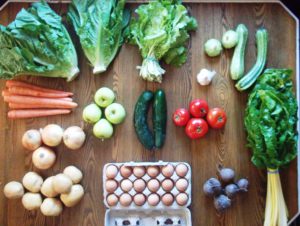 WEEK 8
(Clockwise, from bottom left)
Yellow potatoes
Onions
Carrots
2 Heads of Lettuce
Tokio Bekana
Garlic
Summer Squash
Yellow Chard
Beets
(In the middle)
4 Apples
2 Cucumbers
4 Tomatoes
Eggs (again, the farm has new hens, and they are laying smaller eggs this week, so we received 18 eggs instead of the normal dozen)