Real food is good for the body and makes us healthy.  That is one reason why I become more dedicated to real food the more I learn about it and experience it.
Mr. Wetzel and I eat farm veggies, fruit and eggs from our CSA, Terries Berries.  We buy milk from another CSA, Meadowwood Farm.  When we eat meat, we try to buy from a local, Washington farm, like Sea Breeze Farm, and if we don't have the time or money to do that, we'll at least get organic, grass-fed, or pastured meat.  When we buy bread, we like to get it from Great Harvest or The Essential Baking Company, local bakeries that use whole grains and high quality ingredients.  For other food stuffs, we avoid processed and industrial foods.  For example, we make our grilled cheese sandwiches with mozzarella, not American cheese slices.
This is not how we always used to eat.  When we met in 2006, we'd eat at a fast food joint on average once a day. Our favorites were Taco Del Mar or Subway.  I used to survive on Hamburger Helper, boxed mixes for muffins and brownies, and frozen quick-to-stir-fry meals.  And, boy, did I ever have the health problems to go along with that food lifestyle!  I used to have severe acid reflux.  I was also lactose intolerant.  To this day, I am still dealing with being insulin resistant.
We used to pour so much money into different medications to treat the symptoms of our bad food choices, instead of diverting our funds to fix the problem at the source.  I took both prescription and over-the-counter medicines to help with the acid reflux and lactose intolerance.  They were expensive and they elped, but they only curbed the issues I had. At least every couple months, I used to wake up in the middle of the night with terrible burning in my esophagus, and then I'd have to puke up everything in my system before I'd feel any better. No doctor was ever able to diagnose this problem; it was simply something I lived with.
My health issues are one of the first things that lit a fire under me and spurred on my interest in better foods and real foods.  I started drinking raw milk, and my lactose intolerance went away entirely.  We stopped eating processed foods and industrial foods, and I no longer suffer from acid reflux.  I can eat a meal and not be in pain an hour later.  Is that a miracle? No. I believe that's how we were created. We were meant for healthy foods and healthy food experiences, and when foods make us sick, it's a sign that there is something wrong with the food.  Sickness should not be a way of life.
I still feel like a real food rookie, but I do know one thing: if what we're doing is working, I'm gonna keep on keepin' on.
By ekwetzel
2010-09-03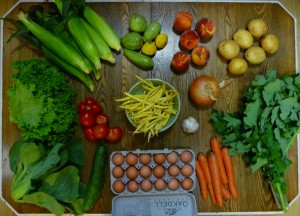 WEEK 9
(Clockwise, from the eggs)
Eggs (again, the farm has young hens, and they are laying smaller eggs this week, so we received 18 eggs instead of the normal dozen)
Cucumber
Bok Choi
Romaine lettuce
6 Ears of Corn!!!
Summer Squash
5 Peaches
6 Potatoes
Red Chard
Carrots
(In the middle, from the left)
4 Tomatoes
Yellow Green Beans
1 Head of Garlic
1 Onion