The first year of Phoebe's life, we tried to change her nursery as little as possible (Here is my post with a tour of her nursery). It's important to have a calm and consistent environment for our little ones as they grow and learn about the world. Keeping the nursery the same helps create a safe and reliable place for them to come back to in the midst of all the chaos of growing up and learning how to do everything for the first time, be it rolling over, laughing, or crawling and standing.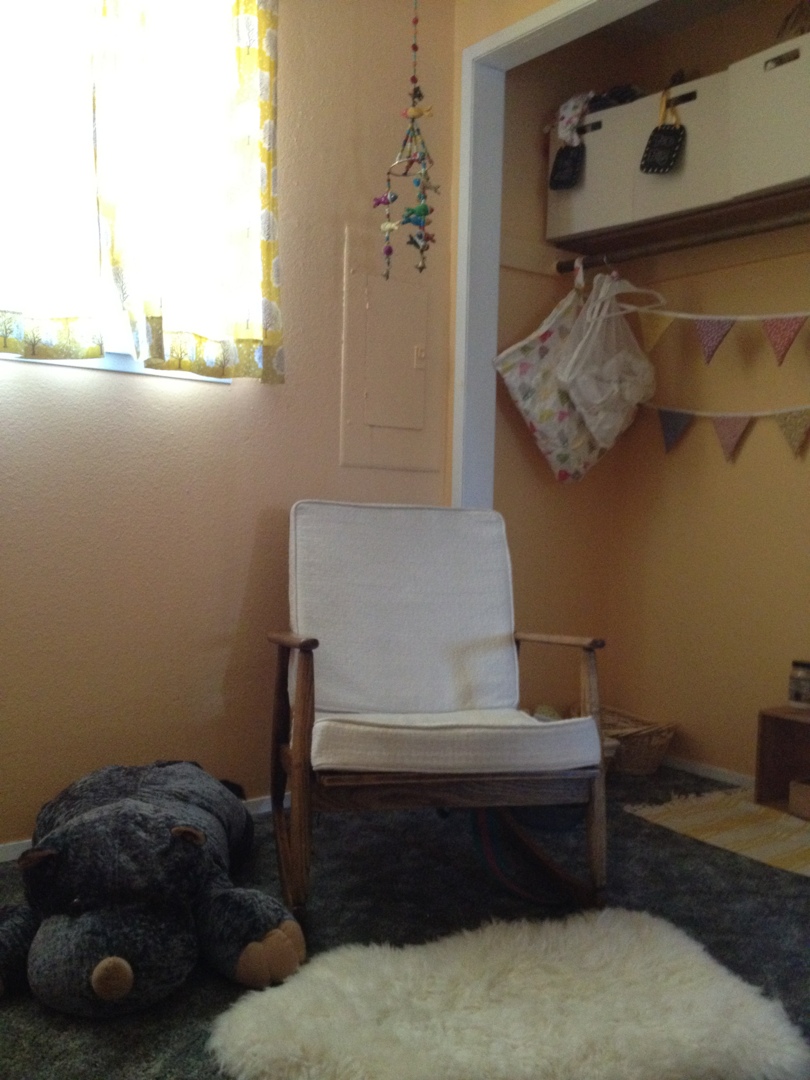 Now, at nearly 16 months, Phoebe is climbing, running, opening, and dispersing things all over the house, as well as in her own bedroom. Our needs for her room have changed. Now we need a room where we can teach her how to master her skills. We need an environment that helps teach her how to put things away and be a responsible caretaker of her belongings.
One thing that helps a lot with this is having a lot less stuff available to her, overall.  We moved her dresser drawers into the garage (next to the laundry machines); instead, we are keeping a few days worth of clothes and diapers in baskets in her closet. We also have some things hanging up at her level. She can access all of her clothes, and she loves practicing dressing herself, and when she is done, there are few enough clothes that I can help teach her how to put her clothes back in their baskets without either of us getting overwhelmed. And, yes: she does help put things away! She loves it (most of the time) when I ask her to help me; we work together to gather the clothes and put them in the baskets; however, if she is too tired or simply unwilling to help, I am able to pick up her mess in under a minute. If we ever run out of clothes, the stash is in the garage, a few rooms away, and it is easy to grab a few extra shirts or socks for her baskets. It's a win-win situation all around.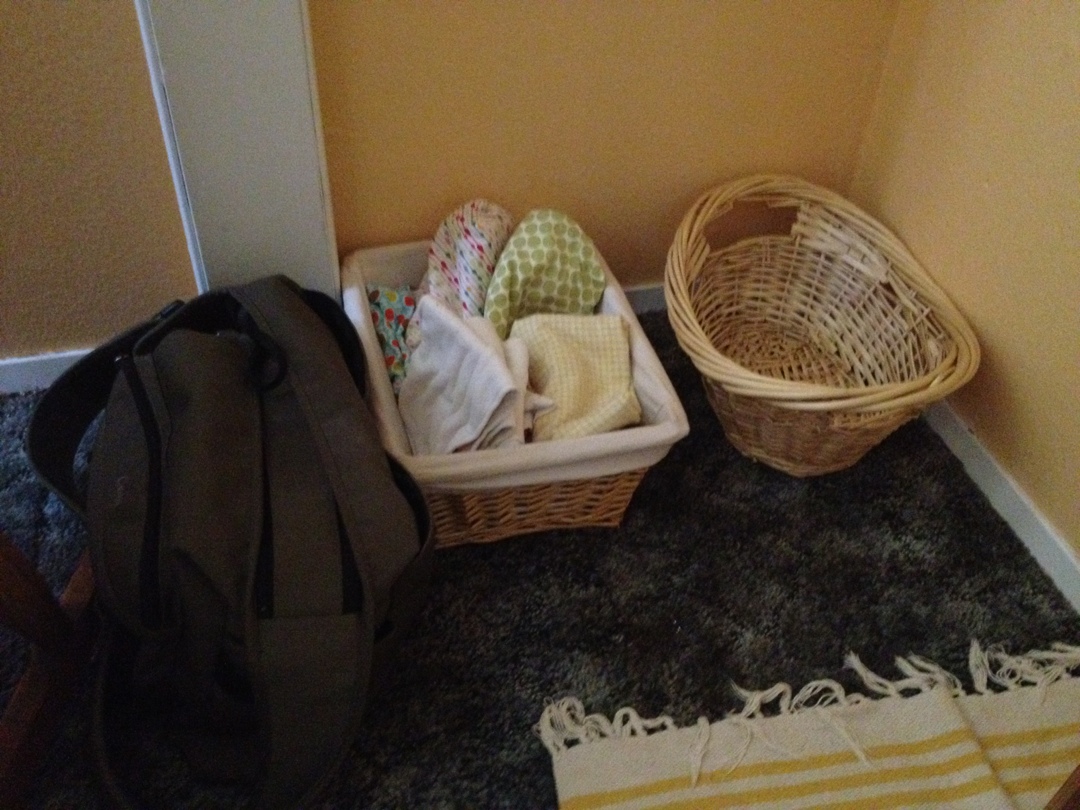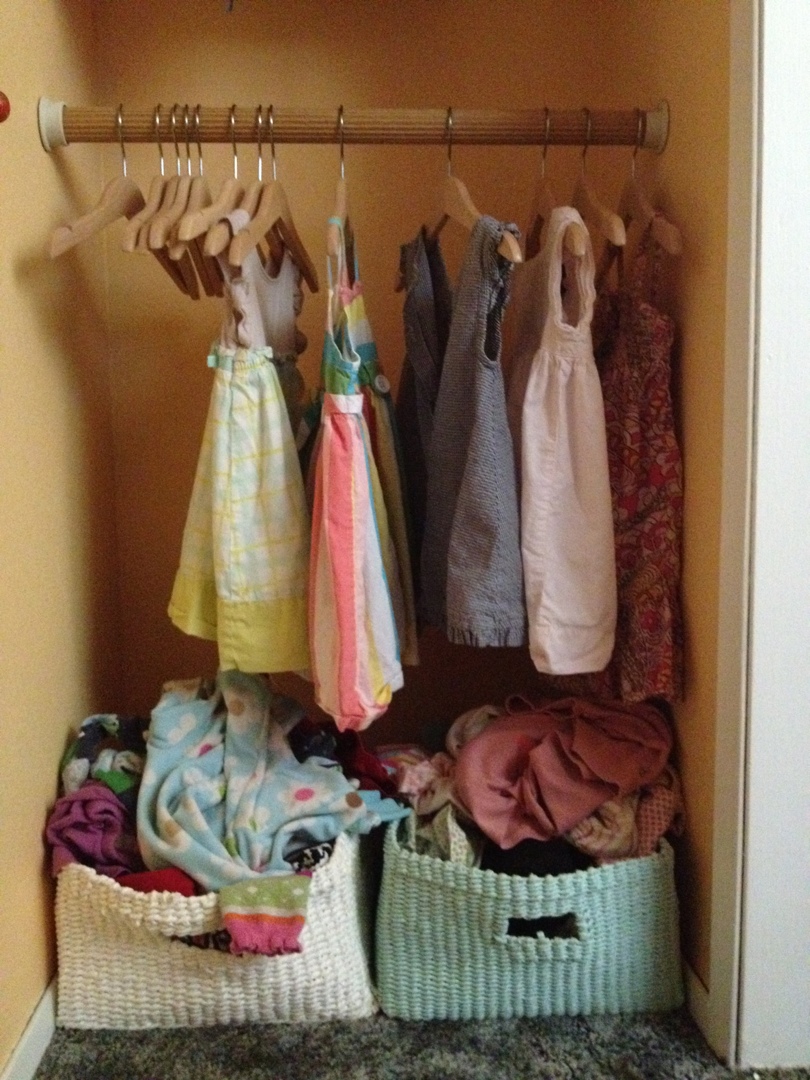 We want to teach Phoebe life skills as she gets old enough to manage them, and as she expresses interest in the. So, we have a dirty laundry basket in her closet, as well as her coconut oil jar (which we use as a moisturizer), hair accessories (in a basket), and homeopathic teething medicine. I like giving her access to the things she uses on a regularly basis. She likes exploring these items, as well. I keep meaning to buy her a hairbrush to add to the mix.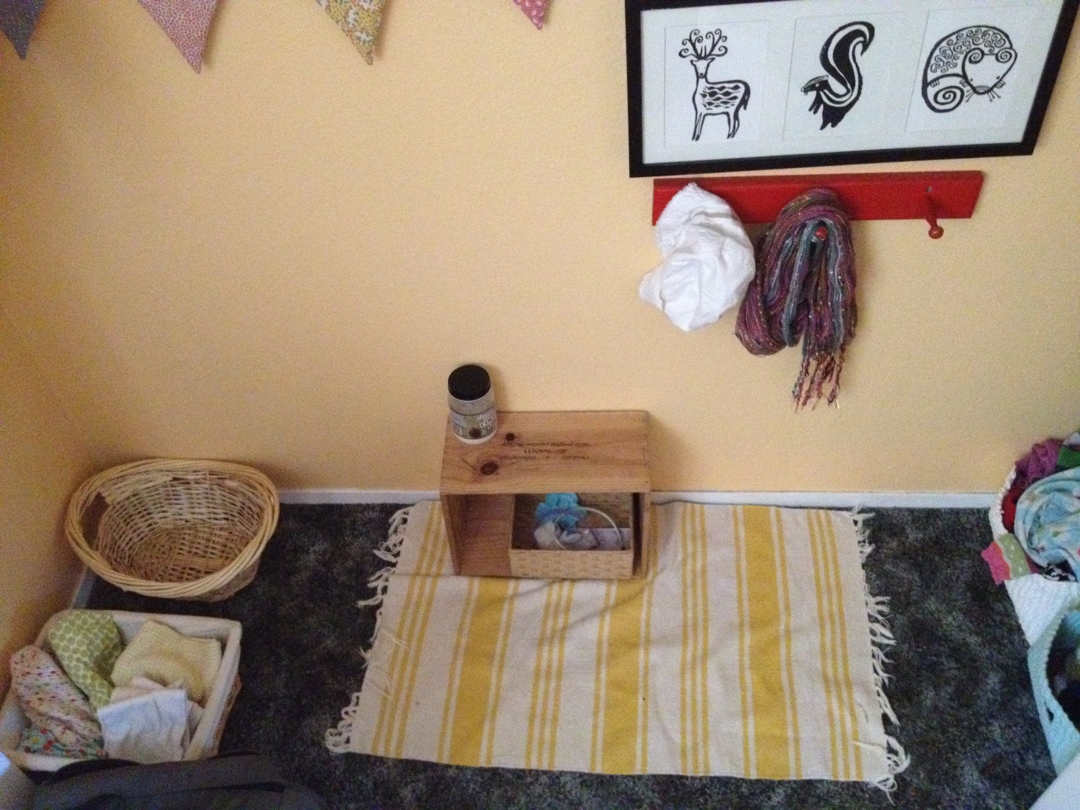 In the closet, above Phoebe's reach, I still have storage for items that are not appropriate for her at the moment, either because they are too big or too small. I will likely clear out space in the garage and move these bins closer to the rest of her clothes, but for the time being, they aren't interfering right where they are.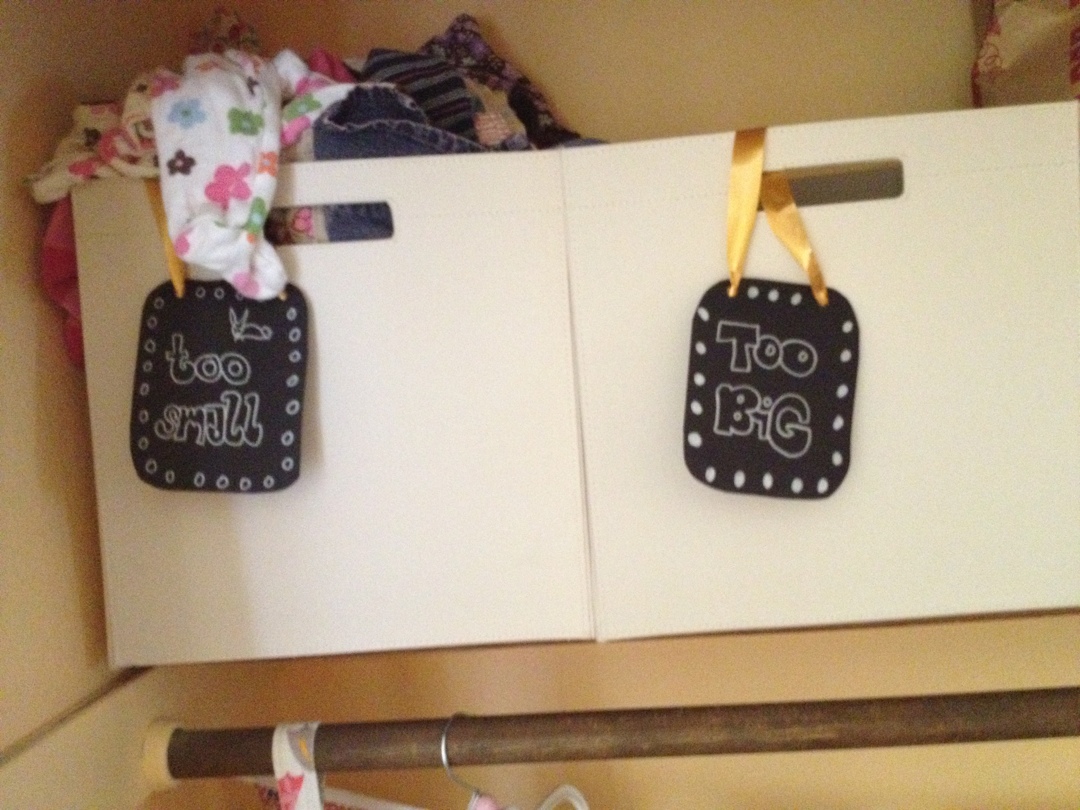 We moved the shelves for Phoebe's toys to create a barrier in Phoebe's room, dividing it into to sections: a play area and a sleep area. To be honest, setting the room up like this was completely unmediated. I was sliding the shelf against an opposite wall, when I realized Phoebe would have a lot of fun learning how to crawl into, through and around the shelves. So I set them up as is. And she thinks they are terrific. She goes up to them, looks at us through them, and just giggles. Or, she'll jaunt into her room and squeal, then take a toy down out of the shelf and play with it. She finds the new set-up engaging and loads of fun.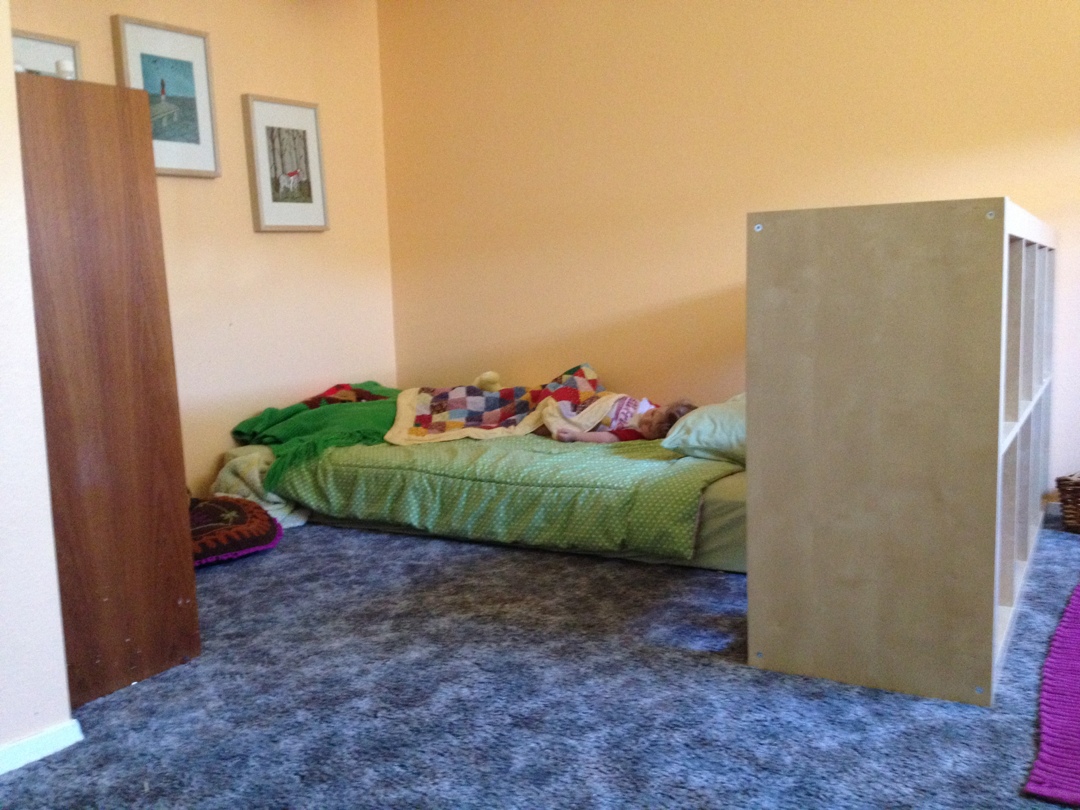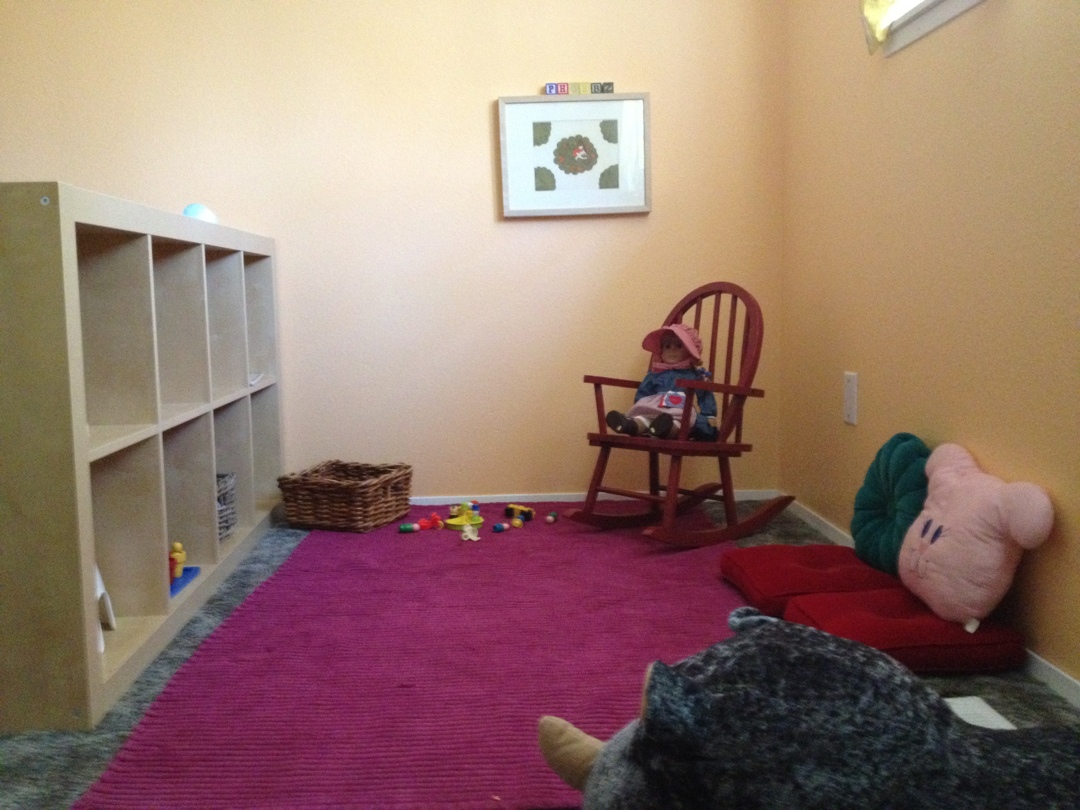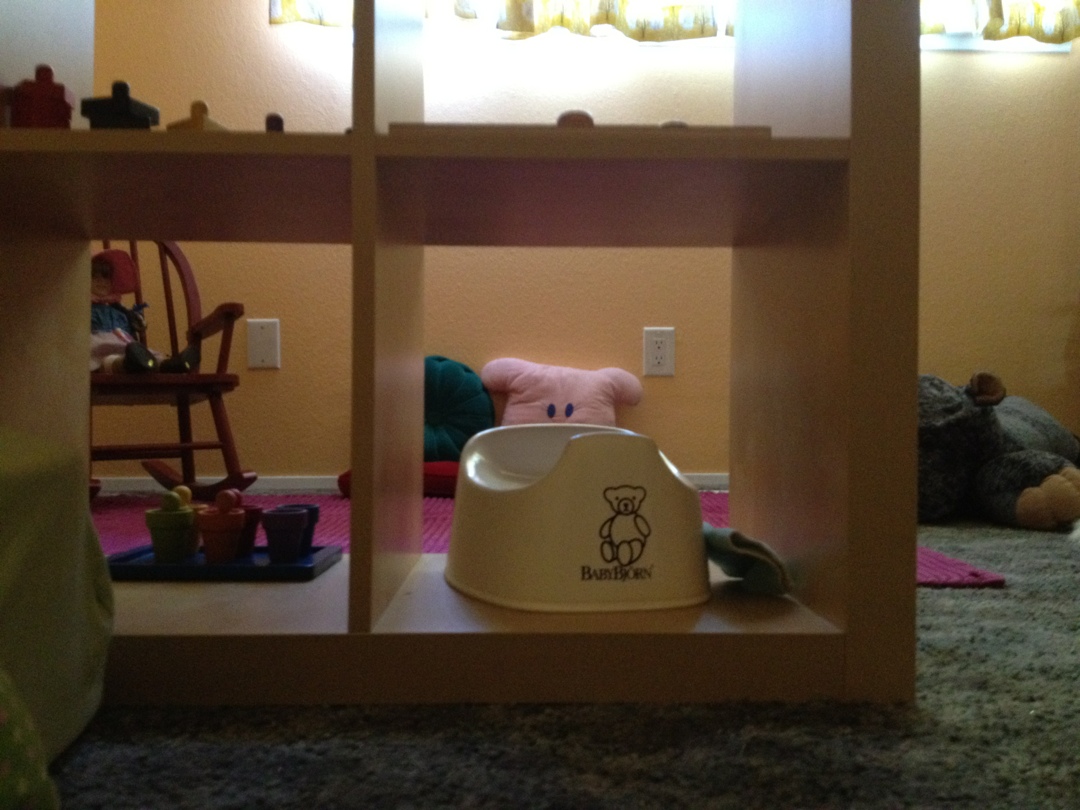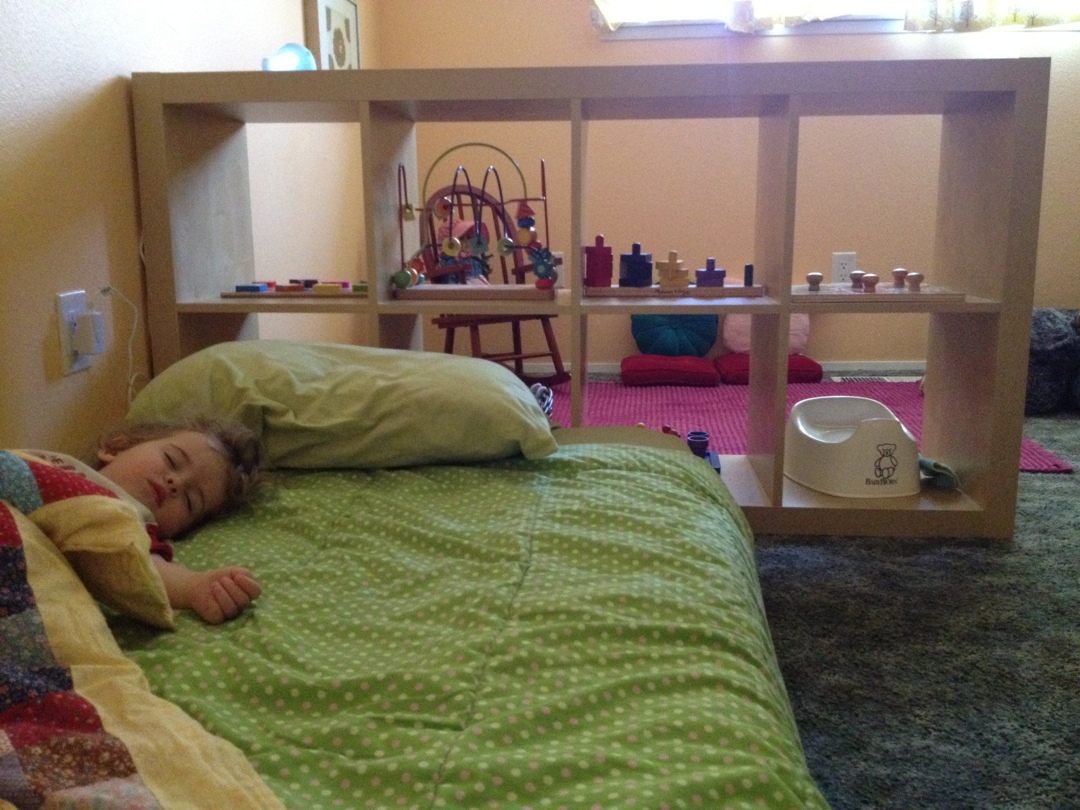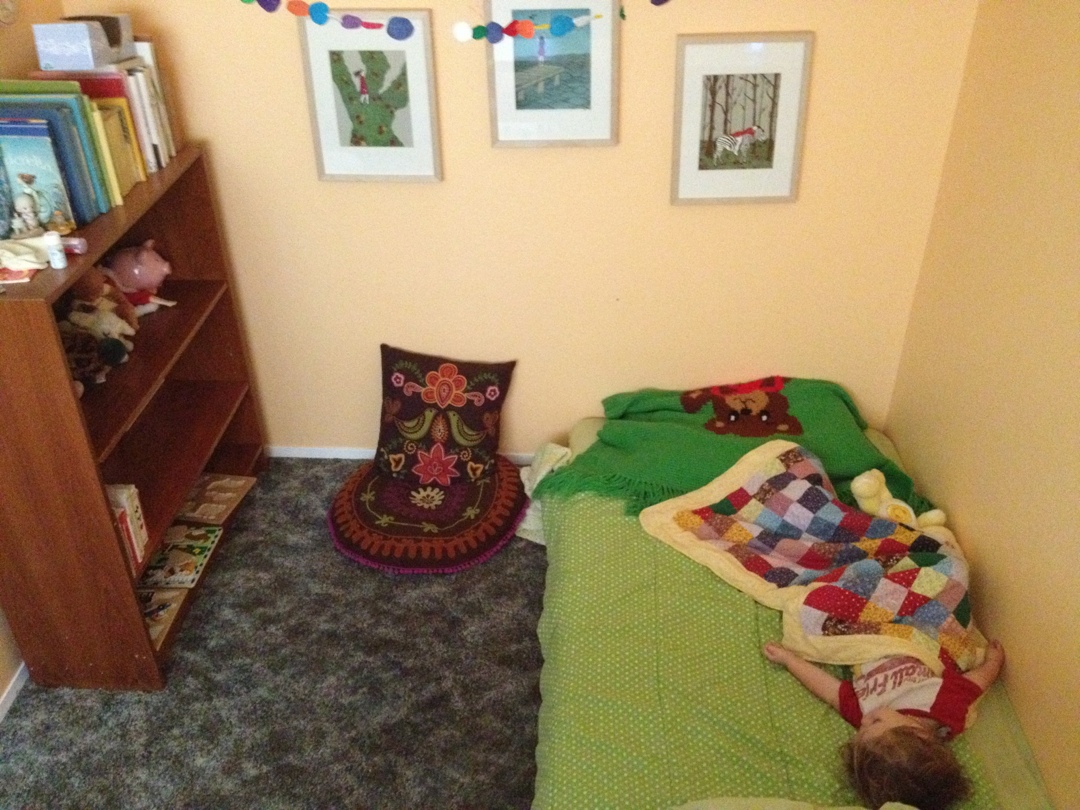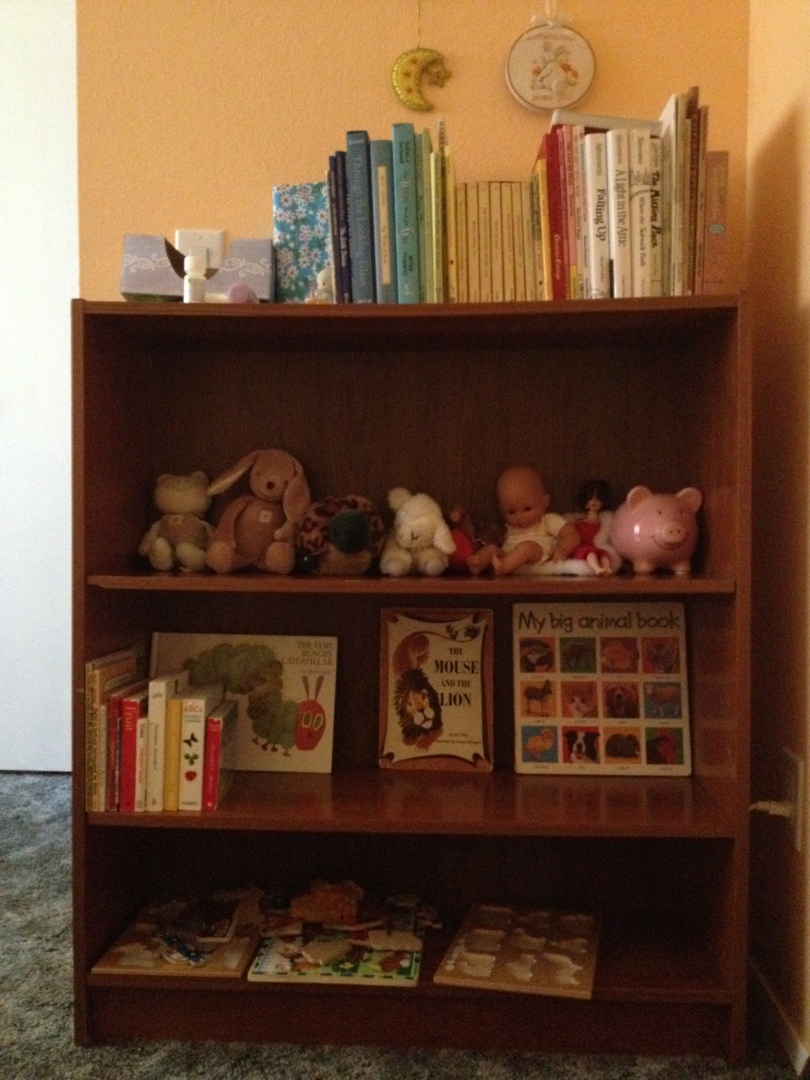 Things I still want to do:
– Lower the pictures to her eye sight and secure them to the wall
– Set her mirror back up in the new "play" area
– Get a few more baskets, so that I have a basket for books and maybe even one for puzzle pieces (when she leaves a puzzle unfinished)
– Set up a small table and chair in the room, so that she has a place to sit and work on projects or coloring
^_^ Erin
2012-08-13