We have gone through a season of purging our excess belongings, and one of the things that I've purged is all my superfluous cookbooks. So I am surprised that one of the few cookbooks left in my library is a simple "Barnes and Nobles" book called Cook's Encyclopedia to Soup, by Debra Mayhew. I love it because the recipes are simple and straightforward, the book is well organized, and there are pictures with EVERY recipe. You can find my handy little volume for a penny on Amazon. Yay for old editions!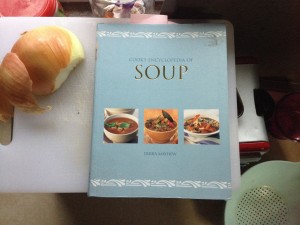 Before I share the recipe (with my adaptations) I want to give you a few pointers:
– Always heat up your stock or water in a separate pot before adding it to the soup pot. You want the stock to be warm when it hits the other ingredients. This preserves flavor.
– When melting the butter (or heating the oil) put a pinch of onion in it. When you hear the onion sizzle, then you know it's hot enough to add all the onions.
– When you add a new ingredient to fry in the bottom of the pot, always add a pinch of salt. This, too, helps preserve flavor.
– If you want to get the most zing out of your spices, it's generally best to add them 10 minutes before the soup is finished. If the soup is too spicy, you can always leave it on the burner another 10-30 minutes to mellow out. In this soup, I have the spices added from the outset because I wanted less POW and more of an overall mellow taste.
– The easiest way to peel a butternut squash is with a vegetable peeler
– If you want a smoother soup, peel your potatoes. I don't.
I like starting this soup earlier in the afternoon so that it has time to cool a little before running it through the food processor.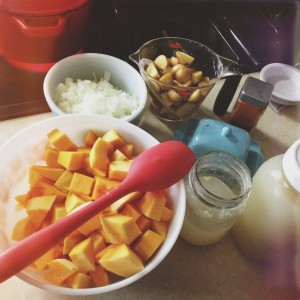 RECIPE: BUTTERNUT SQUASH BISQUE
(Serves 4)
INGREDIENTS:
2 tablespoons butter
½ large onion, minced
3 cups peeled, seeded & cubed butternut squash
1 ¼ cups quarts chicken stock
1 ½ cups cubed potatoes
1 teaspoon paprika
2 shakes red pepper flakes
1 dash cayenne pepper
½ cup whipping cream
Tabasco sauce, to taste
Salt & pepper, to taste
1 ½ tablespoons snipped fresh chives, plus a few whole chives to garnish
DIRECTIONS:
(1) Melt the butter. Add onions & cook for 5 minutes, or until soft.
(2) Add squash, potatoes, paprika, red pepper flakes, and cayenne. Toss. Cook 2-3 minutes.
(3) Add stock. Bring to boil. Lower heat to low, cover the pan & simmer for about 35 minutes, until all the vegetables are soft.
(4) Pour soup into food processor or blender and process until smooth. Return the soup to the pan and stir in the cream.
(5) Season with salt, pepper and tabasco sauce. Reheat slowly.
(6) Stir in the chopped chives just before serving. Garnish each serving with a few whole chives.
Enjoy!
^_^ Erin
11-07-2013