I. Love. Cooking. And I have missed being able to cook these past few months. Between moving and being pregnant and giving birth and taking care of my newborn, I have been able to do very little cooking since I started this blog post 47 weeks ago. Well…I've at least not been able to do nearly as much cooking as I'd have liked.
Since the birth, however, I've cooked nothing. Unless you count the rhubarb cobbler from Week 46. Or the leftovers I re-heated in the toaster oven.
Until now. I was finally able to cook. A real meal. With separate dishes. I did the whole thing with a sleeping baby in my ring sling, and I felt Ah-Maz-Ing. The food was yummy, yes, but the sense of satisfaction that I held in my heart was worth far more to me. I felt like I not only accomplished something, but also like I was reclaiming a part of "the old me." In addition, I was glad to be able to give the gift of a meal to Mr. Wetzel. Cooking is one of our favorite "love languages."
So: here was our meal in three dishes:
– Mahi Mahi from Trader Joes
– Parmesan Asparagus, adapted from a recipe I found on AllRecipees.com
– Garlic Mashed Potatoes
How to make this meal at home…
Mahi Mahi from Trader Joes: Buy it in the frozen section. Thaw. Bake at 400 for 12ish minutes. I think. (Read the package)
Parmesan Asparagus: Pour the following into large ziplock bag: crushed garlic, olive oil, sea salt, pepper, parmesean. Add asparagus. Shmoosh it around and leave on the counter to drip and drizzle all over itself for a bit. Pour out onto cookie sheet & bake at 400 for 12ish minutes (the same as the fish! woo hoo!)
Q: Erin…how much of each ingredient should I put in the bag?
A: I dunno. Eyeball it.
(If you're worried, look up "Parmesan Asparagus" on Allrecipes.com for a guideline. I just eyeballed it. And I put in way more Parmesan than called for. Because Wetzels love cheese.)
Garlic Mashed Potatoes: Sliced potatoes & boiled them (about 40 minutes). Separately, diced up the heads to my garlic greens and heated them in copious amounts of butter in a small skillet. Once potatoes were done, I mashed them with a potato masher (you can also use a mixer). Added garlic-butter mixture, plus a little extra butter (to taste) and some milk (about 1/4 cup), to make the potatoes creamier.
YUM!!!!!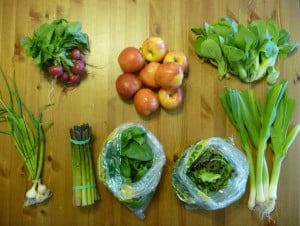 WEEK 47
Radishes
Apples
Baby Bok Choi
Garlic Greens
Asparagus
Spinach
Mixed Spring Greens
Leeks
By ekwetzel
2011-05-30