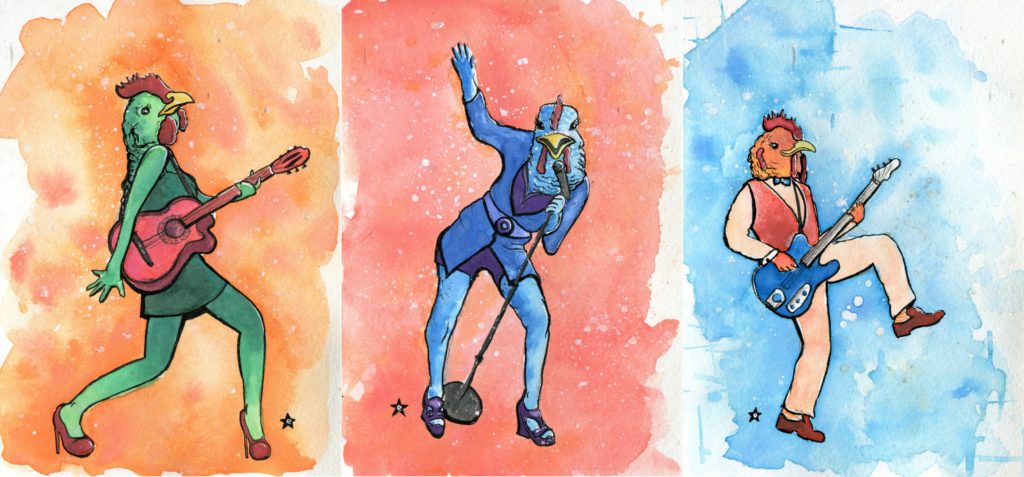 A couple months ago, I was sitting in church and listening to the worship band play. My mind wandered to Easter, to brightly colored PAAS easter eggs, to food coloring infused candy and I thought: why not embrace it? Why not embrace all of it and paint a series about the PAAS Easter Eggs all grown up?
So here you go! I have a series of 7 new florescent Easter chickens coming your way!
You can buy this series in my shop! Originals are watercolor and ink on 5×7 inch hotpress watercolor paper, $50 each. Art prints are available in the 8×10 size are made with beautifully textured, recycled paper and digitally printed in Maryland using 100% wind power, $18/each. For each order placed this week I'll slip a free sticker or fridge magnet in the package as a THANK YOU for supporting my work!
All my source images for the animals were hens… so I like to think that the hens in this series with masculine forms are actually trans men. If Jesus can come back from death to give us new life, that extends to my trans brothers and sisters, as well, who resurrect their own identities, finding new names and new ways to express the brilliant spirit that is invested in their infinitely precious human forms.
I grew up in the Church of Christ. It has a restorational Protestant dogma, the doctrine being centered around embodying the first century church. The Church of Christ Christians I knew would often try to get close to Jesus by removing themselves from contemporary culture.
There are many paths to God, and that path is no longer my way.
I believe God is active today, working with us and inspiring us through contemporary culture.
Easter in 21st century western culture has become unrecognizable from the first century church… but, for my part, I think there's something kinda fantastic about what we've become.
---
If you like the words that I write or the art that I paint and you want me to create more, please buy something from my shop and support me on Patreon. Thank you.