When I started this year-long commitment to blogging about our CSA, there were many things I didn't expect. I didn't expect to buy a house. I didn't expect to get laid off. And I didn't expect to have a beautiful baby girl. But I did. And, while blogging through these changing circumstances has been difficult, it has never been difficult to eat and shop at our CSA. Our farm food has been a constant in the midst of all the other turmoil. It's delicious, nutritious food that is easy to pick up and easy to afford. It's just that simple.
These postpartum weeks, I have had little time to shower and cook, much less blog. So this post is a "three in one" for weeks 43, 44 and 45. The pictures of our food take for each week are shown below.
One thing that has been a HUGE blessing these weeks is that friends, family and people from church have brought us meals to help us out while we've been figuring out how to be parents. I like to think, in some small way, they all became part of us, and part of Phoebe. You see: you are what you eat. Phoebe is made up of everything that I've eaten over the past 45(ish) weeks, and now that she is on this side of the womb, she drinks my milk, which is still made up of what I eat. When someone brings us a meal, made with ingredients, time and love, those things become a part of me and a part of my milk, and in turn go into becoming a part of Phoebe. We are all building her together, one bite at a time.
Mmm…I'm hungry!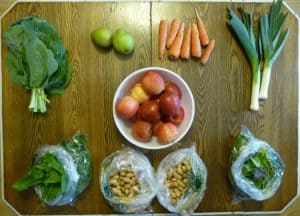 WEEK 43:
Collard Greens
2 Pears
Carrots
2 Leeks
Bowl of Apples
Spinach
2 Bags of Peanuts
Bag of Spring Greens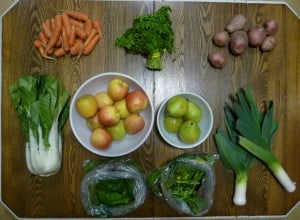 WEEK 44:
Carrots
Parsley
Potatoes
Bok Choi
Apples
Pears
Spinach
Braising Mix
Leeks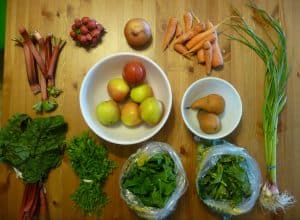 WEEK 45:
Rhubarb
Radishes
Onion
Carrots
Apples
Pears
Red Chard
Parsley
Spinach
Braising Mix
Garlic Greens
By ekwetzel
2011-05-22