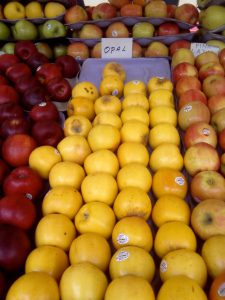 I love apples. If I could only have one type of fruit for the rest of my life, I'd choose apples.  I was raised in upstate New York, and I now live in Washington state; I am an apple region kinda gal. It's a good thing, too, because we'll get apples all winter long in the CSA share. I remember: last winter the only fresh fruit from Washington State that we received all winter was apples and pears.  Even so, the apples were so fresh, crisp and delicious…it was easy to love them all winter long.
Other than eating apples raw, I also love to make apple pie, apple cobblers and apple sauce. I remember seeing a cartoon of Johnny Appleseed as a kid; he roamed across America with a silly pot on his head, planting apple trees as if he was proselytizing the ground with good fruit, cooking up apples here in there in dozens of fancy recipes. I would often save the seeds in my apples as a child and imagine that I could toss them wherever I went as a sign of good cheer to the world around me. Apples were magical.
This year, in preparation for apple season, I didn't buy a single apple all summer. I love apples, but you can get sick of something, even if you love it. In an effort to thwart apple disdain, I thought it would be a good idea to make myself savor and crave them a little more, before reaching a season where they would be a mainstay week in and week out.
Another reason I love apples is that they are a balanced fruit if you have problems with insulin resistance. With the diet I am on, I need o pair most fruits with a protein in order to create balance in my bloodstream. Because of the fiber in apples, as well as the balanced sweetness, I can eat an apple all by itself. No proteins necessary. Although, who could say no to a snack of apples and cheese???
By ekwetzel
2010-12-03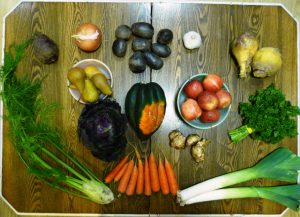 WEEK 22
(From bottom left)
Fennel
Beet
Onion
Purple Potatoes
Head of Garlic
2 Rutabagas
Curly Parsley
2 Leeks
Carrots
(In the Center)
Bowl of Pears
Purple Cabbage
Acorn Squash
Sunchokes
Bowl of Apples
*Apple photo courtesy of Molly Morris.