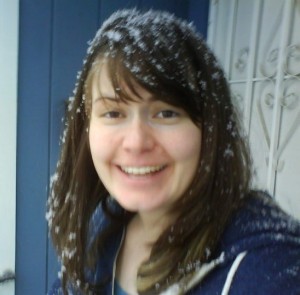 To be honest, I don't want to write a blog post this week.  I'm not sorry I made the commitment to local food or to writing about it. The food is just not inspirational right now. We buy food from a farm. We're convicted it's healthy, good for local economy, good for the environment, cost effective, and a slew of other things. But this is not a week of revelations and insights about our wonderful CSA yummies.  This is a week where we're not poets, philosophers or activists. We're simply eaters, and the food is just our food.
This post isn't about perseverance. It isn't about finding a bright side. It isn't about BS-ing my way into writing meaningfulness.  We like our food, but we haven't been thinking about it much lately. It's part of our habit, part of our routine. We don't take it for granted, and we don't expect it to be more than it is. In its silent, humble status of being, our potatoes are potatoes, our apples are apples, and our leeks are leeks.  We don't need them to impress us. We're happy with them just the way they are.
Do you know what I have been thinking about this week? My own identity. We're 23 weeks pregnant this week, and I'm starting to really show. Everything is in flux: my wardrobe, my appetite, my sleeping schedule…even my work schedule and income are changing. Being pregnant is disarming. You lose a lot of self-control and self-reliance, and it's easy to freak out over how insecure and "not yourself" it can make you feel. I have found the truest way to remain true to myself, to my family and to Christ is to allow the people who love me to help me and care for me.
Which got me thinking about the lilies and the sparrows. In the Gospel of Matthew, Jesus addresses our tendency to worry (Matthew 6:25-34). He uses the birds and the flowers as examples, explaining that they don't worry about caring for their needs; God cares for them day in and day out.
This is what I was thinking about: if a sparrow doesn't care for its own needs, what's the point of being a sparrow? Well…to be a songbird and sing.  And, if a lily doesn't care for its own needs, what's the point of being a lily? To be a flower and look pretty. To BE a lily. Therefore, if the point of my existence is not to take care of myself, it leaves me asking: what's the point of being me? If I can't take care of myself, if I can't find my identity in my independence and self-reliance, then how do I find identity? How do I find meaning? What's my purpose?
And it struck me: I'm supposed to be me. To be real. To be honest. To exist fully and openly.
I think we can use self-reliance as a shield to keep us from opening our hearts to other people, and I think that's a sad way to live. Think about the CSA where we get our food: CSA stands for Community Supported Agriculture. We are all part of a community, whether or not we realize it. We all need support from each other, whether or not we are willing to give it. Real food cannot exist without real people.
You don't have to spend your life having mountaintop experiences in order to be real or feel real. Potatoes are just potatoes, sparrows are just sparrows, and I am just me.  But to be true to myself, to be real with you, I believe I am called to fill myself up with the songs of my souls, and then open the beak of my heart and let my being pour out. That, to me, is worshipful living. That is the foundation for community.  That is how to find true identity.
I don't typically like to write deeply autobiographical posts, but this is what I have for you this week. If I were to write about anything else, I wouldn't be true to myself or to you. Being real takes courage.  Being real leaves you open to the wind. But, being real is the only way to truly find the songs of your heart.
By ekwetzel
2010-12-11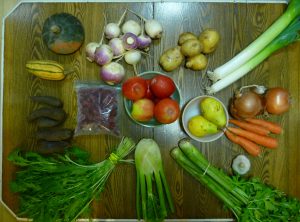 WEEK 23
(Top Row)
2 Squash: 1 Delicata and 1 Kubota
Turnips
Potatoes
2 Leeks
(Middle Row)
Beets
Frozen Raspberries
Apples
Pears
2 Onions
4 Carrots
Garlic
(Bottom Row)
Mizuna
Fennel
Celery