Joy is a complicated thing.
Matt walks in the door after a long day. I tell him how I have felt sick all day, how Phoebe fought her nap for two hours, how all of the dishes are dirty, how it's beans and rice for dinner because I was too exhausted to prepare anything more elaborate. With compassion, he hugs me and says, "I'm sorry it's been a bad day." And it hits me: it HASN'T been a bad day. A difficult day? Yes. But a good one; a fulfilling one; a purposeful one. A day filled with love and blessings.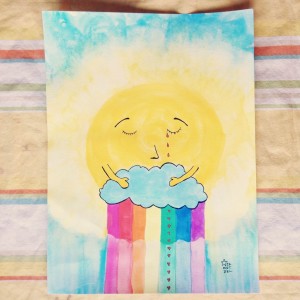 How are we to be JOYFUL when we are called to pass through DIFFICULT TIMES? I'm not even talking about the bombing in Boston or the shooting in Newtown, although those tragedies apply. I'm talking about your everyday life, your everyday grief, the griefs you carry with you that you cannot seem to shake. I have these types of griefs, and I believe we all do: money troubles, aches and pains, illness, injury, people we have lost, relationships that have withered, divorce, death, miscarriage, the yawning pain of absence.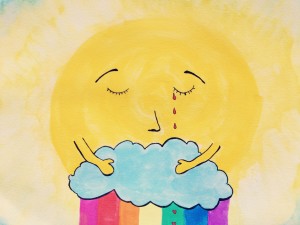 Being Joyful is less about being happy, per se, and more about Being OK whether or not I'm happy. Knowing that my world will not fall apart in the face of despair, this is what gives me hope and strength and tenacity. I do not speak these words as someone who has never felt pain. This I have seen time and again: wherever there is disaster and death and chaos, life and love and hope spring back in it wake. Love is victorious. Good is victorious. The flowers pop up each spring. Babies are born. Wounds heal. Rainbows paint the sky.
Loving someone means you open your heart and make yourself vulnerable. Even the most loving relationship has its hurts. But that's ok. Because loving someone was never supposed to be about symbiosis, but about paying it forward. Love is not about keeping track of how even a relationship is. Love is about being poured out, being ok with the mystery of emptiness, and being amazed when God fills you up again.
This, I believe, is the mystery of Faith. This is the act of surrendering my idols and worshipping God. I don't need to be healthy. I don't need to know where my food or clothing or shelter will come from. I don't need to be with my child. I don't need rest. "I can do all things through Christ who strengthens me." I don't wallow in my sufferings, because suffering tenderizes me: it opens me up to feel the suffering of others and teaches me how to love compassionately.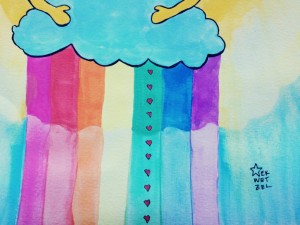 My hope for you is not that you will never suffer, but that you will suffer well.
My hope for you is not that you will never feel pain, but that when pain finds you, you will allow yourself to feel it, and then let it pass; and when the echoes of that pain find you: let them fill you, take a breath, and then empty yourself all over again.
My hope for you is that, when you find joy, you dance and hug and sing and laugh. Pour yourself out, over and over, like a jar of clay. For we feel like sinew and bone, but we are dust-to-dust in the blink of an eye. And recognizing the slice of eternity we are called to steward within our hearts might just be the key to turning our Grief into Joy.
I leave you with this poem by Mary Oliver…
The Summer Day
Who made the world?
Who made the swan, and the black bear?
Who made the grasshopper?
This grasshopper, I mean–
the one who has flung herself out of the grass,
the one who is eating sugar out of my hand,
who is moving her jaws back and forth instead of up and down–
who is gazing around with her enormous and complicated eyes.
Now she lifts her pale forearms and thoroughly washes her face.
Now she snaps her wings open, and floats away.
I don't know exactly what a prayer is.
I do know how to pay attention, how to fall down
into the grass, how to kneel down in the grass,
how to be idle and blessed, how to stroll through the fields,
which is what I have been doing all day.
Tell me, what else should I have done?
Doesn't everything die at last, and too soon?
Tell me, what is it you plan to do
with your one wild and precious life?
Blog post by Erin
4/16/2013