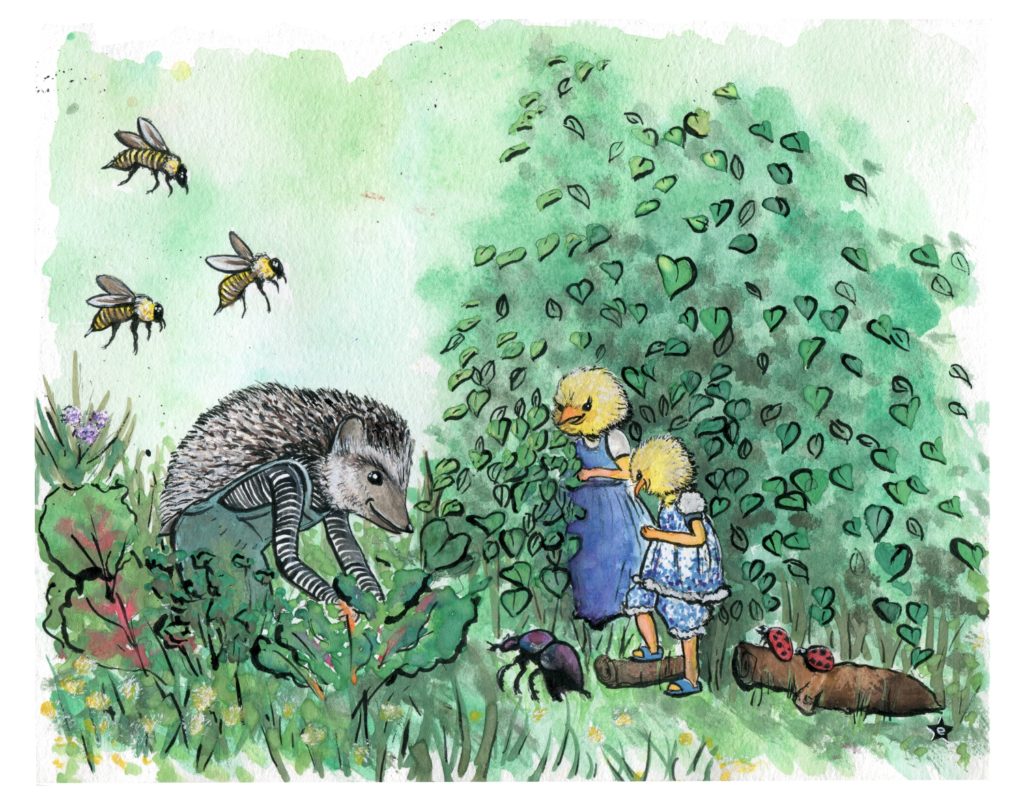 "Gardening is fun!" When I talked with David Thompson, founder of Food is Free Washington, that's why he said he started doing it. It was so much fun, in fact, that he grew too much produce in his 2,000 sf garden to use it all himself, so he started giving it away. He went on, "The thing that became more fun than growing my own food was sharing it. It's the joy of giving stuff away." That is the heart of the Food is Free movement: building community by sharing food independence.
Read more about the real life gardener who inspired Chapter 3 of Calico Jill and the Search for Cheese!
What Food is Free Does
Food is Free Washington is a non-profit co-run by David and Ursula Thompson in Tacoma, WA. The goal of Food is Free is to take care of our planet and take care of each other in the process by feeding people. The Thompsons seek to reduce food waste by getting food into the hands of local people who need it. They also educate people on how to grow their own food so that our community is more self reliant and less dependent on outside forces.
Food deserts stretch across many of Tacoma's communities, but especially so in downtown Tacoma, east Tacoma and south Tacoma. A food desert is an area where local residents do not have access to fresh and healthy foods. Food is Free focuses in particular on these communities in need.
While a food bank might serve 50-100 people, Food is Free serves on average 220 people with each food giveaway. Food banks are great resources for gathering food and giving it to those in need, and they even supply Food is Free with donations through the Emergency Food Network and Feeding Feasible Feasts, but Food is Free is so much more effective in its distribution for two reasons: it goes into the heart of communities where there is food insecurity, and there is no requirement to show an ID or prove income. Anyone who shows up gets food. It's as simple as that.
Food Is Free Sharing Tables
Ursula and David's solution to the food deserts that stretch across Tacoma is gardening. Food is Free has planted 3,000 square feet of community garden space across the city. They started setting up tables next to these garden plots, and they would set out food for anyone to take.
They encouraged others to follow suit. At the height of the pandemic, there were 97 of these sharing tables scattered around Tacoma which became a sort of mobile food pantry. During a time of social isolation and social distancing, people formed a sense of community around sharing food surplus with each other within their local communities.
These tables were popular for a time, but there were obstacles. Even though the Thompsons would post instructions on accepted and restricted items, there wasn't enough education about proper food storage. People started dropping off things like chicken breasts and milk, things that would spoil if left on a table.
These days, the total number of food tables is around 10-12, and they are run independently.
Food Accessibility in 2023
One thing the Thompsons are particularly excited about is the Gleaning Project, a program that is run through Harvest Pierce County in which people can sign up to have the fruit trees in their backyards harvested. Last year, 27,000 pounds of produce was harvested thanks to this program and shared with local hunger relief organizations.
Food banks are getting fewer donations than they used to. EBT benefits were cut in March. With rising food inflation, fewer people want to make donations. Add to these factors the job insecurities that we've all faced thanks to the pandemic, and more and more people are turning to feeding themselves with their own gardens.
Food is Free Washington is supporting these burgeoning green thumbs with seeds, plant starters and resources. Ursula explained, "You can grow an extra row. You can grow an extra plant. We just want people to do it with us. All of us gardeners together, we can help feed our community."
Food Is Free Drop Offs
If you live in Tacoma, you can pick up food on Tuesdays in the extra parking lot across from (west of) Hope Point (formerly Calvary Baptist) Church. Address: 6511 South C Street. Follow @tacomaurbanfarmer on instagram to stay abreast what is available from week to week.
Resources:
Food is Free Washington: https://foodisfreewashington.org/
Emergency Food Network: https://www.efoodnet.org/
Feeding Feasible Feasts: https://feedingfeasiblefeastsllc.org/
Harvest Pierce County: https://piercecd.org/190/Urban-Agriculture
and the Gleaning Project (where you can register your fruit trees!): https://piercecountygleaningproject.org/
How To Read about Calico Jill and the Community Garden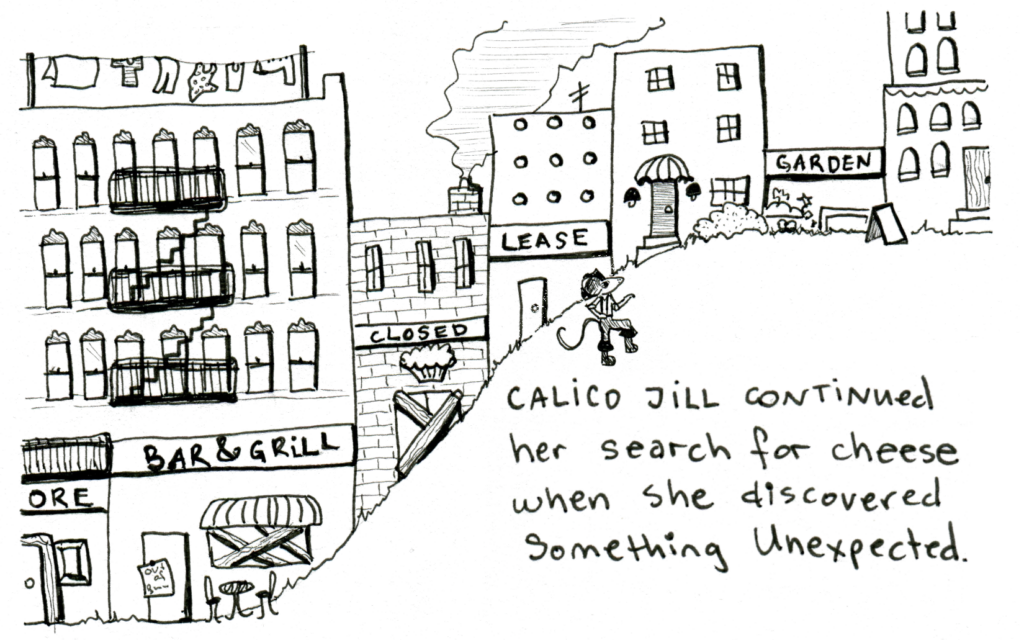 This month there are several ways to access Calico Jill's story…
Get a free physical copy at one of my pick up locations.
Read the story on Patreon.
Follow the adventure on tumblr.
---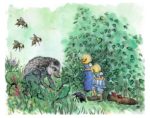 The above artwork is a painting of mine titled Put A Little Spring In Your Step. It is Watercolor and Ink on 8×10 inch hot press watercolor paper.